skinnymixer's Lamb Rogan Josh (with lamb shanks)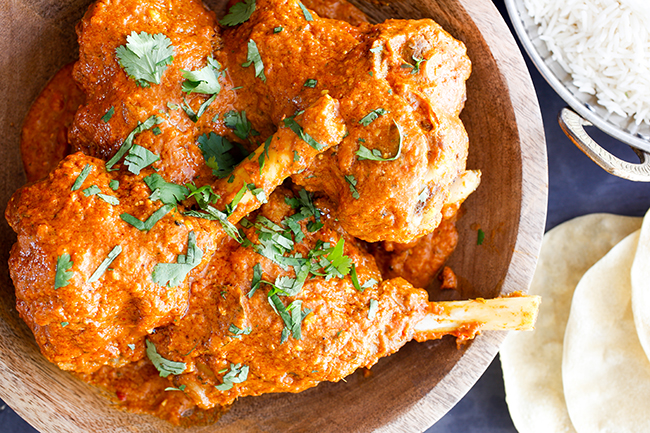 10 g | 0.3 oz lemon juice
20 g | 0.7 oz fresh ginger, sliced into round coins
20 g | 0.7 oz tomato paste
6 cloves of garlic, peeled
2 x medium brown onions, peeled, quartered
Large handful of fresh coriander
1 x large red chilli, roughly chopped (increase for a spicer curry)
1 tbsp paprika
2 tsp coriander powder
2 tsp cumin powder
1 tsp turmeric powder
1 tsp salt
3-4 lamb shanks
20 g | 0.7 oz fresh ginger, sliced into round coins
2 cloves of garlic, peeled
400 g | 14.1 oz tin of diced tomato (Ardmona brand)
10 cardamom pods, bruised
20 g | 0.7 oz olive oil
20 g | 0.7 oz tomato paste
1-2 tsp salt
3 bay leaves
3 whole cloves
1 cinnamon stick
1 tsp cumin powder
1 tsp paprika
1 tsp freshly cracked black pepper
½ tsp turmeric powder
150 g | 5.3 oz greek yoghurt
Add all paste ingredients (except for lamb shanks) in to mixer bowl. Blend for 10 sec/speed 8/MC on. Scrape bowl down and repeat once.
Marinate lamb in the fridge overnight or for at least 6 hours.
Add 700 g or 24.7 oz water to mixer bowl. Put marinated lamb shanks and marinade in to the deep steaming tray. Steam for 30 min/steaming temperature/speed 3.
Set aside the water from the mixer bowl - don't tip it out - and add the ginger and garlic to mixer bowl. Chop for 3 sec/speed 9/MC on. Scrape bowl down and repeat once.
Except for the yoghurt, add remaining curry ingredients to mixer bowl, including the retained steaming water, put your shanks back in place. Turn the shanks over carefully. Cook for a further 60 mins/steaming temperature/speed 2 or until shanks are tender.
Remove cinnamon stick, add yoghurt to curry sauce and blend for 10 sec/speed 2/MC on. Season to taste.
Slow Cooker Instructions:
Follow marinade instructions.
When it comes time to cook the curry, add all ingredients except for the steaming water and yoghurt to slow cooker. Cook on low for 7 hours. Stir through yoghurt and serve.
Recipe by
skinnymixers
at http://skinnymixers.com.au/skinnymixers-lamb-rogan-josh-2/