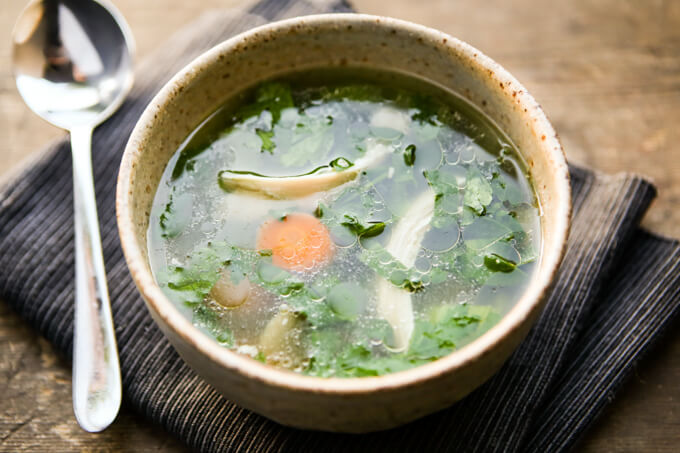 Chicken and vegetable soup is something that has always daunted me- Mum always made it when we were sick and it tasted sooooooooo good that I was sure it was really difficult to make.Turns out, its crazy simple, very cheap and also really good for you. Provided you have the time, you can make a nourishing and reportedly healing Thermomix Chicken soup – but if time isn't something you have in abundance, I have also given "quick" instructions for a 15 minute meal as well (in the notes). I know my family will be enjoying this recipe winter long. Love Nik xx
P.s. how beautiful is that bowl? I bought it at a recent trip to the Jam Factory here in South Australia.

skinnymixer's Chicken & Vegetable Soup
Ingredients
Stock Ingredients
1 medium brown onion, peeled, quatered
3 garlic cloves, peeled
50 g | 1.8 oz celery, roughly chopped
50 g | 1.8 oz carrots, roughly chopped
700 g | 24.7 oz skinless chicken thigh with the bone or lovely legs (I recommend you use free range)
roughly 900 g | 32 oz water
1 tbsp salt
½ tsp cracked black pepper
1 bay leaf
To Serve (recommended, you can use what you like)
150 g | 5.3 oz carrot, thinly sliced
150 g | 5.3 oz celery, thinly sliced
200 g | 7 oz spinach leaves, thinly sliced
handful of fresh continental parsley, roughly chopped
Instructions
Add onion, garlic, celery, carrots and chicken directly in to mixer bowl.
Pour water, salt, pepper and bay leaf into mixer bowl, to the max line - this is roughly 900 g or 32 oz in the TM31, a bit more in the TM5. Cook for 60 min/90°C or 195°F/slowest speed/MC on. You can totally clean your kitchen and prepare your vegetables for serving now 😛
When cooking time has finished, remove your chicken to a thermal server and add your serving vegetables (except for the spinach and parsley) to the stock (I dont bother draining it, the stock vegetables are also delicious!). Cook for 10-15 min/90°C or 195°F/slowest speed/MC on. While the vegetables are cooking, carefully shred your meat from the bones without burning yourself, and discard the bones. Pour soup & vegetables over your chicken, spinach and parsley, season to taste if needed, and serve.
Notes
Quick Soup Instructions
Omit stock ingredients.
Replace chicken thigh/leg with 700 g or 24.7 oz cubed chicken breast.
Add cubed chicken breast, pepper and serving vegetables (except for the spinach and parsley) to mixer bowl with 2 tbsp chicken stock concentrate.
Top water up to max fill line and cook for 10-15 min/90°C or 195°F/slowest speed/MC on or until cooked.

Bellini Users

Use your blunt blade for this recipe.

At step 2 use speed 1.
At step 3 cook for longer if required.
Nutrition Information
Serving size:
300g
Calories:
136
Fat:
4.8g
Saturated fat:
1.4g
Carbohydrates:
3g
Sugar:
2.7g
Sodium:
1030mg
Protein:
18.5g