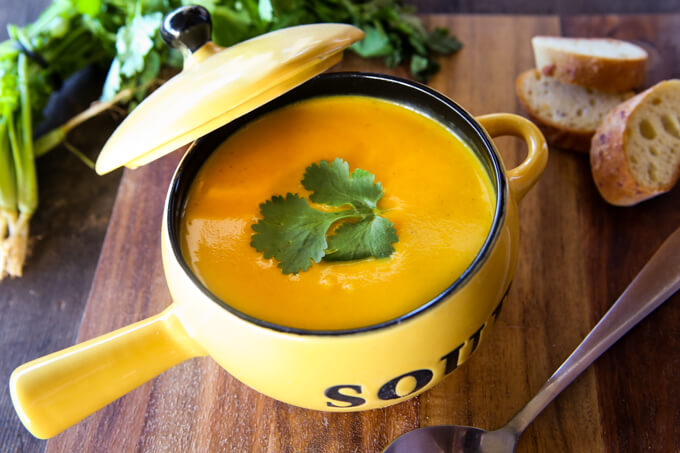 I have been doing a version of this soup for about 10 years now, and there has been a popular recipe in the group files for it – I finally got around to blogging it and giving people yet another use for their powdered gold (babas!). I hope you all enjoy it, Love Nik xx

skinnymixer's Coconut Curried Pumpkin Soup
Ingredients
1 large brown onion, peeled, quartered
2 garlic cloves, peeled
30 g ghee or butter or olive oil
1 tbsp babas meat curry powder
1 tsp garam masala
100 g carrot, peeled, roughly chopped
200 g sweet potato, peeled, roughly chopped
500 g pumpkin, peeled, roughly chopped
600 g liquid chicken stock or 600 g water + 1 tbsp chicken stock concentrate
400 g coconut cream
Instructions
Add onion and garlic to mixer bowl, chop for 3 sec/speed 5/MC on. Scrape bowl down.
Add ghee, babas curry powder and garam masala. Cook for 5 min/100 degrees/speed 1/MC off.
Add carrot, sweet potato and pumpkin, chop for 10 sec/speed 6/MC on. Scrape bowl down.
Add chicken stock and cook for 30 min/100 degrees/speed 2/MC on.
Add coconut cream and blend for 1 min/speed 9/MC on, increasing speed gradually. Repeat if required.
Season to taste with salt and pepper.
Notes
Bellini Users

Use your sharp blade for this recipe.

At step 1 add on a couple of seconds chopping time, if required.
At step 2 you may need to add on 1-2 minutes cooking time, or until onions and garlic are cooked to your liking
At step 4 add on a cooking time if required.
At step 5 allow to cool slightly (5-10 minutes) and then very slowly increase speed, then slowly decrease speed towards the end of the blending time. Blend for longer if required, taking the same precautions to ensure no build up of pressure when blending.
Nutrition Information
Serving size:
295g
Calories:
212
Fat:
13.3g
Saturated fat:
11.3g
Carbohydrates:
16.4g
Sugar:
11g
Sodium:
254mg
Protein:
4.6g