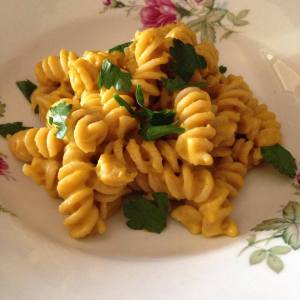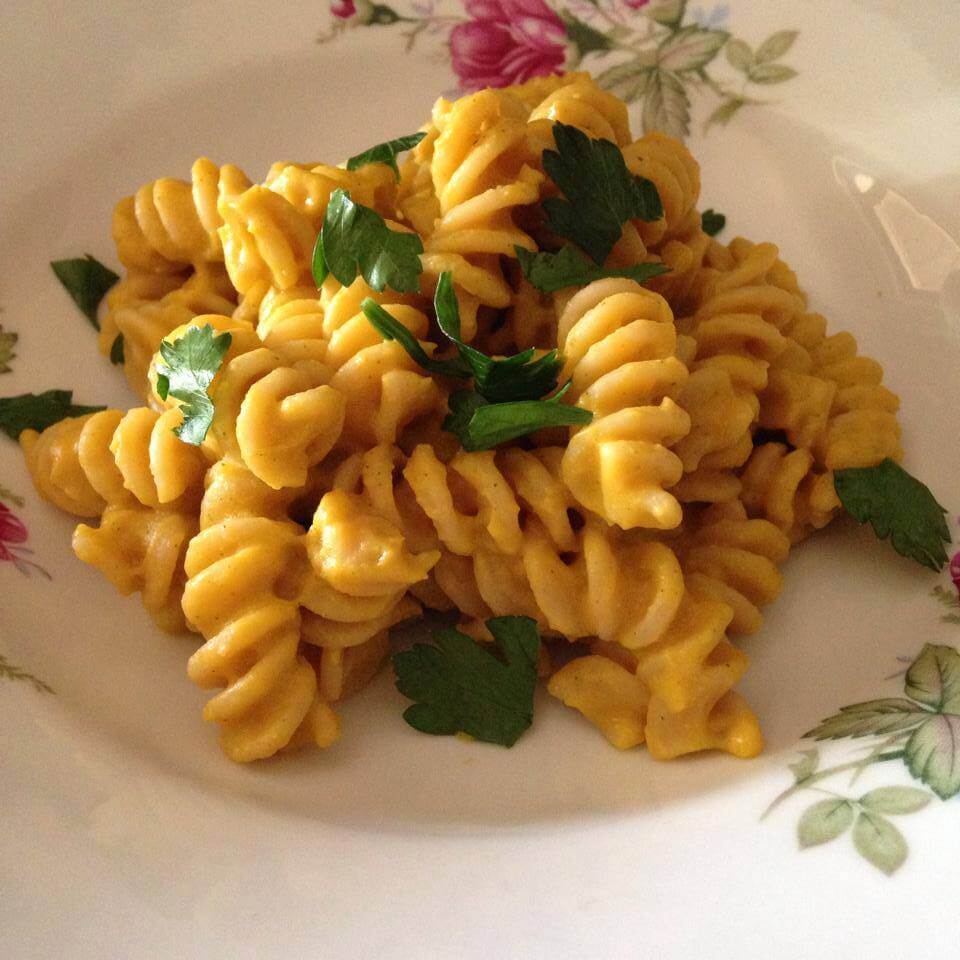 skinnymixer's Dairy-Free Cheesy Spelt Pasta
Ingredients
250-500 g | 8.8-17.6 oz spelt pasta (Alternative: Normal pasta, GF pasta…)
1 medium zucchini - medium rough chop
1 large carrot- small rough chop
120 g | 4.2 oz cauli - roughly chopped
200 g | 7 oz white potato - peeled, small rough chop
200 g | 7 oz sweet potato - peeled, small rough chop
2 celery stalks – medium rough chop, no leaves
1 tbsp stock concentrate (veg or chicken)
1-2 tsp salt or herbamere (I used 2 tsp)
100 g | 3.5 oz cashews (or 100g sunflower seeds for nut free!)
500 g | 17.6 oz water
2 tsp nutritional yeast flakes (optional extra, don't go out and buy it special)
1 tsp Dijon mustard
1 tsp paprika
Instructions
Add 1,200 g or 42.3 oz water to mixer bowl and
Cook 10 min/steaming temperature/speed 1/MC on.
While water is heating, prepare vegetables and arrange on bottom steamer tray.
When timer is up, add pasta straight to the mixer bowl and put steamer tray in place.
Cook 10 min/steaming temperature/speed 1/reverse stirring veggies up half way through.
Pasta should be al dente, drain water from pasta and reserve pasta to an insulated server pot.
Put vegetables into mixer bowl and purée on 10 sec/speed 7/MC on (it does not matter if vegetables are not fully cooked).
Add cashews, water, stock, salt, paprika, mustard and nutritional yeast flakes if using.
Cook 15 min/100°C or 212°F/speed 2/MC on.
Purée for 90 sec/speed 9/MC on.
Stir desired amount of sauce through pasta and serve.
Notes
This will make at least 4 serves of "cheesy" sauce – freeze in portions and reuse for lasagne béchamel, cheesy veg bake, tuna mornay, fish pies etc 🙂
You can substitute some of the veg for other veg 🙂
This recipe is extremely flexible and versatile. You can mix the veg up to use what you have. i.e. I don't eat white potato or celery, so I used 250 g or 8.8 oz cauliflower instead and it was perfect!
** TO REHEAT FROM FROZEN ** defrost and mix on speed 2 for 2 minutes, 70°C or 160°F and it will return to original consistency ***

Bellini Users

Use your blunt blade for this recipe.

At step 2 and step 5 use ST temp and speed 1 if using an Intelli, popping a tea towel over the steamer attachment and 130 degrees and speed 1 if using a Supercook.

At step 10 start at speed 4 and gradually work your way up to speed 9.
Comments from Michael
This is very, very tasty and very popular among the extended family and friends 🙂 It is hard to believe that it is dairy-free it tastes so good.