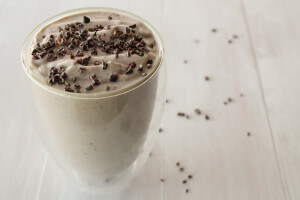 skinnymixer's LCHF Breakfast Smoothie
This LCHF Breakfast Smoothie will keep you full with a good dose of healthy fats and protein.
Ingredients
100 g Ayam coconut milk
50 g frozen mixed berries
½ ripe avocado
2 ice cubes
10 g coconut oil
1 whole egg, raw (optional)
½ tsp vanilla extract
liquid stevia to taste
50-100 g liquid of choice (water, coconut water, milk)
Instructions
Weigh ingredients, except liquid of choice, in to mixer bowl. Blend for 1 min/speed 9/MC on.
Add liquid of choice for desired consistency. Blend for 10 sec/speed 6/MC on.
Notes
Nutritional information calculated with the egg and water.

Bellini Users

Use your sharp blade for this recipe.

At step 1 you may need to process for a little longer to achieve a smooth result.
Nutrition Information
Serving size:
225 g
Calories:
308
Fat:
29.2 g
Saturated fat:
18 g
Carbohydrates:
4.2 g
Sugar:
3 g
Sodium:
48 mg
Protein:
5.6 g