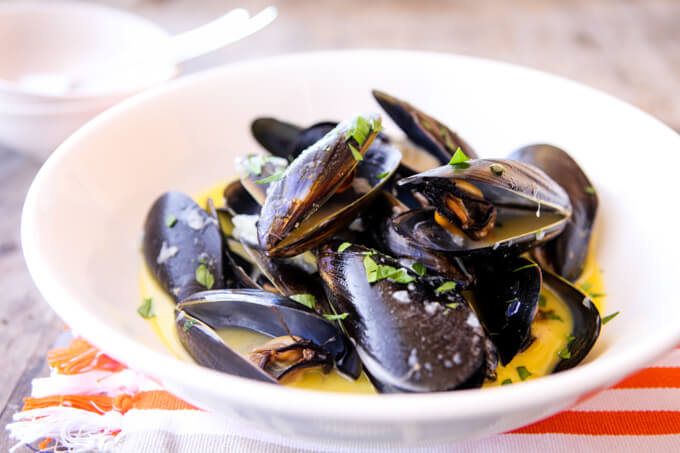 Welcome to the first recipe of 2016, and happy new year! I am not super keen on eating seafood, as many of you know… but I am slowly coming around to the idea of it thanks to a gorgeous friend of mine who introduced me to how yummy salmon can be (I actually ate this and loved it!). It might seem strange that I would choose to cook a mussel recipe for my first recipe of 2016, but the biggest part of why I love doing what I do is that I get to feed the people I love – and my Dad and Michael loooove seafood. This is a low carb/high fat style recipe, but I have provided some hints in the notes on how to make it a lower calorie dish, as well as seafood free. I hope you all love the French mussels and I cant wait to see pics! Love Nik xx

skinnymixer's LCHF French Mussels
Ingredients
1 garlic clove, peeled
200 g brown onions, peeled, quarted
80 g unsalted butter, cubed
800 g water
2 tbsp chicken stock concentrate (or liquid chicken stock)
1 red apple, quatered (optional)
1 kg black mussels, debearded
80 g crème fraîche or sour cream
a handful of chopped fresh parsley
Instructions
Add garlic to mixer bowl, chop for 3 sec/speed 9/MC on.
Add onion to mixer bowl, chop for 3 sec/speed 5/MC on. Scrape bowl down.
Add butter and cook for 10 min/100 degrees/speed 1/MC off.
Add water, chicken stock and apple to mixer bowl, cook for 15 min/steaming temperature/speed 1/MC on.
Remove apple from the broth and discard, put prepared mussels into the deep steaming tray, put it in place and cook for 5-7 min/steaming temperature/speed 2 or until mussels are opened.
Set mussels aside, add crème fraîche and parsley to soup, stir for 10 sec/speed 3/MC on. Pour hot soup over mussels and enjoy.
Notes
If you prefer a lower calorie dish, you can easily halve the amount of butter and crème fraîche if you prefer.

If you dont like seafood, you can easily just make this soup without the mussel step - its delicious on its own! You could also use prawns, white fish or poach chicken in the broth during step 4.

Bellini Users

Use your blunt blade for this recipe.

At step 2 add on chopping time if required.
At step 4 if using an Intelli, you'll need to use ST temp and if using a Supercook, use 120 degrees.
At step 5 if using an Intelli, pop a tea towel over the steamer, use ST temp, speed 3 and cook for longer if required. If using a Supercook, use 120 degrees and speed 3.