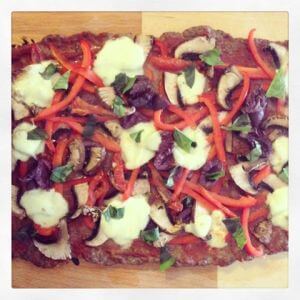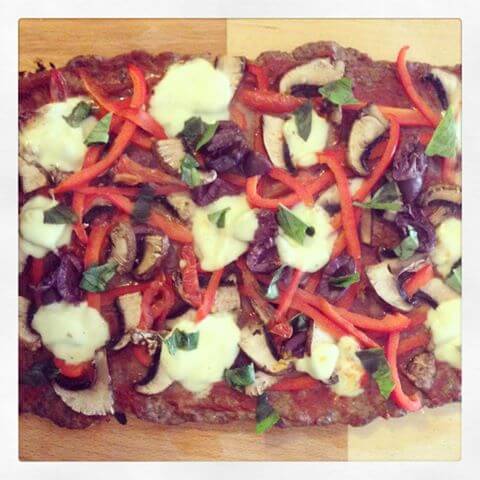 skinnymixer's Meatza!
Ingredients
1 garlic clove, peeled
500 g | 17.6 oz beef mince (or chicken or turkey)
1 large egg or 1 tbsp psyllium husk
1 tsp of mixed italian herbs
½ tbsp salt
pepper to taste
Topping suggestions:
sliced red capsicum
sliced field mushroom
semi dried tomato
olives
bocconcini
fresh chopped basil
Instructions
Preheat oven to 230°C or or 450°C fan forced and line large baking tray with baking paper
Add garlic clove to mixer bowl, chop 3 sec/speed 9.
Add egg to mixer bowl and beat 3 sec/speed 5.
Add mince, herbs, salt and pepper to mixer bowl, pulse turbo 1 sec/5 times to roughly combine.
Spread mince out over whole baking tray, it will be very thin. Use your fingers to press it to the edges.
Bake in oven for 12 min.
Remove meatza from oven, and turn oven up to full heat.
Skim and drain fat if there is any.
Add toppings to meatza base and bake for 3-5 minutes or until toppings are cooked.
Notes
Bellini Users

Use your blunt blade for this recipe.
Nutrition Information
Serving size:
140g
Calories:
204
Fat:
9.8g
Saturated fat:
3.6g
Carbohydrates:
0.5g
Sugar:
0.2g
Sodium:
857mg
Protein:
28.2g
And for fun, here is a picture of my bestie Kirsty enjoying my Meatza 😛