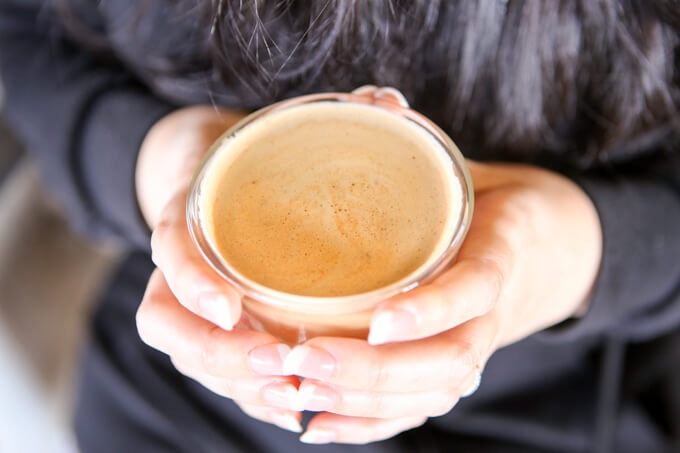 Dirty Chai is my absolute favourite drink to order when I get the luxury of sitting down at a café, and I knew that it was full of sugar but what I didn't know was what else went into 'chai' mix… after doing some research I have discovered that most commercial mixes contain ingredients like corn syrup, soy and preservatives… as well as the ominous "flavouring" and "colouring" ingredients. While these things probably wont kill you with an occasional treat, if you do like to avoid additives and preservatives then making your own delicious Thermomix Chai mix at home is very easy. The bit I love about making my own mix at home is that I can sweeten it to preference: while Michael loves a sickly sweet chai, I prefer to be able to only use a small amount of coconut sugar in mine. Love Nik xx
Print
skinnymixer's Vanilla Chai Powder
Ingredients
2

tbsp

cinnamon powder

1

tbsp

ginger powder

1

tbsp

cardamom powder

1

tbsp

vanilla bean powder

1/2

tbsp

nutmeg powder

1

tsp

clove powder

2

pinches

of black pepper
Instructions
Add all ingredients to mixer bowl, mill for 2 min/speed 9/MC on. TIP: Put a piece of paper towel under your measuring cup to stop the "powder" from billowing out.
To Use
~ 1/4 tsp of this spice mix per 1 cup of coffee or warmed milk. Sweeten to taste, with a recommended 1-2 tsp of preferred sugar.
Notes
If you prefer to use whole spices, here are the weights - please note, you will need to use kitchen scales for measuring these out: 10 g cinnamon stick
6 g whole cardamom pods
4 g nutmeg
2 g cloves Bellini Users Use your sharp blade for this recipe. At step 1 do 2 x 1 minute making sure to rest the machine for a minute or so in between to avoid potential overheating.
Nutrition Facts
skinnymixer's Vanilla Chai Powder
Amount Per Serving (1 g)
Calories 3
Calories from Fat 1
% Daily Value*
Total Fat 0.1g 0%
Total Carbohydrates 0.3g 0%
Protein 0.1g 0%
* Percent Daily Values are based on a 2000 calorie diet.