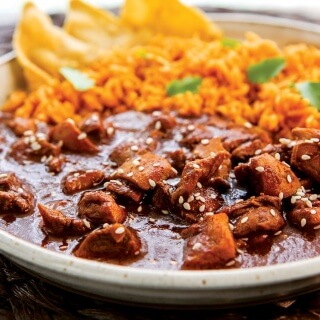 Print Recipe
A Little Taste of Mexico: Colorado Mole
Mole, pronounced 'moh-lay', is Mexico's national dish. When we visited Mexico I discovered that proper Mexican Mole is not just a "chicken chocolate sauce" like we usually find here in Australia, but rather a complex dish with many different ingredients. To make things even more interesting, there are many different kinds of mole with varying ingredients that traditionally takes days to make. The Mole Colorado is known as the 'red' mole and while its ingredients list is one of the simpler ones, it was my favourite out of all 7 Oaxacan Moles I was able to get my hands on!
Specialty chillies can be purchased from specialty delicatessens, Mexican Grocers and our online affiliates.
Vegetarian Variation:
Use vegetable stock & omit chicken. Use sauce for enchiladas, pour over roasted pumpkin, eggplant, chargrilled corn and capsicum. Alternatively, replace chicken with your choice of vegetables and/or beans.
Serving:
205
g
|
Calories:
256
kcal
|
Carbohydrates:
6.6
g
|
Protein:
23.7
g
|
Fat:
14.2
g
|
Saturated Fat:
3.3
g
|
Sodium:
722
mg
|
Sugar:
4.5
g