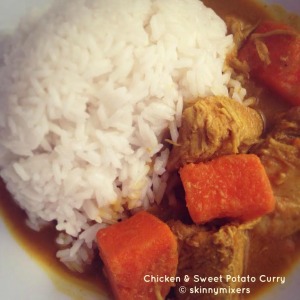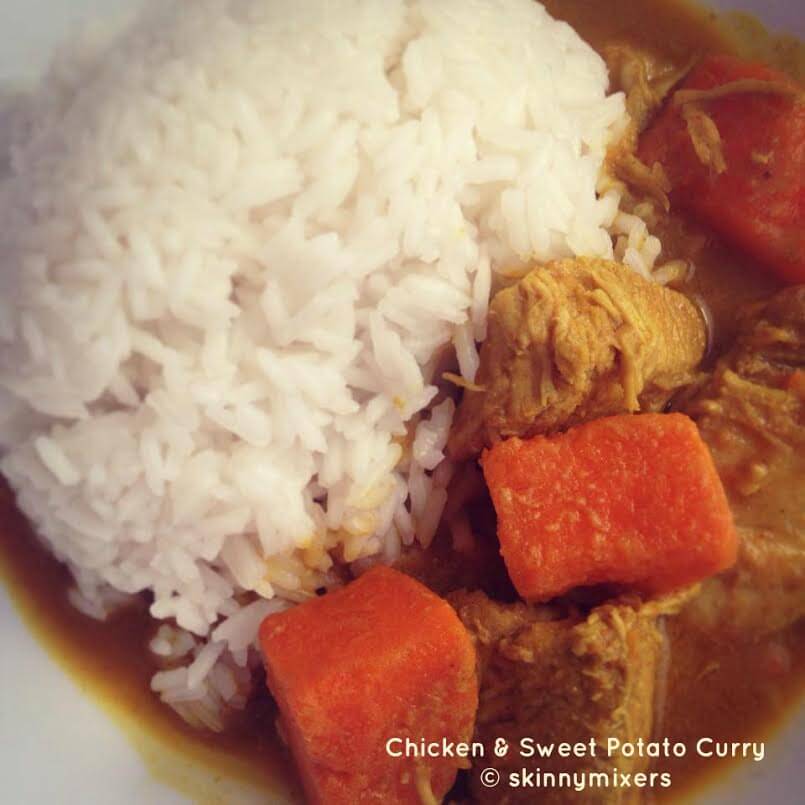 skinnymixer's Chicken and Sweet Potato Curry
Ingredients
Wet Paste:-
3 tbsp ground coriander
1 tsp ground cumin
1-7 small red dried chillis (adjust based on spice preference, I used 3)
1.5 tsp dried turmeric
3 cloves garlic, peeled
3 tsp onion powder
2 tbsp Malaysian Meat Curry Powder (see Notes)
Curry:-
40 g olive oil
1 star anise
1 cinnamon stick
400 ml coconut milk
50 g water
500 g chicken breast, *large* chunks
500 g sweet potato, peeled, medium dice
1 tbsp salt
1 tsp coconut sugar/brown sugar/rapadura/white sugar
Instructions
Blend the wet paste ingredients; work your way up to 1 min/speed 9.
Scrape mixer bowl down.
Add 80 g of coconut milk, olive oil, star anise and cinnamon stick.
Cook 3 min/100°C/speed soft/reverse.
Add chicken pieces, sweet potato, remaining coconut milk, water, salt and sugar.
Cook 18 min/100°C/speed soft/reverse/MC off.
Let curry stand for 5 min before serving with rice or use cauli rice for a paleo version!
Notes
The curry powder that I like to use is called
'meat curry powder' by Babas
. You can find it in most good Asian/Indian grocers:-
Bellini Users
Use
blunt blade
for this recipe.
At
step 4
use
speed 1
At
step 6
use
speed 1
and increase cooking time if sweet potato isn't tender at the end of this step.
Nutrition Information
Serving size:
200g
Calories:
325
Fat:
18.7g
Saturated fat:
10.4g
Carbohydrates:
16.3g
Sugar:
7.7g
Sodium:
926mg
Protein:
21.2g
Comments from Michael
This has been a staple recipe long before the "Thermy Days" and is simply to die for. Even the children love it mixed with a little bit of home-made yoghurt. "More curry please!" 🙂