⭐️ I am so excited to be sharing the contents of my 17th book – 'SkinnyAsia' with you all!
Released on Friday the 22nd of September at 8pm SA time 🥰
SkinnyAsia is HUGE with 62 recipes – I'm so excited to share with you a BIG taste of Asia. Whether you are wanting to cut back on takeaway, finding new weeknight meals to get on the table fast, discovering new favourites or some family faves skinnified.
SkinnyAsia is a similar size to SkinnyEntertaining, yes it's a BIG one
The price of the new book will be a special pre-sale price of $56.95 ($58.95 RRP) + Free Australian Shipping and we offer AfterPay. You will receive the electronic copy immediately & the books will hopefully start shipping late October.
We will have clickable/scannable QR codes on every recipe to take you to the recipe pages on the website – this is where you can see the visual guide for what you will need, watch the video blurbs and any how to videos, find extra information on where to buy specialty ingredients.

FAST – Chinese Lemon Chicken, Japanese Chicken Curry, Thai Basil Stir Fry, Kung Pao Chicken, Larb, Tom Kah Gai, Yakitori, Thai Chilli Jam Chicken

TAKEAWAY – Korean Not Fried Chicken, Pad Thai, Panang Curry, Char Kway Teow, Thai Very Green Chicken Curry, Choo Chee Prawns, Salt & Pepper Squid, Thai Pineapple Fried Rice, Vietnamese Meatball Salad, Pho

CHEFS SPECIAL – Hainanese Chicken Rice, Crispy Pork Belly Salad, Sticky Lamb Ribs, Char Siu Pork, Coconut Beef Curry, Betty's Yum Cha Black Bean Pork, Crying Tiger Beef, Singapore Chili Crab, Peking Duck Pancakes, Fragrant Fish Curry

LIGHT & SNACKS – Mi Goreng, Tom Yum, Honey Soy Chicken Sushi, Gyoza, Spring Onion Pancakes, Okonomiyaki, Ginger & Spring Onion Chicken Salad

SIDES & SAUCES – Fast Stir Fry Sauces: Mongolian, Garlic, Sweet & Sour; Roti, Coconut Rice, Chilli Oil, Smashed Cucumber Salad, Peanut Dipping Sauce, Cheat's Kimchi, Kimchi Pancakes, Sambal, Creamy Japanese Mayonnaise (Wasabi Aioli + Sriracha Mayo), Rainbow Soba Salad, Chinese Vegetables & Rice

SWEETS & DRINKS – Vietnamese Espresso Martini, Secret Surprise Mango Pancakes, Mango Sticky Rice, Miso Caramel Mochi Brownies, Lychee Colada, Fruity Apple Tea with Rainbow Jelly, Steamed Coconut Pineapple Puddings, Thai Basil Cherry Punch
SkinnyAsia is a similar size to SkinnyEntertaining, yes it's a BIG one
We have all the usual dietary variations plus Thermomix & Conventional cooking methods.
The SkinnyAsia Spice Packs at Grandma's Pantry are now available to pre-order – click here to check it out. Don't forget to use the discount code SKMIX for 10% Off!
To celebrate SkinnyAsia being our 17th Cookbook…
We will have 6 Golden Tickets hidden in presale orders for the new book!
I am signing the first 700 books sold & extra random ones.
There will be a new 3 Book Skinny Bundle & NEW 17 Book Complete Collection. We now have Spend & Save in the Shop – this is for the Skinnies wanting to build their own bundles. Spend $100 – save 5%, Spend $250 – save 10%, Spend $500 – save 20%.
I'm so incredibly proud of what we've achieved with this book & can't wait to share it with you!
Love Nik xx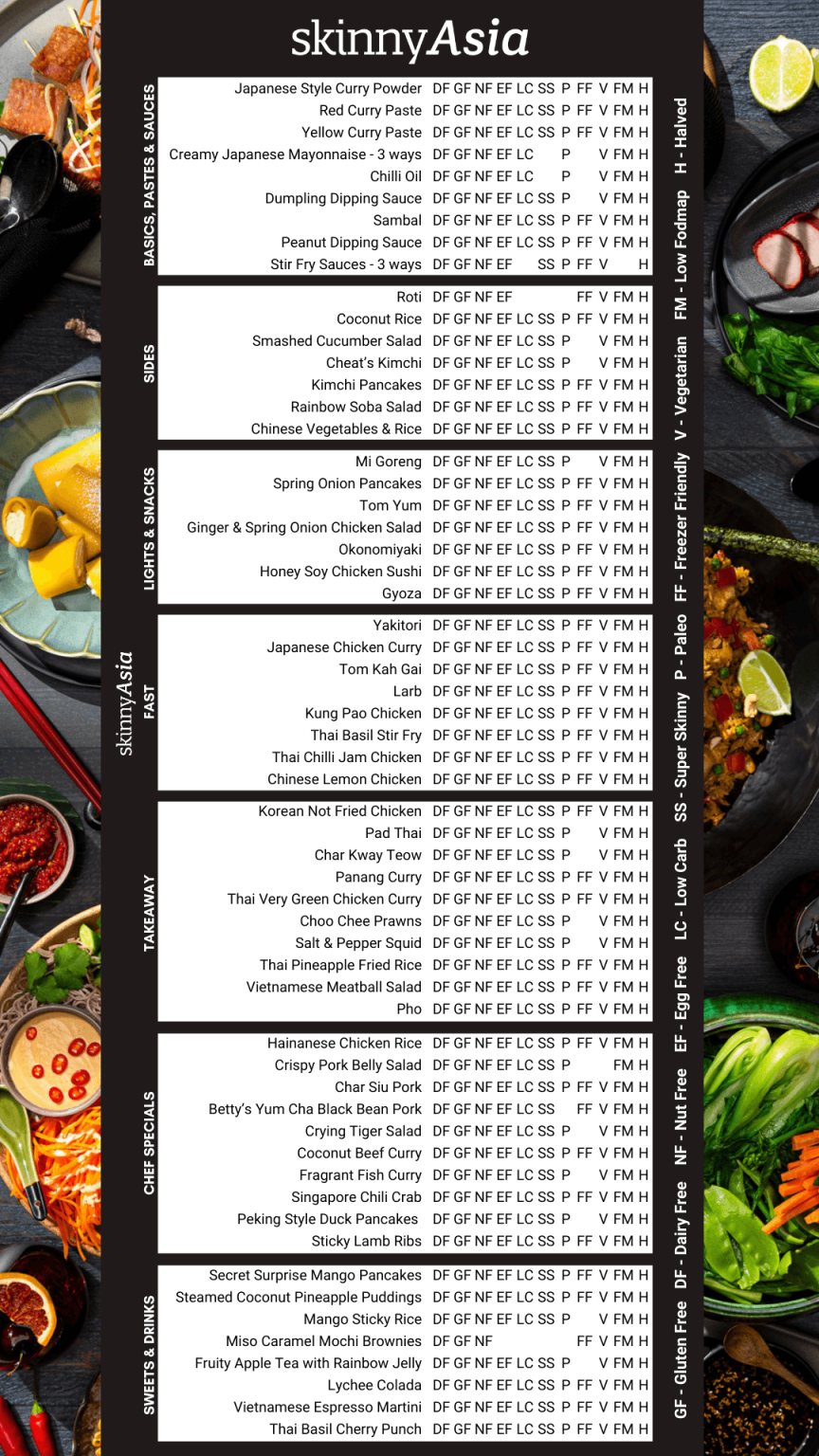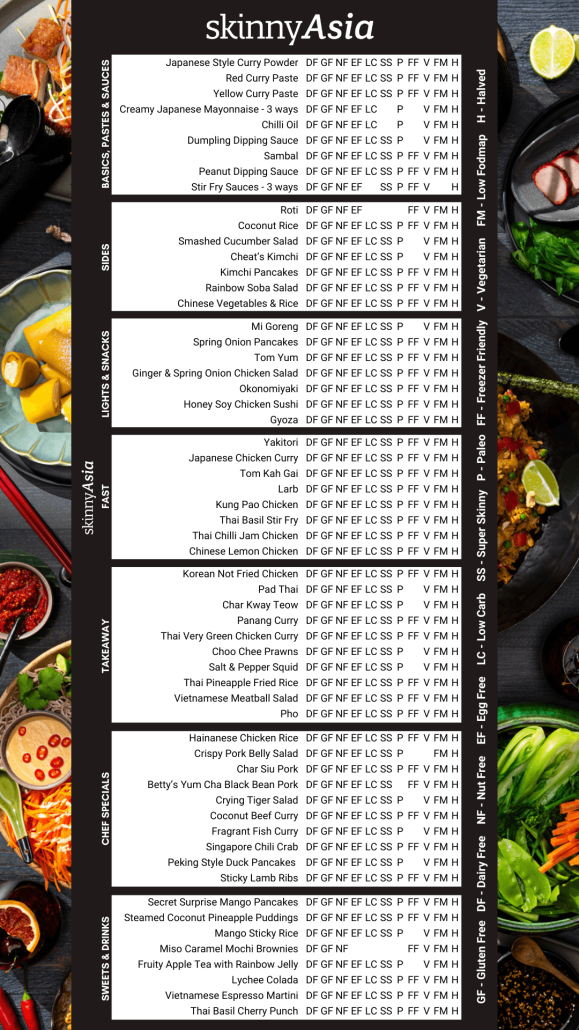 Shopping Tips!
We have started dropping some shopping hints in Skinnymixers with the #skinnytease campaign, but here are some items you might like to start shopping for.
Herbs & Spices
black peppercorns
cardamom powder
cayenne pepper
chilli flakes
Chinese five spice
cinnamon sticks
cinnamon powder
coriander powder
coriander seeds
cracked black pepper
cumin powder
cumin seeds
dried bay leaves
dried fennel seeds
dried fenugreek leaves or seeds (optional)
dried red chillies
garlic powder
ginger powder
ground chilli powder
ground white pepper
onion powder
rock salt
salt
star anise
sweet paprika
Szechuan peppercorns
turmeric powder
whole cloves
Pantry
apple cider vinegar
tin apricots in juice
Baker's flour
baking powder
beetroot powder (optional – Char Siu Pork)
bi-carb soda
black sesame seeds or toasted sesame seeds
cacao powder
caster sugar
Chinese cooking wine
coconut cream
coconut milk
coconut oil
coconut sugar or brown sugar
coconut water
soda water
cornflour
crushed peanuts
dashi powder (Mayo)
desiccated coconut
Dijon mustard
dried thin Pad Thai rice noodles
dried vermicelli noodles
dry instant noodles (3 cakes)
espresso or instant coffee
fermented, salted black beans (Betty's Yum Cha Black Bean Pork)
fish sauce
gelatine powder
ghee
glutinous rice
glutinous rice flour
Gochujang paste
grape juice
high heat cooking oil
Hoisin sauce
honey
jasmine rice
light coconut cream
light coconut milk
light soy sauce, tamari or coconut aminos
light tasting olive oil
loose leaf green tea
mirin
neutral or light tasting oil
Nori sheets
olive oil
oyster sauce
peanuts, unsalted
pineapple juice
pitted Morello cherries, drained
plain flour (gluten-free if required)
preserved sour plum (in jar- Betty's Yum Cha Black Bean Pork)
powdered agar agar (Rainbow Jelly)
raw cashews
rice flour
rice wine vinegar
roasted cashews
roasted peanuts, unsalted
roasted sesame seeds
roasted shrimp paste
sake or cooking sake
sate sauce (Jimmy's Sate Sauce or you can use the Peanut Dipping Sauce in the book)
sesame oil
sesame seeds
soba noodles
soda water or lemonade
soy sauce, tamari or coconut aminos
Sriracha – if you like it hot!
sushi rice
tamarind puree
tapioca flour
Thai chilli jam stir fry paste or Sambal (in the book)
thin flat dried rice noodles
tin lychee
tin pineapple pieces in juice
toasted shredded coconut
tomato paste
tomato sauce or ketchup
vanilla bean paste or extract
wasabi paste
white miso paste
white sugar
Worcestershire sauce