As we embark on our new SkinnyAsia foodie adventure we thought we would share our top tips for cooking gluten-free Asian food.
I know there are a number of very excited gluten-free Skinnymixers that have been missing out on experiencing delicious Asian food due to dietary restrictions, especially the coeliacs.
Gluten-free Asian Food can be so difficult to find when getting takeaway or eating out, when we cook these delicious Thermomix recipes from SkinnyAsia we can control exactly what goes into the food.
Yes there are absolutely products that you need to avoid and some brands that do offer gluten-free versions of sauces that typically have gluten.
Well we've done the hard work and research so you don't have to!
If you have tips to add – we'd love to hear them. Our community of 245,000 Skinnymixers is an incredible wealth of knowledge.
I'll start out by saying that we have an incredible testing team of over 100 Thermomix users, many have dietary restrictions and we take pride in testing our Gluten Free, Dairy Free, Egg Free, Nut Free, Super Skinny (low calorie), Low Carb, Low Fodmap and Vegetarian variations.
The A to Z of sauces used in SkinnyAsia
Chinese Cooking Wine – Shaoxing Wine
(not Gluten Free)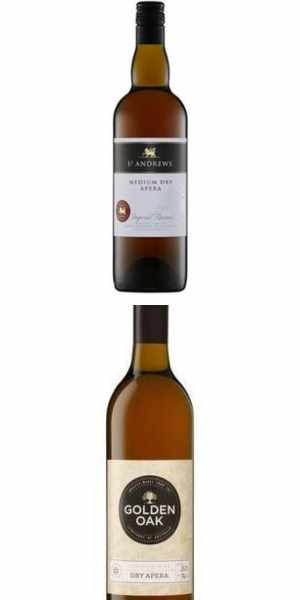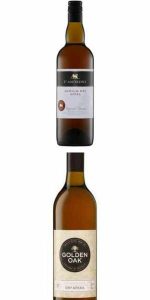 Chinese Cooking Wine – Shaoxing/Shaosing Wine is a type of rice wine that is heavily used in Chinese cooking.
Sweet, salty and complex in flavour it adds a depth of flavour to dishes BUT it is typically made with fermenting rice, water and a small amount of wheat in the fermentation starter culture. So unfortunately Chinese Cooking Wine is not gluten-free.
Dry Sherry is the most recommended 1:1 substitute. Other substitutes include Dry Marsala, Dry White Wine, Sake or Cooking sake.
Our testing team have used:
You can buy Dry Sherry (Apera) for cooking from a bottle shop fairly cheap.
We have also included non-alcoholic substitutions for the recipes in the book.
If in a pinch, replace with liquid chicken stock.
Fun Fact: Sherry produced in Australia is called 'Apera'.
---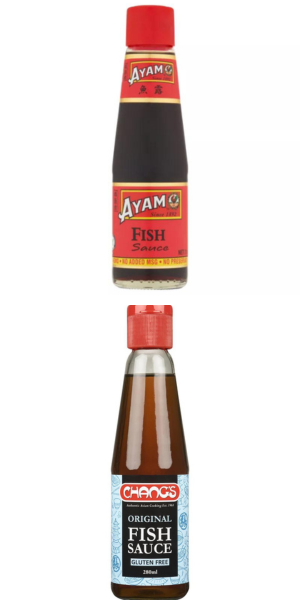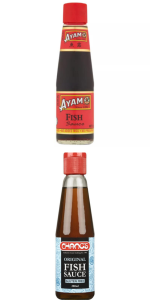 Fish Sauce
Fish sauce is used heavily in Thai or Vietnamese cuisines to season dishes with its umami flavour and is made with fermented fish and salt (there are vegan fish sauce options in most supermarkets).
We recommend sticking to brands that it is clear that they are gluten free, sometimes the ingredients get lost in translation when importing and may contain wheat extracts.
We recommend the following brands of Fish Sauce for flavour and if you are gluten-free:
---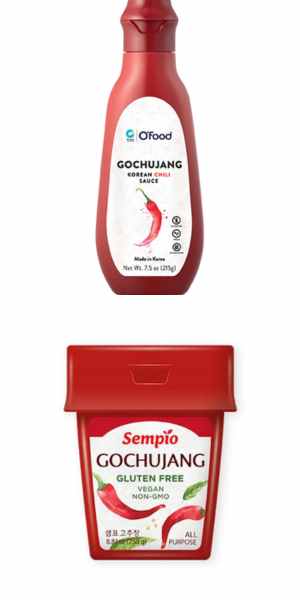 Gochujang paste
A staple in the Korean recipes is Gochujang Paste. Unfortunately store-brand gochujang has barley malt, wheat or soy as primary ingredients. We have a fantastic dietary-friendly Gochujang Recipe on the website.
However you maybe able to source the following at different shops – the ones stocked in the major supermarkets have gluten.
When trying different brands, you may find they vary in heat levels. If worried about spice, taste it first and adjust amount accordingly.
O'Food Gluten Free Gochujang Sauce – found at Harris Farm Markets
Sempio Gluten Free Gochujang – found at some bigger Asian Supermarkets
---
Hoisin sauce
Hoisin sauce is a savoury-sweet sauce made from ground soy beans.
It is traditionally gluten-free but some commercial products have added thickeners or soy sauce. We recommend using brands that clearly say they are gluten free.
We recommend the following brands of Hoisin Sauce if you are gluten-free:
Lee Kum Kee Hoisin Sauce
Chang's Original Hoisin Sauce
---
Light Soy Sauce, Tamari or Coconut Aminos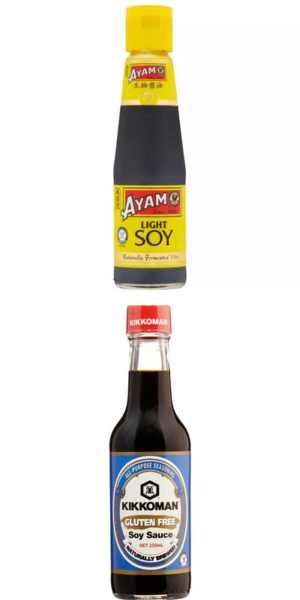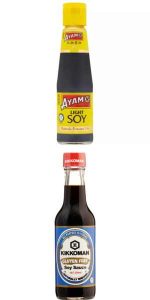 As you know soy sauce isn't traditionally gluten-free, however we seeing more gluten-free labelled soy sauces on the shelves. The AYAM brand is recommended by Coeliac Australia
Gluten free Tamari is a good go-to gluten-free soy sauce substitute. However, always check that it specifically says gluten free on the label.
We recommend the following brands of Soy Sauce or Tamari if you are gluten-free:
AYAM Light Soy Sauce
Kikkoman Gluten Free Soy Sauce (blue label)
Sprial Foods Gluten Free Tamari
Lee Kum Kee Gluten Free Soy Sauce
Coconut Aminos is a good option for low carb or paleo dietary needs.
Bragg's Coconut Aminos is gluten free
---
Mirin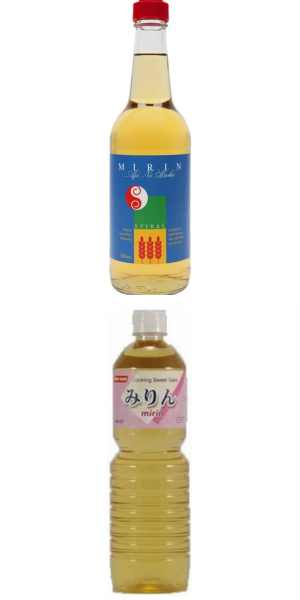 Traditionally used in Japanese cooking and is made from sweet brown rice, rice koji and sea salt.
Watch out for the bottles labelled as 'Mirin Seasoning' as they have soy sauce added (Obento) and contain gluten.
You can purchase Spiral Foods Mirin (GF) from Woolworths, Amazon and Health Food Shops.
WFC Mini Gluten-Free from major Asian Supermarkets
We haven't found a gluten free mirin in Coles.
---
Miso Paste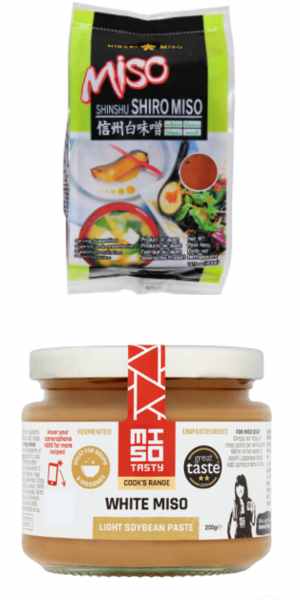 If a Miso Paste is fermented with soybeans, it should be gluten-free.
Some might be fermented with barley or wheat though, so it is always best to double check.
Hikari White Miso Paste – you can buy this at Coles and Woolworths
Miso Tasty White Miso Paste – you can buy this at Woolworths
Visit your local Asian Supermarket to check out the brands that they stock.
We found some awesome gluten-free ramen noodles at our local to make the Skinnymixers Simple Shoyu Ramen
---
Oyster Sauce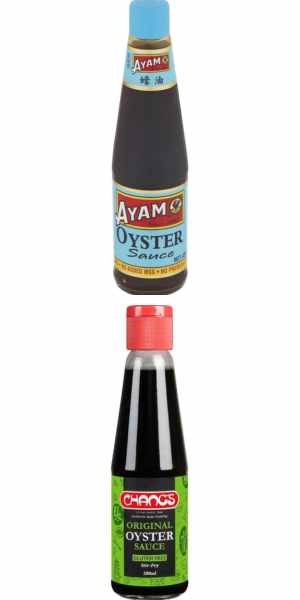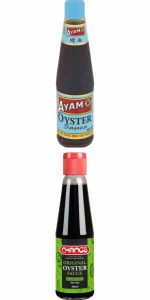 Oyster Sauce is a sweet and salty dark brown sauce made with oysters or oyster extract. You can get a Vegetarian version made with mushrooms.
Although Oyster Sauce by definition is gluten free, the thickening agents some brands use are not. Wheat flour is often found as a thickening agent.
We recommend the following brands of Oyster Sauce for flavour and if you are gluten-free:
Chang's Original Oyster Sauce
Kikkoman Gluten Free Oyster Sauce
---
Rice Wine Vinegar
Rice Wine Vinegar is typically gluten free but is another product that you must check the ingredients on the brand you purchase.
Some brands that don't have wheat in the ingredients:
Obento Japanese Rice Wine Vinegar
Coles Asia Rice Wine Vinegar
Spiral Foods Gluten-free Brown Rice Vinegar
Mr Chen's Rice Wine Vinegar
---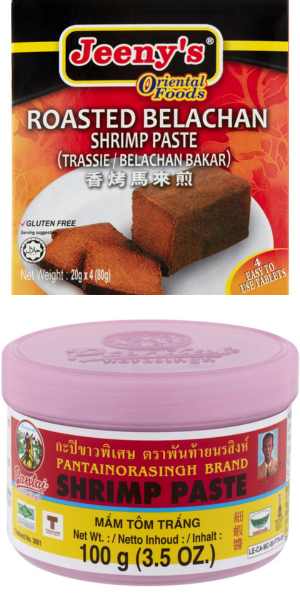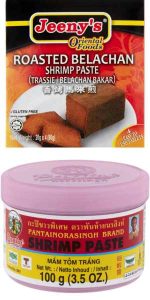 Roasted Shrimp Paste
Shrimp paste should be gluten free and safe for coeliacs.
We love to use the Jeeny's Roasted Belachan Shrimp Paste found in Woolworths (pictured right).
It is gluten free, comes in a box with 4 x 20 g individually wrapped portions and is already roasted for extra flavour.
If you have ever tried to roast your own shrimp paste you will understand why we prefer to use the Roasted Belachan Shrimp Paste!
The Pantai Shrimp paste (little pink tub) is also suitable for coeliacs.
Ingredients: Shrimp (65%), Salt, Sugar, Flavour Enhancers (E621, E631 & E627).
---
Sake or Cooking Sake
Sake is not always gluten-free, even though it is brewed from fermented rice. The following are gluten free cooking sakes we found for sale in Australia.
Obento Japanese Cooking Sake – Ingredients: Water, Rice, Alcohol, Rice Koji, Salt(1.6%), Acidity Regulator (270).
(Available from Coles and Woolworths)
WINE FOOD Ryorishu – Gluten Free Cooking Sake Wine
All Premium Sake should be gluten-free.
---
Sesame Oil
Pure sesame oil is naturally gluten free, assuming no cross-contamination has occurred.
We haven't found any sesame oils that have gluten in them, if you come across any that our gluten-free community need to be aware of – please let us know!
---
Sriracha
Sriracha has always been popular with the spice loving gluten free cooks as it is gluten-free.
You don't need to worry about any gluten in Sriracha for cooking Gluten-Free Asian Food.
---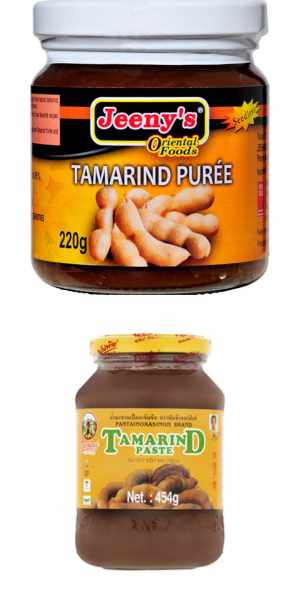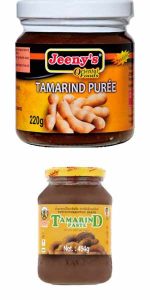 Tamarind Puree/Paste
Tamarind Puree or Tamarind Paste is a sticky brown acidic pulp which will add a sweet and sour flavour.
The Jeeny's Tamarind Puree available from Coles and Woolworths has a great flavour and is gluten free.
Jeeny's Tamarind Puree – ingredients: tamarind 80%, water, acidity regulator (330), preservative (211).
AYAM Tamarind Puree – ingredients: tamarind 80%, water, acidity regulator (330)
Pantai Tamarind Paste – ingredients: Tamarind (56%), Water, Acidity Regulator (330)
---
Thai Chilli Jam Paste
For our Tom Yum recipe in SkinnyAsia you can choose to use a bought Thai Chilli Jam Stir Fry Paste or use the Sambal recipe in the cookbook.
For this recipe we recommend the AYAM Thai Chilli Jam Stir Fry Paste for the store bought option.
AYAM has definitely made cooking Gluten-Free Asian Food a little easier!
---
Worcestershire sauce
You can easily find gluten-free Worcestershire sauces in Coles and Woolworths these days.
Both supermarkets have their own homebrand versions that are gluten-free.
The Spring Gully brand is also Gluten Free.
If you have the time, the Skinnymixers Worcestershire Sauce Thermomix recipe is delicious!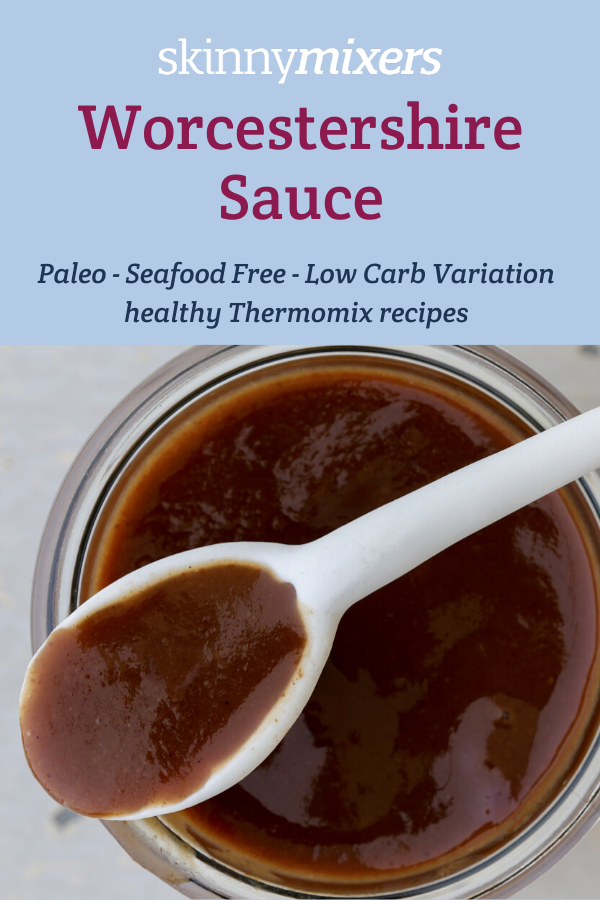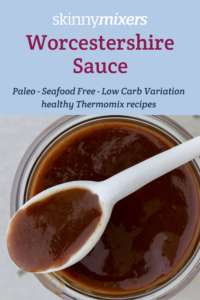 Gluten Free Noodles !