Congratulations on your new Thermomix or Thermo cooker.
If at all you ever get stuck with a recipe or your thermo cooker, simply ask for help in the Skinnymixers Facebook Group – you might be surprised at how quickly you get an answer! Skinnymixers is a healthy recipe and lifestyle online community, if you would like more information about the group you can read the guidelines here.
We recently asked in Skinnymixers "What advice would you give to someone who has just taken delivery of a new Thermomix or Smith & Noble?". These are some helpful tips and advice. Feel free to comment with your own tips!
Get a silicon spoon / spatula. You can often find great supplies at Kmart, IKEA and most cooking supply shops. You may want several 😉

A silicone spoon / spatula will help get every last bit out!

Never put the jug back onto the Thermomix unless it is completely put back together. Store the black jug base upside down where the jug sits. This will avoid liquids being tipped into your machine accidentally.
If you ever accidentally tip liquid through your machine, switch it off and call your consultant. If it is a TM31 (older model) tip it on its back. DO NOT TIP the new TM5 or TM6.
The butterfly locks in to the blunt side of the high blades on a Thermomix. If you can lift the butterfly off, it isn't locked in correctly. Watch a helpful video here.
Lock the butterfly into place in the opposite direction that the blades will be turning. Blades going forward: lock to the left, blades in reverse: lock to the right.
Don't use the butterfly above speed 4. (ie. always check if it is in the mixer bowl before doing a turbo clean – otherwise you will have a shattered butterfly!)
Don't leave your Thermomix whilst it is kneading. It might walk right off the bench.
The lid can be used as a funnel when pouring into jars.
When using the varoma, always make sure there are holes for the steam to get through.
Lastly, take your time to get use to a new way of cooking. In the beginning follow the recipes and try not to change them until you build your confidence up.
The Skinnymixers books and recipes are written in straight forward, easy to understand way and are suitable even for beginners. You may notice some abbreviations when cooking with Skinnymixers or in the group. Below are some you may come across:
Steaming Temp = Varoma (this is the highest cooking setting on the Thermomix. Turn the dial all the way around)
MC ON / MC OFF = Measuring Cup On or Off
Slowest Speed = Spoon / Stir
ALToI = 'A Little Taste of India' available in the Skinnymixers Shop.
ALToA = 'A Little Taste of Asia' available in the Skinnymixers Shop.
THM = 'The Healthy Mix' available in Skinnymixers Shop.
ALToM = 'A Little Taste of Mexico'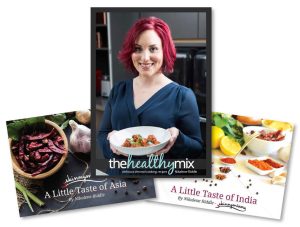 If you are looking for certain ingredients to cook the recipes, including Babas Meat Curry Powder. We have an Ingredients page to give you some helpful tips on finding or substituting the ingredients.
You may also notice we have some FAQ pages for popular recipes and also variations recommended by the Skinnymixers Community. You will find this info on the recipe pages for easy access.
Lastly we have put together a special 'Must Cook' list of recipes that are perfect for getting started. View the recipe collection here.