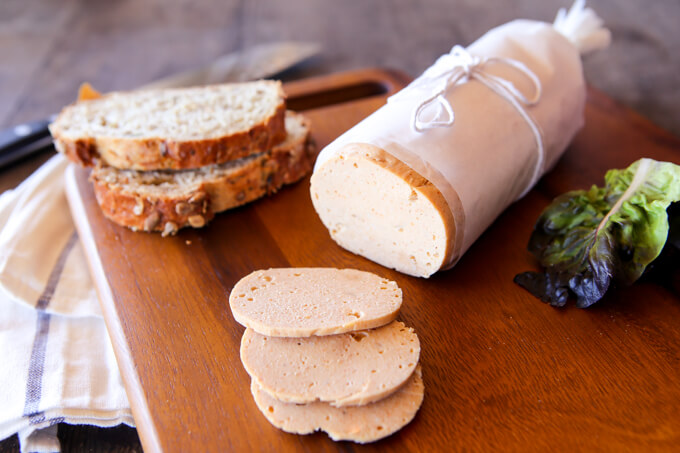 Recently, there has been a lot of attention on deli meats & chicken loaf and what the hidden ingredients could be doing to our health long term. These media spots are really good at scaring us, but when it comes time to packing lunchboxes with a busy lifestyle – sometimes its just easier to grab deli meat… until now.
This Thermomix recipe is super easy to make, extremely delicious and better yet: preservative, additive, nut, gluten, dairy, egg, grain and refined sugar free!
It's also budget friendly, where you will pay $18 kg from the supermarket, this should cost you around $8-$15 a kg depending on if you use free range chicken. Provided you can convince your family to give it a go, I think they will find it just as yummy as the store bought stuff.
Love Nik xx
If you need help with how to roll the loaf, have a look at this video: http://youtu.be/s1FNe9iYRUM
Inspired by http://www.kitchenstewardship.com/2015/08/05/homemade-lunch-meat-recipe/
The Skinnymixers Facebook Group absolutely loved the new 'Back-to-School' Lunchbox Chicken Loaf. With no preservatives and complete control over the ingredients, this recipe is popular with young and old. See the Lunchbox Chicken Loaf Recipe here.
The below flavour variations have been suggested by the Skinnymixers Community and haven't been officially tested.
bacon
turkey with finely chopped pistachios & dried cranberries
chilli, garlic
Chicken Teriyaki Burger Patties flavour
Roll the outside in dried herbs like Rosemary
Rolled in Smokey BBQ Rib Rub
Thai Green Chicken Curry Paste
Curry Mee Laksa Paste
Satay Chicken Marinade
Left out the maple & throw in a whole chipotle in adobo, added a tsp of the adobo sauce, half a char grilled capsicum & a handful of chopped coriander.
Smooth out to a rectangle, place prosciutto and basil leaves the using the plastic wrap roll upon itself leaving one edge free from filling to enclose. Roll log as per usual. You can also add semi dried tomatoes (squeeze to drain oil and excess liquids) or roasted capsicum (red peppers).
sweet chilli sauce instead of maple
wholegrain mustard and honey instead of maple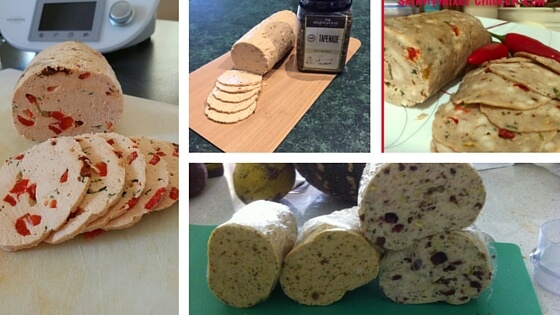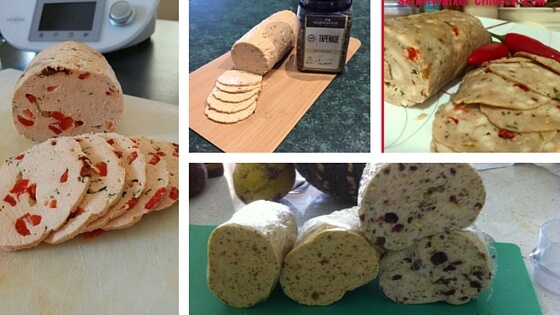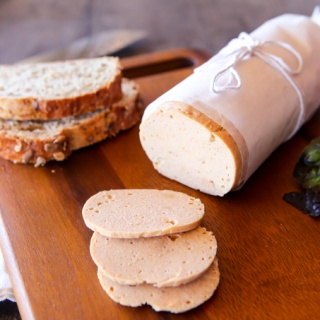 Print
skinnymixer's Lunchbox Loaf
Ingredients
500

g

chicken breast

cubed small

10

g

olive oil

1

tsp

garlic powder

if you can't have it, dont use it!

1

tsp

paprika

if you can't have it, dont use it!

1

tsp

salt

1

tsp

maple syrup

optional, or other liquid sweetener

2

large pieces of BPA free gladwrap
Instructions
Add all ingredients to mixer bowl, blend for 1 min 30 sec/speed 5/MC on.

Scrape mixture out onto piece of gladwrap. Twist the ends and roll tight, squeezing as much air out as possible. Wrap securely with second piece of gladwrap. If you need to see a visual guide watch:

http://youtu.be/s1FNe9iYRUM

.

Wash bowl roughly and add 1000 g or 35.2 oz water. Put your deep steaming tray in place and put chicken roll inside. Steam for 35 min/steaming temp/speed 3. Internal temperature should reach 74°C or 165°F for doneness.

Allow the roll to rest for 10 mins before refrigerating for atleast 2 hours. Unwrap and slice as needed. Keeps for 3-4 days in an airtight container in the fridge and can be sliced and frozen.
Notes
If you dont want to steam in plastic, you can use baking paper, cheesecloth and string.
Feel free to experiment with different meats and flavourings.
Nutrition Facts
skinnymixer's Lunchbox Loaf
Amount Per Serving (20 g)
Calories 31
Calories from Fat 8
% Daily Value*
Fat 0.9g1%
Sodium 98mg4%
Carbohydrates 0.3g0%
Protein 5.3g11%
* Percent Daily Values are based on a 2000 calorie diet.