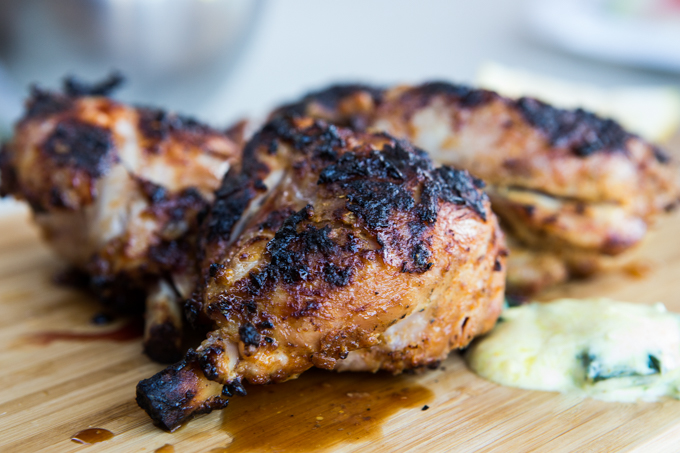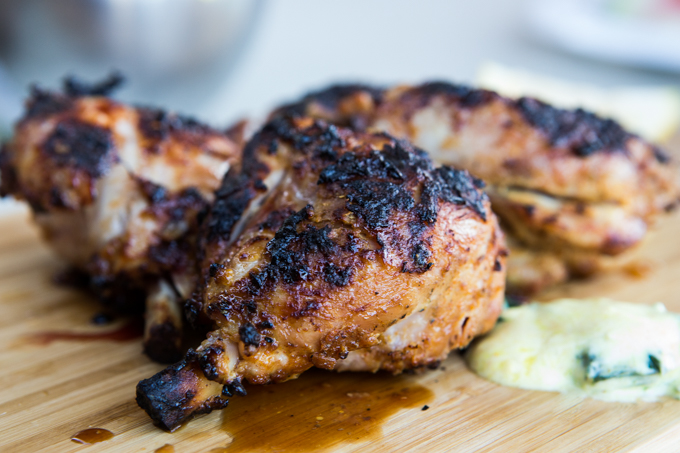 This weeks peoples choice winner was a Tandoori marinade. You might also know this as Chicken Tikka; and its usually served bright red – to the point of wondering if you needed a Geiger counter to accompany dinner. This recipe is made without the addition of Tandoori food colouring, but if you do want to achieve that neon red glow you can add 1-2 tsp before marinating. I chose to test it out with chicken legs and thighs, but it will work with most protein and vegetables. We served this with Palak Raita as an entrée, and it will be a popular dinner coming into the hotter months in the Skinnymixer's household, especially as the paste recipe gives you 4 lots to use! Please, read the notes for further instructions. 

skinnymixer's Tandoori Marinade
Ingredients
Tandoori Paste
1 tsp black peppercorns
4 green cardamom pods
2 whole cloves
300 g | 10.6 oz brown onions, peeled, halved
60 g | 2.1 oz garlic, peeled (about 12 cloves)
80 g | 2.8 oz fresh ginger, sliced into coins
1 tbsp smoked paprika
1 tbsp mild paprika
4 tsp ground cumin
4 tsp ground coriander seeds
4 tsp garam masala (if you haven't got pepper free, omit the peppercorns)
2 tsp ground turmeric
1-2 tsp cayenne pepper (depending on spice preference)
30 g | 1 oz olive oil
Tandoori Marinade
1 portion of tandoori paste
250 g | 8.8 oz Greek yoghurt (I use Jalna)
30 g | 1 oz fresh lemon juice
2 tsp salt
1 tsp honey (optional for sugar free)
Instructions
**Please Note: This recipe requires 24 hour marinating for best results**
Paste
Add peppercorns, cardamom and cloves to mixer bowl. Insert simmering basket and mill for 10 sec/speed 9/MC on. Remove your simmering basket, ensuring to retain any milled spices in the bowl by tapping it gently.
Add remaining paste ingredients and blend for 10 sec/speed 9/MC on. Scrape bowl down and repeat once.
Portion out the paste into 4 x lots and freeze individually.
Marinade
Add all marinade ingredients to mixer bowl, combine for 5 sec/speed 3/MC on.
Notes
Makes enough marinade to marinate 1 kg or 35.3 oz of meat.

Marinate your meat in the fridge, covered, for 24 hours for best results. Scrape excess marinade off of the meat before grilling, oven baking or frying.

For those who are dairy free, you can skip the yoghurt and just marinate your meat with the paste.

Bellini Users
Use the sharp blade for this recipe.
Tandoori Paste - Repeat milling process in Step 1 until spices are ground. Add remaining paste ingredients and blend. You may need to repeat Step 2 twice to achieve paste consistency.
Tandoori Marinade - Extend mixing time until combined.

Nutritional Information for a complete marinade portion
(1 portion of paste + marinade)

Energy 2400kJ
Calories 574Cal
Protein 19.0 g
Fat, total 35.4 g
- saturated 17.6 g
Carbohydrate 38.5 g
- sugars 32.2 g
Sodium 5430

Tandoori Paste Only - 1 Serving 133g
Energy 719 kJ
Calories 172Cal
Protein 4.5 g
Fat, total 10.4 g
- saturated 1.6 g
Carbohydrate 12.0 g
- sugars 5.8 g
Sodium 28 mg
Nutrition Information
Serving size:
434g
Calories:
574
Fat:
35.4g
Saturated fat:
17.6g
Carbohydrates:
38.5g
Sugar:
32.2g
Sodium:
5430mg
Protein:
19g