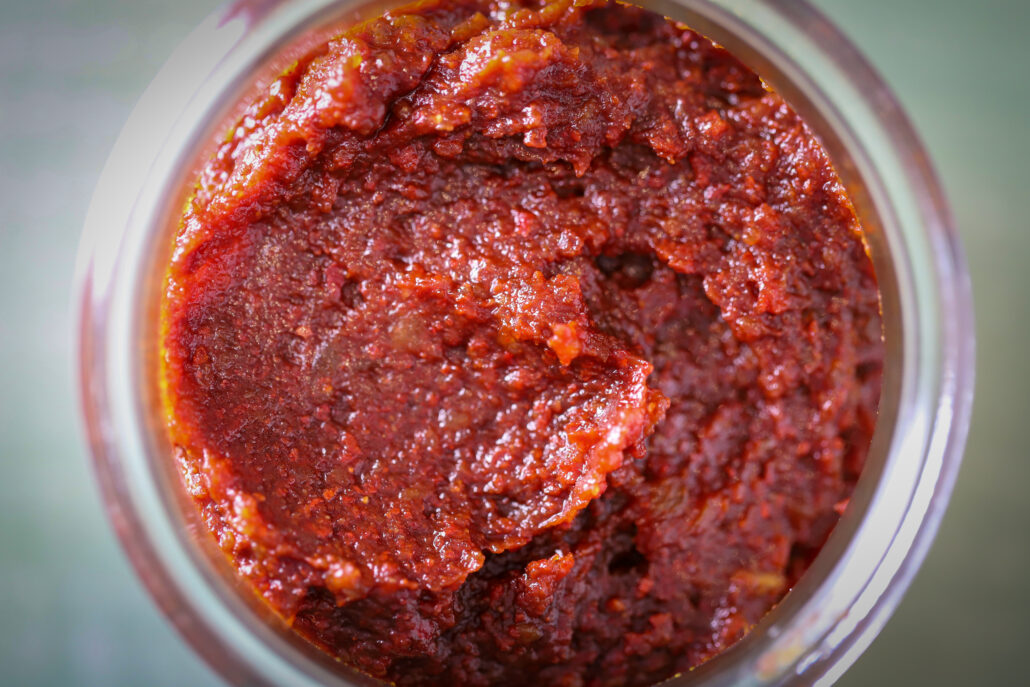 Gluten Free – Refined Sugar Free – Paleo – Preservative Free – Vegan
Gochujang (Korean chilli paste) is a staple in a Korean pantry. It is a savoury chilli, sweet and salty condiment made from Korean red chilli, glutinous rice, fermented soybeans and traditionally fermented.
With the upcoming skinnybarbecue release we wanted to ensure all Skinnymixers who are unable to use the commercially available gochujang paste for various dietary reasons can enjoy the amazing Korean flavours too.
You'll find Gochugaru (Korean chilli powder) in your local Asian Grocer. Gochugaru is red in colour and has a mild to moderate spicy taste with a hint of sweetness. It mainly comes in two kinds which are used for different cooking needs. For this paste you will need the fine powder variety.
Gochugaru tastes quite different to other non-Korean standard chilli powders so it is best not to substitute.
This is great to use in the following recipes: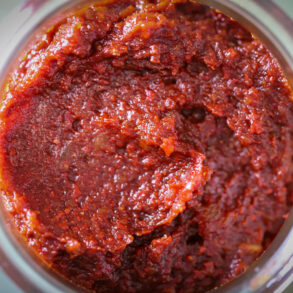 Print
Guest Recipe: Gochujang Paste
Ingredients
100

g

medjool dates

deseeded

40

g

water

40

g

apple cider vinegar

30

g

Korean red pepper chilli fine powder

65

g

tomato paste

(or organic white miso paste for non paleo/soy free)

50

g

coconut aminos

(or tamari for non paleo)

½

tsp

garlic powder

½

tsp

onion powder

¼ - ½

tsp

cayenne pepper

1

pinch

salt to taste
Instructions
Add dates and water to bowl. Blitz for 10 sec/speed 8/MC on. Scrape and repeat until finely chopped.

Add remaining ingredients. Blitz for 5 sec/speed 8/MC on. Scrape and repeat a few times.

Store in the fridge for up to a week or freezer for longer term storage.