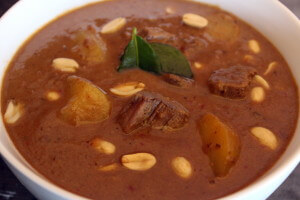 skinnymixer's Massaman Beef Curry
Ingredients
Paste ingredients
5 long red chillis, deseeded and chopped roughly
2 stalk lemongrass (white only, around 8 cm or 3" each), chopped roughly
7 cloves garlic, unpeeled
5 shallots, unpeeled and halved (small brown ones)
2 whole cloves
5 whole green cardamom pods
½ stick cinnamon (or ¼ tsp ground cinnamon)
1 tsp cumin seeds
1 tbsp coriander seeds
1 pinch mace (or nutmeg)
80 g | 2.8 oz oil of choice
5 coriander roots and stems
20 g | 0.7 oz fresh galangal, sliced into coins (or ginger)
2 whole kaffir lime leaves
½ tsp salt

Curry ingredients
4 medjool dates, deseeded
25 g | 0.9 oz tamarind purée
120 g | 4.2 oz brown onion, peeled and halved
60 g | 2.1 oz skinnymixer's Massaman Curry Paste
2 x 270ml | 9.2 fl oz tins Ayam coconut cream
800 g | 28.2 oz gravy beef, cubed large
4 kaffir lime leaves
1 stalk lemongrass (white only), whole
½ tbsp vegetable stock concentrate
400 g | 14.1 oz waxy potatoes, peeled and 3 cm or 1.2" dice
1 stick cinnamon stick
2 bay leaves
5 cardamom pods, bruised
25 g | 0.9 oz fish sauce (or soy sauce, tamari, liquid aminos)
1 small handful thai basil leaves, chopped roughly
1 handful roasted, unsalted peanuts (for serving) [optional]
Instructions
Paste directions
Preheat oven to 180°C or 350°F. Add chillies, lemongrass, unpeeled garlic cloves and shallots onto a baking tray. Bake 10 min or until garlic and shallots are soft. Peel when finished.
Meanwhile, add whole cloves, cardamom pods, cinnamon stick, cumin seeds,coriander seeds and mace to mixer bowl. Dry fry 5 min/100°C or 212°F/speed 1/MC off.
Mill 1 min/speed 8/MC on.
Add oil, roasted garlic, chilli, shallots, lemongrass, coriander roots and stems, galangal, lime leaves and salt. Pulverise for 30 sec/speed 9/MC on. Scrape bowl down, add 30 g or 1 oz water and repeat only the pulverising (not the water content) 30 sec/speed 7/MC on twice.
Remove to a sterilised jar or portion into 60 g or 2.1 oz lots

Curry directions
Without washing the bowl from making the curry paste, add dates and tamarind to mixer bowl. Chop 2 sec/speed 9/MC on. Scrape bowl down and repeat once.
Add onion to mixer bowl. Chop 3 sec/speed 6/MC on. Scrape bowl down.
Add massaman curry paste and 100 g or 3.5 oz coconut cream to mixer bowl. Cook 5 min/100°C or 212°F/speed 2/MC off.
Add beef, remaining coconut cream, kaffir lime leaves, lemongrass, vegetable stock concentrate, cinnamon stick, bay leaf, cardamom pods and fish sauce to mixer bowl. Cook 60 min/100°C or 212°F/slowest speed/reverse/MC on.
Check seasoning and adjust to taste. Cook 20 min/100°C or 212°F/slowest speed/reverse/MC off.
Add potato to mixer bowl. Cook 20 min/100°C or 212°F/slowest speed/reverse/MC off. Tip: Put simmering basket on top of the mixer to avoid food splatter!
Remove whole spices, stir through thai basil leaves and garnish with a few strands of thinly sliced kaffir lime leaves and peanuts.
Notes
This curry is best prepared 24 hours in advance and reheated. The flavours need time to develop in order to produce the best taste.

This is not a spicy curry, it is a beautiful balance of sour and sweet. Perfect for hot days or for those with kids 🙂

The Massaman Curry Paste yields roughly 240 g-360 g or 8.5-12.7 oz worth, which is enough for 4-5 curries. Store mixture in a sterilised jar in the fridge for up to a month, or divide into individual portions and freeze for up to a year.

If you use an alternative brand of coconut cream, you may need to top the curry up with water while its cooking. Other brands have less water in them.

You can substitute the potato for sweet potato, or omit the potato entirely for LCHF.

You can get tamarind puree from the Asian section at Woolworths. If you need to substitute, use 20 g or 0.7 oz lime juice.

You can get your Thai herbs and spices from Asian supermarkets - this will save you money.

If you want to use a cut of beef, such as rump steak, add during step 5 so that it doesnt overcook.

The kaffir lime leaf amounts in this recipe refer to single leaves and not doubles.

Bellini Users

Use your blunt blade for this recipe.

PASTE DIRECTIONS
At step 3 use speed 9.

CURRY DIRECTIONS
Make sure your beef is in large chunks to avoid shredding.
At step 4, step 6 and step 6 use speed 1 in place of reverse speed.
Nutrition Information
Serving size:
240g
Calories:
404
Fat:
21.9g
Saturated fat:
11.8g
Carbohydrates:
17.7g
Sugar:
9.9g
Sodium:
905mg
Protein:
32.4g
---
Please remember to leave feedback on my blog if you cook this recipe 🙂