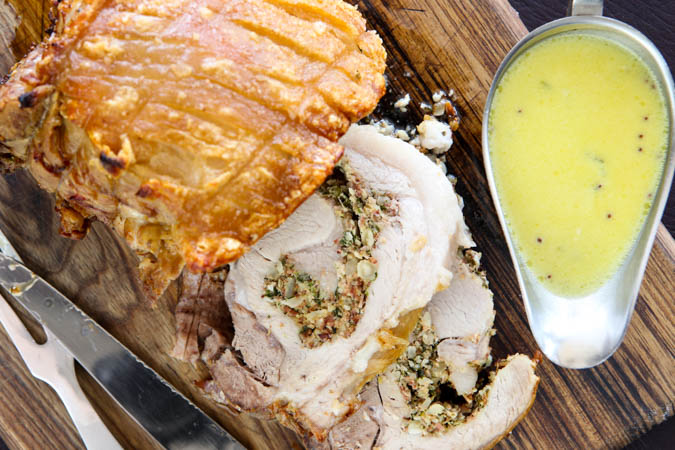 Roast meats are a tradition in many households during the holiday season. My roast pork belly has been a viral success since it was released, and I have wanted to do a similar recipe with rolled roast and a gluten free/low carb stuffing as it is one of the most common questions we get asked on the group – can you do the roast pork belly with rolled pork. Well, here it is and we loved every bite of it! The sauce is optional, and naturally if carbs aren't an issue for you you can combine this recipe with the pork belly recipe and use the caramelised apple sauce too. Love Nik xx

skinnymixer's Twice Cooked Pork Roast
Ingredients
Pork Ingredients
1.5-1.7kg boneless pork leg roast, with the skin on, 2 cm score on the skin
salt
olive oil
butchers string
Stuffing Ingredients
100 g raw macadamia nuts
100 g pancetta (or bacon)
30 g spring onion (white part only)
20 g sesame seeds
2 small handfuls of continental parsley
grated rind of 1 lemon
1 garlic clove, peeled
pinch of salt
pinch of fennel seeds
Sauce Ingredients (optional)
300 g left over steaming water
100 g creme fraiche or cream or sour cream
handful of chopped continental parsley
1 tbsp seeded mustard
pinch of salt
2 tbsp cornflour or tapioca mixed with ¼ cup of water for thickening (optional for LCHF)
Instructions
Add all stuffing ingredients to mixer bowl. Chop for 5 sec/speed 5/MC on.
Transfer stuffing mixture to a frying pan and lightly fry while preparing steaming water.
Without washing the bowl, add 1000 g steaming water and bring it to temperature by heating for 8 min/steaming temperature/speed 3/MC on.
In the mean time, prep your roast by butterflying it in half, with the rind on one side (see below picture). Spoon the stuffing mixture evenly over the entire underside of the pork (not the rind side). Carefully roll it up and secure in place with butchers string.
When the water is ready, place prepared roast into deep steaming tray and steam for 60 min/steaming temperature/speed 3. Pre-heat your oven during this time to 220°C or higher.
When roast has finished steaming, if you have one available, use a hairdryer to quickly dry out the rind. Rub olive oil into the skin and salt liberally. Put into a roasting tray and roast until crackling is ready.
To prepare sauce:
Retain 300 g of the steaming water, add remaining sauce ingredients and cook for 5 min/80 degrees/speed 2/MC on.
Notes
Sauce - Nutritional Information:
Serves 10
Serving size: 50g Calories: 41 cal / 172 kJ Protein: 0.3g Fat: 3.5g Saturated fat: 2.2g Carbohydrates: 2.0g Sugar: 0.3g Sodium: 104mg
Nutrition Information
Serving size:
135g
Calories:
519
Fat:
32.1g
Saturated fat:
8.7g
Carbohydrates:
0.9g
Sugar:
0.8g
Sodium:
416mg
Protein:
56.1g