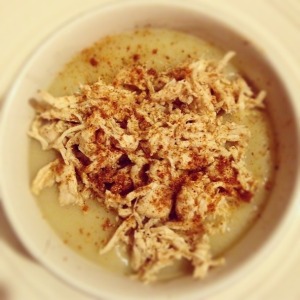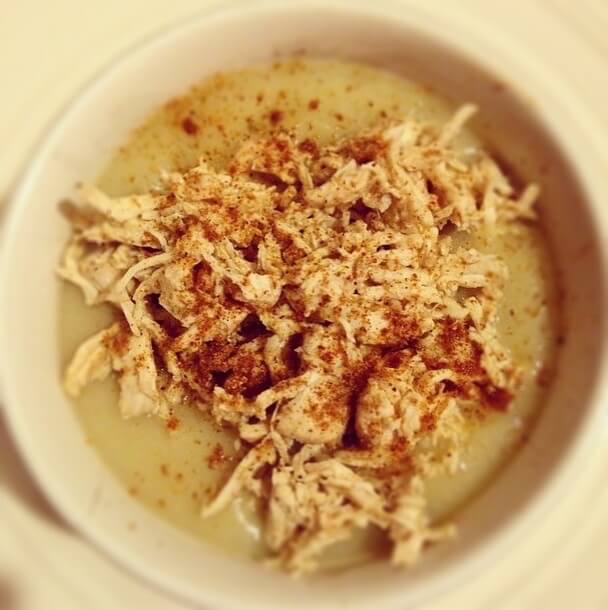 skinnymixer's Creamy Chicken and Cauliflower Soup
Ingredients
800 g | 28.2 oz cauliflower, roughly chopped
600 g | 21.2 oz water
1.5-2 tbsp chicken or veg stock concentrate
½ tsp cracked pepper
30 g | 1 oz grassfed butter (omit this if on P2)
800 g | 28.2 oz chicken breast, diced into chunks
1 Tbsp Seasoning of choice for chicken (I like to use skinnymixer's Mexican Spice Mix)
Instructions
Add cauliflower to mixer bowl.
Blitz for 6 sec/speed 4/reverse.
Add water, stock, pepper to mixer bowl.
Add chicken and seasoning of choice to steamer tray and put in place.
Cook for 15 min//steaming temperature/speed 2.
Break chicken up with spatula and if using butter, add to mixer bowl.
Cook for 5 min//steaming temperature/speed 2 with steamer tray in place.
Check chicken is cooked and extend time by a couple of minutes if needed.
Remove steamer tray, put your measuring cup on and blend 1 min/speed 9, increasing speed gradually.
Put soup aside in bowl and add cooked chicken to mixer bowl. No need to clean it!
Shred chicken 4 sec/speed 4/reverse.
Serve soup with shredded chicken sprinkled on top.
Notes
Serves 8 on HCG P2 🙂

Bellini Users

Use the blunt blade for this recipe.

At step 2 use speed 5 for 6 seconds.
At step 5 and step 7 use ST temp if using an Intelli and 120°C or 250°F if using a Supercook.
At step 9 SLOWLY increase the machine speed up to speed 9.
At step 11 you may need to add a couple of seconds if chicken isn't shredded enough.
Nutrition Information
Serving size:
310g
Calories:
263
Fat:
9.4g
Saturated fat:
4.3g
Carbohydrates:
3.2g
Sugar:
2.9g
Sodium:
674mg
Protein:
39.5g