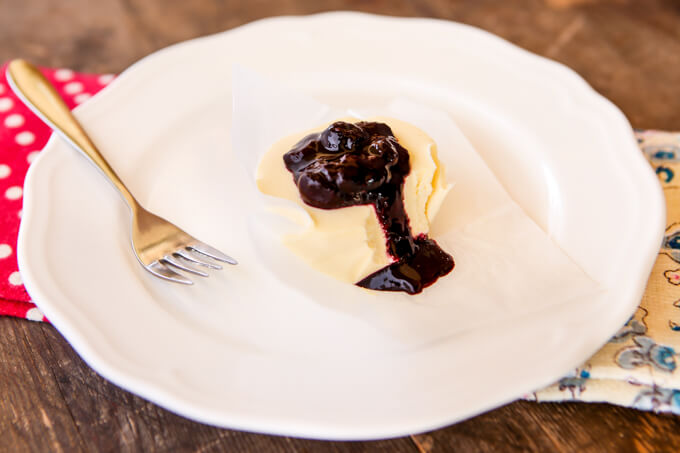 I freaking LOVE cheesecake… any kind of cheesecake really, afterall; what isnt there to love about cheese AND cake! I have had a jar of Great Lakes Gelatine hidden in my pantry (Narnia) for a year now – I had every intention of creating a few recipes for people who wanted to incorporate some healthy grassfed gelatine into their diets, but I never got around to it and it got lost in Narnia… then Michael cleaned out the pantry… and then I started craving cheesecake… and now here we are. This recipe is ideal for people following the low carb/high fat lifestyle, but it is also suitable for people who are gluten free, sugar free or just want to eat a delicious cheesecake. These are only 2.8 g carbs total per serve. Love Nik xx
skinnymixer's Low Carb Cheesecake with Blueberry Sauce
Ingredients
Cheesecake Ingredients
250 g | 8.8 oz cream cheese, softened
200 g | 8.8 oz pure cream
zest of 1 small lemon + 1 tbsp lemon juice
1 tsp vanilla extract
6 natvia sachets (12 g or 0.4 oz) or preferred sweetener
1 tbsp quality grass fed gelatine (such as Great Lakes)
4 tbsp boiling water
Blueberry Sauce Ingredients
100 g | 3.5 oz frozen blueberries
2 natvia sachets (4 g or 0.1 oz) or preferred sweetener
1 tsp lemon juice
Instructions
Cheesecake Instructions
Insert butterfly. Add cream cheese, cream, lemon zest, lemon juice, vanilla and natvia to mixer bowl. Whisk for 3 min/speed 4/MC on. While this is whisking, disolve your gelatine in the boiling water and stir with a fork to ensure no lumps.
Scrape bowl down and slowly add gelatine to the mixture while processing for 30 sec/speed 4/MC off.
Pour mixture into prepared muffin cases or silicone moulds and put in the fridge. In my experience, the cheesecakes set within an hour.
Blueberry Sauce Instructions
Rinse the bowl from making cheesecake and add all blueberry sauce ingredients. Cook for 5 min/100°C or 212°F/speed 1/MC off. You can use warm or cold.
Notes
Remove the cheesecakes out of the fridge 10 minutes before serving so they have a chance to soften.

If you want to substitute the Natvia for your preferred sweetener, just make the mixture without the sweetener then add it in gradually - taste testing as you go, until your desired sweetness is achieved or the mixture is all gone - whichever comes first!

You can use any other kind of frozen fruit for the sauce if you prefer.

Thermy tip: need softened butter or cream cheese but forgot to take it out of the fridge? Instead of dirtying another dish, chuck it cubed in the thermy on 40°C or 105°F for 2 mins

Bellini Users

Use your blunt blade for this recipe.

At step 1 use speed 3 and extend blending time until light and fluffy.
At step 2 use speed 3.

Note: If you wanted to blend at speed 4, don't use the butterfly and scrape down jug halfway through each step, then continue blending for remaining time
Nutrition Information
Serving size:
85g
Calories:
201
Fat:
18.9
Saturated fat:
12.1
Carbohydrates:
2.8g
Sodium:
120mg
Protein:
4.8g