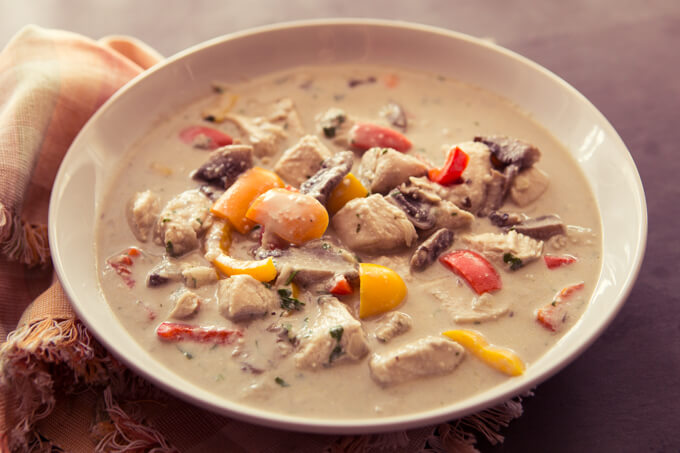 I am the first to admit I am not a huge fan of retro meals, usually they are full of tinned vegetables and margarine and that just doesn't do it for me… but one of my good friends, Mia, loves her retro food and so this one is dedicated to her. Its a dairy free spin on traditional à la King, but if you prefer to use it with dairy its a straight swap. I chose this meal for Simple Meal Sunday because its quick, easy, yummy, inexpensive and can be reinvented into so many different dishes. You can turn it into a pot pie, top it with mash for a shepherds pie, reduce the sauce down and use it in normal pies… are you getting the pie theme here? You can also bulk it up with rice, pasta or steamed veggies and serve 6 comfortably.

skinnymixer's Chicken à la King for Simple Meal Sunday
Ingredients
50 g | 1.8 oz raw cashew nuts (see notes for nut free variation)
small handful of fresh parsley
3 sprigs of fresh thyme, OR 1/4 tsp dried thyme
small brown onion, peeled, quartered
20 g | 0.7 oz olive oil
200 g | 7 oz fresh mushrooms (preferably portobello), thickly sliced
1 Tbsp chicken stock concentrate + 200 g | 7 oz water OR 200 g | 7 oz liquid chicken stock
600 g | 21.2 oz chicken thigh or breast, cubed
300 g | 10.6 oz coconut cream
200 g | 7 oz capsicum, cut into strips
Instructions
Add cashew nuts to mixer bowl, mill for 10 sec/speed 9/MC on. Set aside.
Without washing the bowl, add parsley and thyme to mixer bowl, chop for 3 sec/speed 9/MC on. Set aside with the cashew meal.
Without washing the bowl, add onion to mixer bowl, Chop for 4 sec/speed 5/MC on. Scrape bowl down.
Add oil and cook for 5 min/100°C or 212°F/speed 1/MC off.
Add mushrooms and chicken stock/water and cook for 3 min/100°C or 212°F/reverse/slowest speed/MC off.
Add chicken and coconut cream, cook for 5 min/90°C or 195°F/reverse/speed soft/MC off.
Add the capsicum, reserved cashew and parsley mixture, cook for a further 3 min/90°C or 195°F/reverse/speed soft/MC off - or until cooked.
Notes
Substitute the coconut cream with normal cream if desired.

If you would like to make this nut free, skip the milling step and mix 2 heaped tbsp of corn flour or tapioca flour with water and add with the chicken.

Bellini Adaptions

Use the blunt blade for this recipe.

At step 1 mill for slightly longer if necessary.
At step 5/step 6/step 7 use speed 1.
At step 7 cook for longer if required.
Nutrition Information
Serving size:
265g
Calories:
311
Fat:
20.5g
Saturated fat:
10.8g
Carbohydrates:
5.5g
Sugar:
2.5g
Sodium:
357mg
Protein:
24.8g