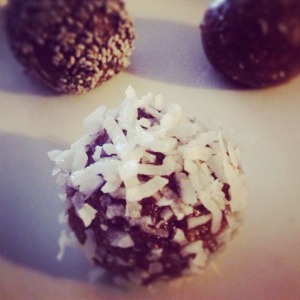 skinnymixer's Chocolate Peppermint Bliss Balls
These delicious Chocolate Peppermint Bliss Balls are so quick and easy to make in the Thermomix. Involve the kids in rolling their own healthy Thermomix Bliss Balls for a special treat.
Ingredients
140 g | 4.9 oz raw cashews
140 g | 4.9 oz medjool date flesh
20 g | 0.7 oz dessicated coconut
5 g | 0.2 oz chia seeds
1 tbsp raw cacao powder
1 tsp vanilla paste
3 drops food grade or edible peppermint oil
pinch of salt
Instructions
Add ingredients to mixer bowl
Combine well for 1 min/speed 9.
If your mixture is dry, add 10 g or 0.3 oz coconut oil and mix for a further 10 sec.
Roll into small balls, coat with desiccated coconut if desired and refrigerate for 1 hr.
Nutrition Information
Serving size:
20 g
Calories:
76 cal
Fat:
5.3 g
Saturated fat:
1.4 g
Carbohydrates:
4.8 g
Sugar:
3.5 g
Sodium:
25 mg
Protein:
1.8 g
Comments from Michael
I am on P2. No comment.