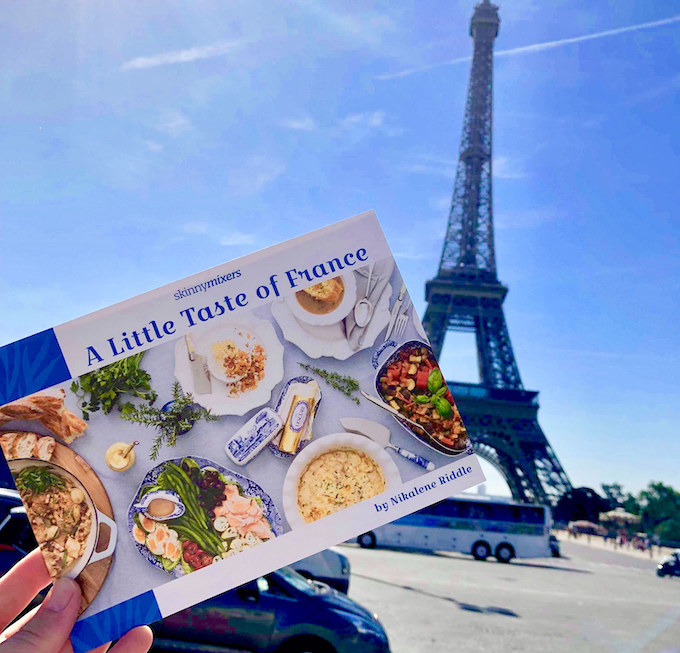 A Little Taste of France is HERE! 🇫🇷🍴🧀🥂🍫
My 9th cookbook – A Little Taste of France is now available for pre-sale. You will need to be quick if you are wanting to try and secure one of the first 200 signed copies! There will be another 200 copies signed at random during the pre-sale.
Shop : Skinnymixers.myshopify.com
✅ 15 healthier, hearty and delicious French inspired thermo cooker recipes
✅ 100% Gluten Free family favourites + Dairy Free & Low Carb friendly
✅ Over 50 variations to help cater for dietary needs, slow cooking, all-in-one meals & doubling recipes.
Just $20.95 AUD (inc. GST) with FREE SHIPPING on Australian Orders (+ discounted International Shipping), you will receive an A5 print copy + complimentary digital PDF sent immediately to you so you can cook these recipes with our community of over 178,000 Skinnies!
⭐ PRE-SALE BONUS
Buy before 11:59pm Sunday 4th of August and receive a bonus 7 Day Meal Planning Template, shopping list & a Skinnymixers Cookbook Recipe Index Guide download to help you plan from the books. PLUS a chance to receive one of 400 signed copies and a chance to win 1 of 6 golden tickets 🎫 to become a coveted Skinnymixer recipe tester.

Pre-sale closes 11:59pm Sunday 4th of August with orders shipped on or before the 7th of August. Copies will sell fast! We have previously SOLD OUT in pre-sale, so don't miss out!

📖 ABOUT THE BOOK
A Little Taste of France is full of amazing recipes highlighting some of the delicious French flavours that I experienced in France, yet still healthy and making the most of simple ingredients. Hearty, humble, budget and family friendly – I really hope that you fall in love with these recipes like I did!
Variations include: ✅ gluten free ✅ dairy free ✅ low carb ✅ low calorie ✅ paleo ✅ low fodmap ✅ nut free ✅ egg free ✅ slow cooking
🍽
RECIPES
With fan favourites including:
⭐ Chicken Cordon Bleu, Apricot & Almond Warm Brie, French Onion Soup, Cafe de Paris Butter, Coq au Vin Blanc, Potato au Gratin, Pork Fillet Dinner with Béarnaise sauce, Cassoulet, Beef Bourguignon, Chicken Chasseur & Mousse au Chocolat.
Shop Now: Skinnymixers.myshopify.com
✅ Free Australian Shipping (+ discounted International Shipping)
✅ Paypal, Visa, Mastercard & AfterPay
✅ Bundle & Save!
✅ Immediate eBook to start cooking tonight!
Thank you for your support and I am excited to see all of your French cooking in the Skinnymixers Facebook Group!
Love Nik xx