It's time to start getting ready Skinnies!
With the 'A Little Taste of Italy' cookbook being released for pre-sale on Friday the 9th of November at 8pm SA time 🇮🇹️😍, we thought it would be a good time to release some of the spices and ingredients you will need for the new book! Scroll down for the list, you will find most are pretty standard pantry staples in a Skinnymixer pantry 😉

I'm sooooo excited for you to try the new recipes in 'A Little Taste of Italy'– just in case you missed it, the contents have been released and the #skinnytease campaign is only just starting in the Skinnymixers Facebook group.
We've got a very busy week ahead… 
🌶️ Friday 2nd of November – The ALToIT Spice Pack is now LIVE on the Grandma's Pantry website. Don't forget to use the discount code SKMIX in the checkout to receive 10% off your order. There are limited packs available, I highly recommend grabbing one asap.
🎉 Sunday 4th of November 8pm SA time – We will have a special #ALToIT FB Live on the Nikalene Riddle FB Page to talk about all the exciting things happening this week and sharing a little surprise for you to start your Italian adventure (definitely not one to be missed!). This is your chance to ask me about the new book or anything at all!
❓ Tuesday 6th of November – We will be asking the Skinnymixers group to vote which of the new #ALToIT recipes that they would like the shopping list revealed early for. This gives you a chance to have your say and be ready to cook on launch night!
🇮🇹️ Friday 9th of November 8pm SA time – Pre Sale for 'A Little Taste of Italy' starts at 8pm SA time. This is when the new book goes on sale in the Skinnymixers Shop. Check your local time here.
A Little Taste of Italy is full of amazing recipes that will hopefully highlight some of the delicious Italian flavours that I experienced in Italy. We will have a special discounted pre-sale price of $16.50 inc. GST (plus shipping) and are working on some special bonuses.
Every recipe is this book is Gluten Free, yes that's right… GF Italian! 😜
Variations include:
✅ Dairy Free
✅ Gluten Free
✅ Nut Free
✅ Egg Free
✅ Low Carb
✅ Super Skinny /Low Calorie
✅ Paleo
✅ Vegetarian
✅ Low Fodmap
✅ Refined Sugar Free
✅ Slow Cooker / Pressure Cooker
I hope you guys love the recipes as much as I do. I know I always say this but, we really worked our hearts out on this one.
Love Nik xx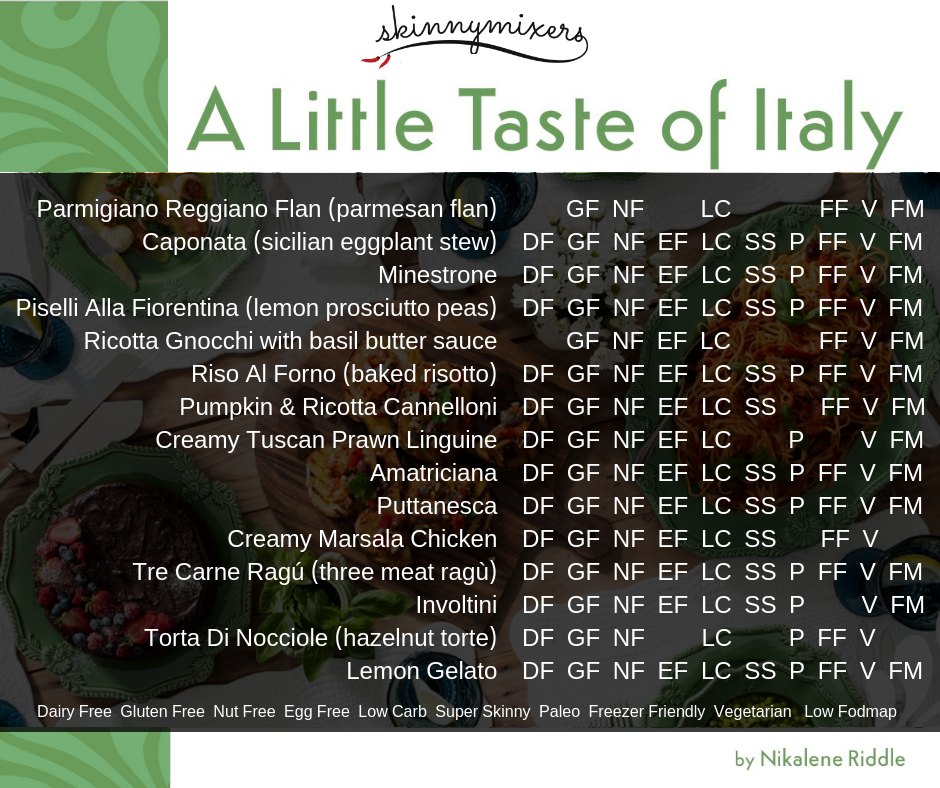 P.S. These dietary codes apply either directly to the recipes, or signify that we have given instructions on how to meet multiple dietary requirements. ie. we have vegetarian alternatives.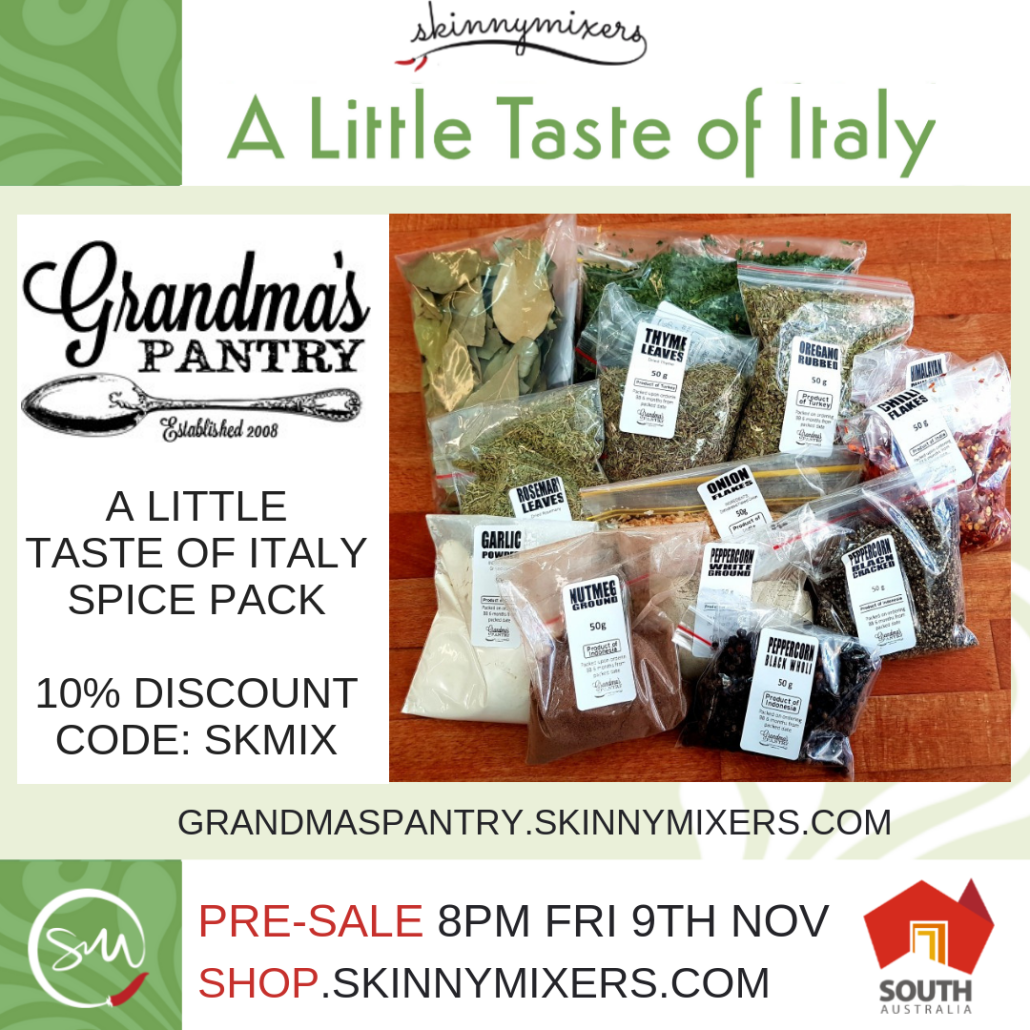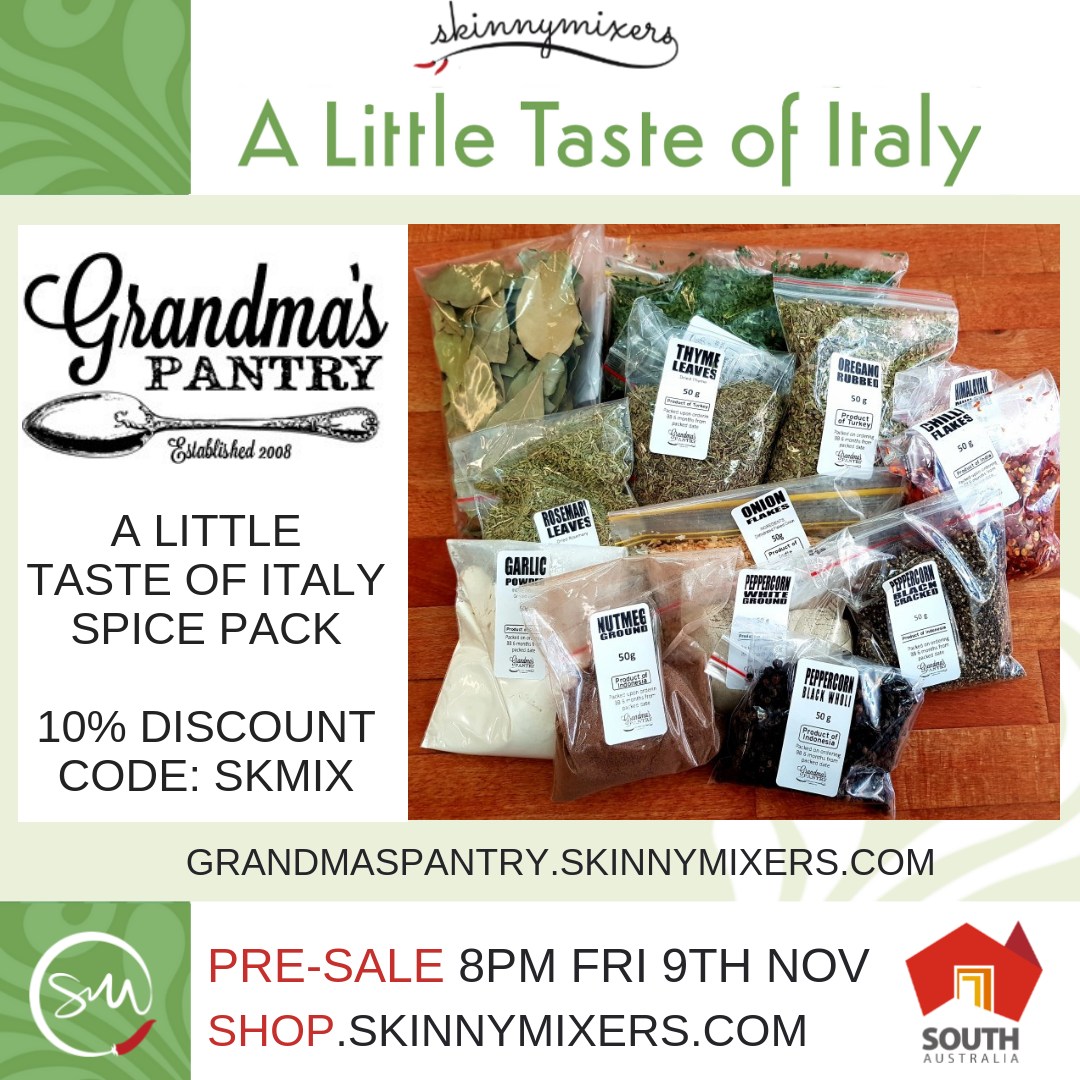 We've already started dropping some shopping hints in Skinnymixers with the #skinnytease campaign. Here are some items you might like to start shopping for and checking your pantry:
bay leaves
chilli flakes
nutmeg powder
freshly cracked black pepper
white pepper powder
Italian Spice Mix (make your own from THMI)
olive oil
tinned diced tomatoes
good quality tomato paste (it makes a massive difference!)
good quality tomato passata (I recommend Mutti)
pasta
wine – dry white, dry red & Marsala.
anchovies
capers
sultanas
red wine vinegar
pitted Kalamata olives
tinned kidney beans
sun-dried tomato strips
xanthan gum or cornflour
Arborio rice
raw cashews
blanched hazelnuts
blanched almond meal or flour
50-70% dark chocolate
vanilla bean paste or extract
baking powder
Keep checking in throughout the week for even more helpful tips leading up to the pre sale of 'A Little Taste of Italy' on Friday the 9th of November, 8pm SA time!