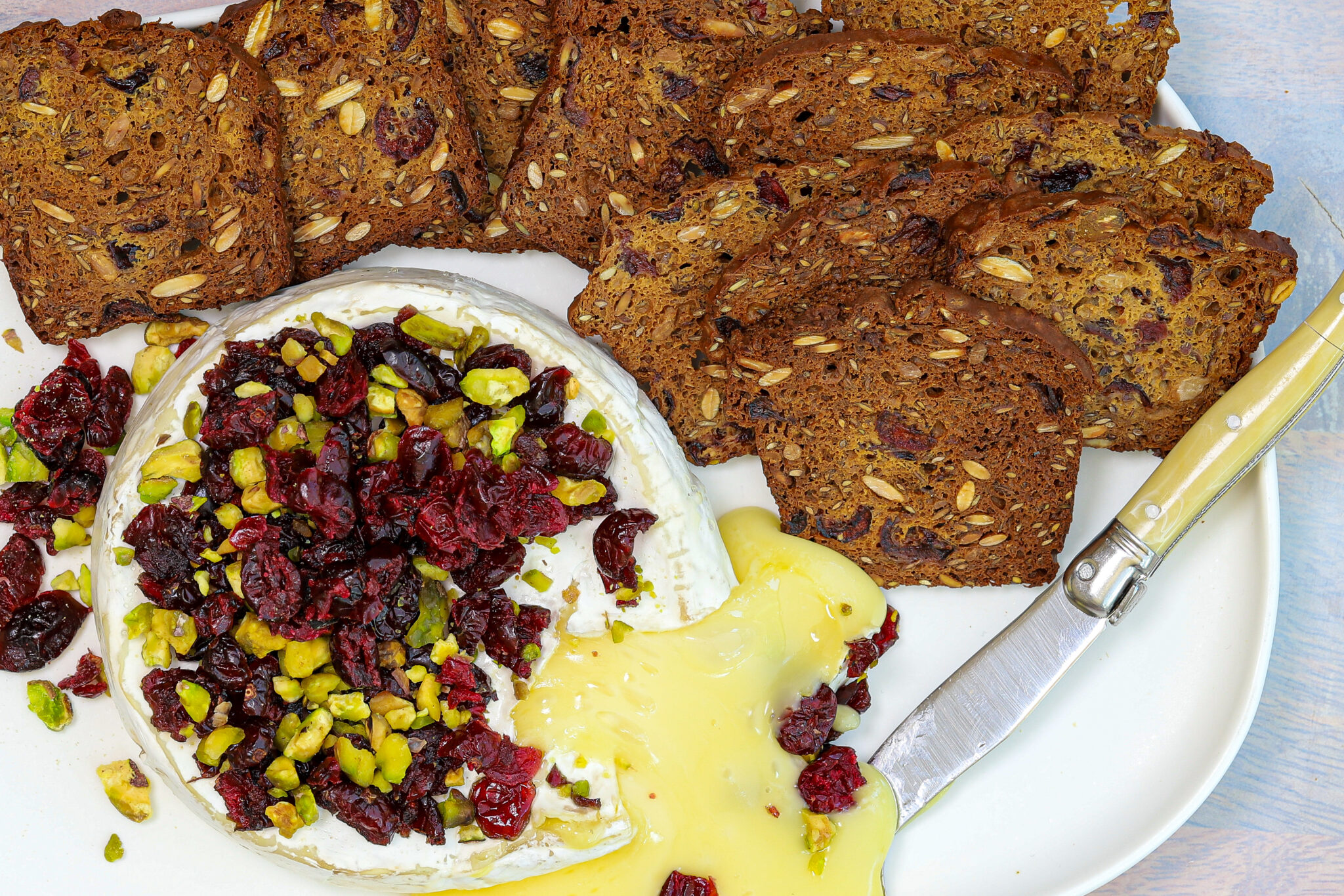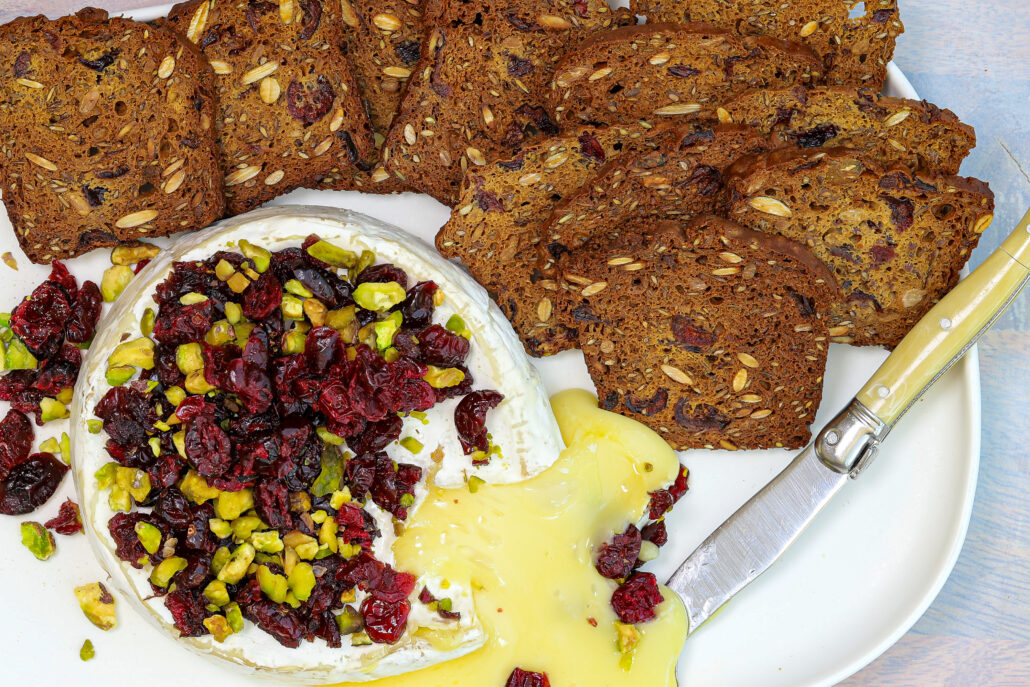 A massive thank you to Kate Howard from our Recipe Development Team for sharing her popular Gourmet Handmade Cranberry & Pumpkin Seed Crackers Thermomix Recipe with us!
I absolutely love these crackers and couldn't stop eating them long enough to take a photo!
These crackers go perfectly with the Warm Apricot & Almond Brie from my A Little Taste of France cookbook – pictured here with a Cranberry & Pistachio flavour variation (in the book ;).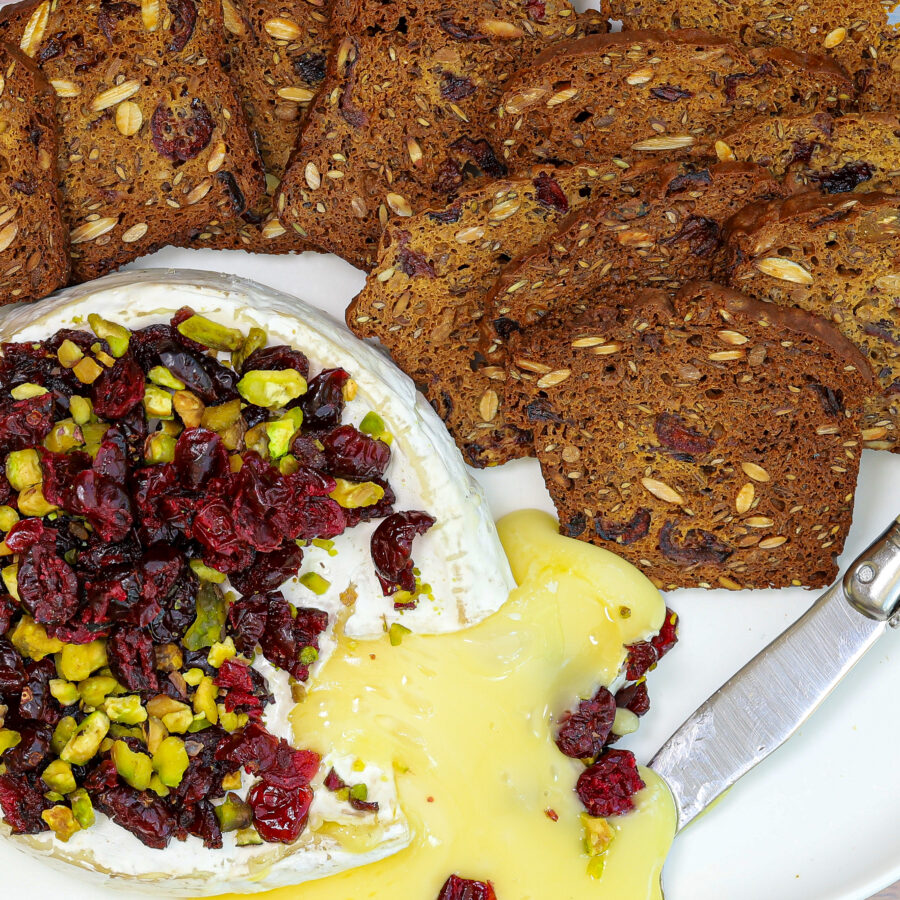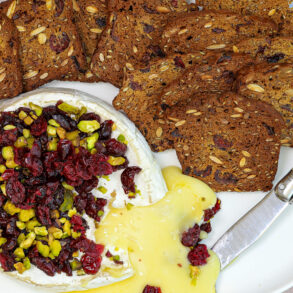 Print
Guest Recipe: Kate's Cranberry Pumpkin Seed Crackers
Ingredients
170

g

Dried Cranberries

or 1 cup other dried fruit

boiling water

to soak cranberries

145

g

wholemeal plain flour

150

g

white plain flour

55

g

brown sugar

or coconut sugar

100

g

flaxseeds

or linseeds

35

g

sunflower seeds

80

g

pepitas

or nut/seed of choice

½

tsp

salt

2

tsp

Bicarb soda

90

g

honey

30

g

molasses

500

g

unsweetened Greek yoghurt

or coconut yoghurt
Instructions
Preheat oven to 175°C or 347°F, fan-forced. Prepare a 28cm loaf tin.

Place dried cranberries in a bowl and cover with boiling water while you prepare other ingredients.

Add both flours, sugar, flaxseeds, sunflowed seeds, pepitas, salt and bicarb soda to mixer bowl. Mix 10 sec/speed 3/reverse/MC On.

Carefully drain cranberries. Add reserved cranberries and remaining ingredients to mixer bowl. Mix for 20-30 sec/speed 4/reverse/MC On - you want the mixture to be just combined.

Pour batter into prepared loaf tin and bake for 45-60 mins or until a skewer inserted into the centre comes out clean.

Remove the loaf from the oven and allow to cool for at least 4 hrs before placing in the freezer for 1-2 hrs - this will allow you to slice it thinly (you don't want the loaf to freeze solid).

Slice the loaf with the base of a very sharp serrated knife, as thinly as possible - approx. 3mm. You may wish to use a mandolin or deli slicer.

Preheat oven to 150°C or 302°F. Line 2 baking trays with baking paper and place slices onto trays, close together but not touching.

Bake for approx. 25-30 min, flipping every 10 min. It is important to keep a close eye on the crackers as they can burn easily. Crackers will firm up when cooled.

Remove crackers from oven and transfer to a colling rack. Allow to cool completely before storing in an airtight container for up to a week.
Notes
Tips:
If crackers lose their crispiness place them back in the oven and bake again.
Alternatively you may like to use mini loaf pans. I have used the KMart mini loaf pans with success. First bake time needs to be adjusted to 20/25 minutes or until a skewer comes out clean.