Thank you Tanya Pacewicz for sharing your tasty adaptation of the skinnymixer's Healthy Carbonara Sauce into a delicious healthy Sweet Potato Gratin.
Using the extremely low calorie & dairy free Healthy Carbonara Sauce in a vegetable bake, is an awesome variation for the recipe.
So many Skinnymixers went crazy for this sauce on launch of the cookbook The Healthy Mix.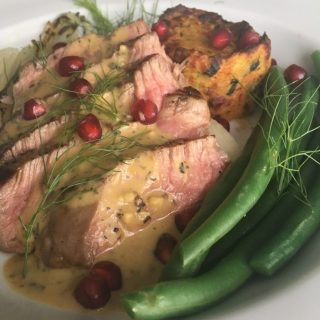 Print
Guest Recipe: Sweet Potato and Vegetable Gratin
A lower calorie alternative to Potato Gratin, utilising the Healthy Carbonara Sauce from the Skinnymixers Cookbook 'The Healthy Mix'.
Ingredients
500

g

sweet potato

1

garlic clove

1

tsp

salt

900

g

water

200

g

frozen vege

beans, carrot and broccoli

1/4

cup

parmesan cheese

grated

1

tsp

onion flakes

1.5

tsp

seasoning of choice

Greek, Italian & Mexican Spice Mixes available in THM

50

g

spinach

fresh or frozen- thawed.
Instructions
**This recipe needs freezing time.***

Peel and cut sweet potato into largish bite size pieces and place into TM.

Add garlic, salt and water. Cook 13mins/100°C or 212°F/reverse/sp 1/ MC on.

RESERVE COOKING WATER, Strain off the Sweet potato. Place sweet Potato in a separate bowl.

Add the reserved cooking water back in TM bowl.

Place frozen vegetables into the simmer basket and cook for 4 mins/steaming temp/sp 3.

Discard cooking water and place vegetables into TM bowl. Chop vegetables for 3 secs/sp 4/MC on.

Combine chopped vegetables with chunky mashed sweet potatoes.

Add carbonara sauce, parmesan cheese, onion flakes, seasoning of choice and spinach.

Gently mix to combine with a spatula.

Line a tray or platter with baking Paper , that can fit flat in your freezer

Use a small Scone cutter as a mould and fill directly onto the lined tray you intend to use. Gently pressing as you fill. Once filled to the top you should be able to lift the mould easily leaving a pretty stack of Vegetables behind.

Place Vegetables Au Gratins in the freezer overnight or until frozen. Then just Transfer to a airtight container or zip lock bags until needed.

Cook from Frozen in Air fryer for approx 15-20mins( No preheat) or Oven for approximately 30mins until golden Brown.

Make sure you spray a non stick spray to the bottom of basket or place a small amount of foil underneath each to stop sticking.