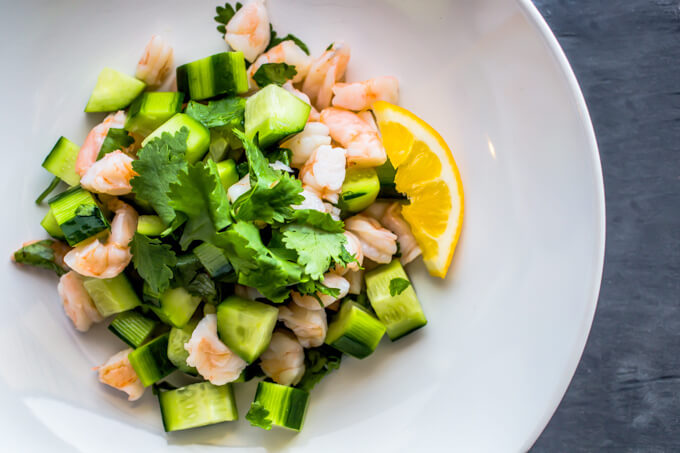 If you're a Skinnymixer, you know I don't eat seafood… and I definitely do not eat prawns. For a really long time I also refused to cook seafood in my Thermomix because I felt like I could NEVER get it clean enough!
Since I got a dishwasher (best.thing.ever!), I have been a little more relaxed with this rule. M has been pretty awesome over the past two weeks, having lost 8.3kg (you can read more here), so it was time he was rewarded with something yummy but super healthy/compliant. This is a great "base" recipe, which you can add different things to if you don't have to be so restrictive like poor M does for now.
Love Nik xx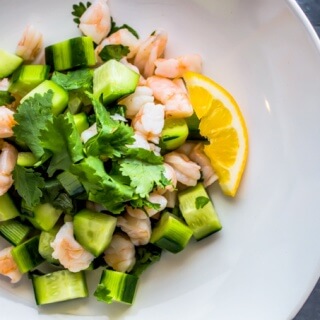 Print
skinnymixer's Prawn Salad
Ingredients
200

g

prawn meat

(cleaned weight)

tray of ice

200

g

cucumber

cubed

handful of chopped fresh coriander

juice of 1 lemon

salt to taste
Optional Ingredients
20

g

olive oil

omit for p2

cubed avocado

diced fresh tomato
Instructions
Weigh in 300 g or 10.6 oz water to mixer bowl, set for 8 min/steaming temp/speed 2/MC on.

Insert simmering basket and put your prawns inside, cook for 3 min/steaming temp/speed 2/MC on.

When the prawns are finished, immediately put them into cold water with the ice to cool, while you prepare your salad.

Drain prawns well, cut your prawn meat into small chunks, stir through salad and you can either let it marinate in the fridge for a few hours or serve immediately.
Notes
This serves 2 on Phase 2 of the HCG Protocol. You can increase the ingredients as required.
Feel free to play around with the ingredients and seasonings.. this is just to show you how quickly and easy you can cook up a healthy light meal.
Add a nice big dollop of my aiolifor a great LCHF meal.
Bellini Users
Use blunt blade for this recipe
At step 1 use ST temp if using an Intelli, use 120°C or 250°F if using a Supercook.
At step 2 use ST temp if using an Intelli, use 120°C or 250°F if using a Supercook.