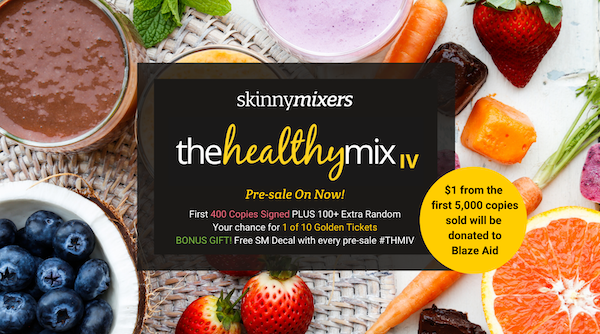 The Healthy Mix IV is HERE! 🥘🍴🍋🥗
✅ Over 30 go-to thermo cooker recipes
✅ 100% Gluten Free, Dairy Free Family Favourites.
✅ Over 185 dietary variations!
My 10th cookbook – The Healthy Mix IV is now available for pre-sale.
You will need to be quick if you are wanting to try and secure one of the first 500 signed copies! There will be another 100+ copies signed at randomduring pre-sale.
Just $38.95 AUD (inc. GST) with Free Australian Shipping (and discounted international shipping), you receive an A4 print copy + complimentary digital PDF sent immediately to you so you can cook these recipes with our community of over 183,000 Skinnies!
To celebrate THMIV being our 10th Cookbook…
🎫 We will have 10 Golden Tickets hidden in pre-sale orders for the new book!
✍️ I am signing the first 400 books sold & extra 100+ random ones.
🎁 BONUS GIFT! Every pre-sale order of the new book receives a SM decal.
⁠❤️ $1 from the first 5,000 copies of THMIV sold will be donated to Blaze Aidto help rebuild after these devastating fires across several states in Australia.
This is our BIGGEST book yet with 30 recipes and over 185 variations.
⭐PRE-SALE BONUS: Buy before 11:59pm Sunday 24th of November and receive a bonus 7 Day Meal Plan Challenge, 7 Day Meal Planning Template, shopping list & a Skinnymixers Cookbook Recipe Index Guide download to help you plan from the book PLUS a chance to receive one of 500 signed copies and a chance to win 1 of 10 golden tickets to become a coveted Skinnymixer recipe tester.

Pre-sale closes on 11:59pm November 24th with orders shipped from the November 27th. Copies will sell fast! So don't miss out!

About the book:
The Healthy Mix IV is full of simple family-friendly meals that are not only budget and dietary friendly – but also delicious! This is our biggest and most beautiful book yet! We are so excited to share it with you.

Variations include: ✅ gluten free ✅ dairy free ✅ low carb ✅ low calorie ✅ paleo ✅ low fodmap ✅ nut free ✅ egg free ✅ refined sugar free ✅ halved ✅ slow cooker ✅ air fryer
Recipes in the book cover you for the entire day from Breakfast through to Main Meals, with a NEW Lunchbox section.
⭐ With fan favourites including – Smoothie Cubes, Creamy Garlic Chicken, Vietnamese Beef Salad, Quick Chicken & Sweet Potato Curry, Mongolian Beef, Chicken & Bacon Spaghetti, Swedish Meatballs, Chicken & Sweet Corn Soup, Savoury Loaf with Maple Bacon Spread, Mexican Chicken Meatballs with Chunky Salsa and Raspberry & Coconut Bliss Balls.
All recipes are well tested and come with professional nutritional information. This cookbook includes both metric and imperial conversions.
Shop Now: Skinnymixers.myshopify.com
✅ Paypal, Visa, Mastercard & AfterPay
✅ Bundle & Save!
✅ Immediate eBook to start cooking tonight!
Thank you for your support and I hope you all love the book!
Love Nik xx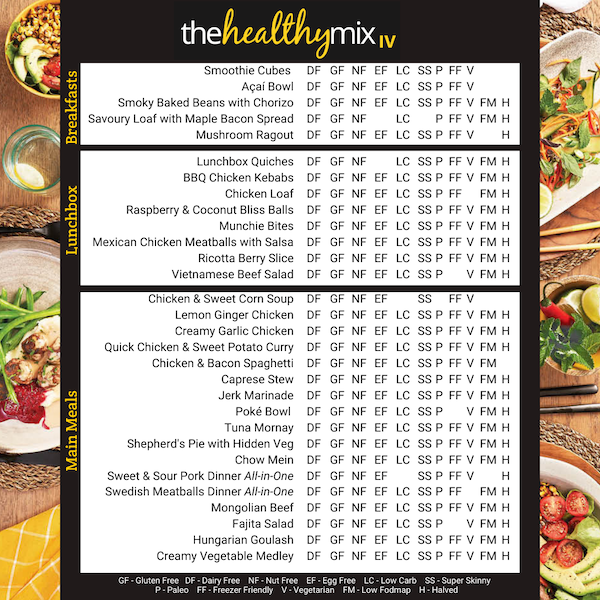 Our friends at
Grandma's Pantry
are busy packing special
'THMIV Spice Packs'
and
'Mega Spice Packs'
. Enjoy the convenience of having all the required spices and additional specialty ingredients to fully stock your pantry ready for the new book. Grandma's Pantry offer incredible value for a quality product delivered to your door. Grandma's Pantry has always been popular for Skinnymixers in regional areas, but also for those who like the convenience of the Spice Packs.
Don't forget to use the discount code SKMIX in the checkout for 10% off.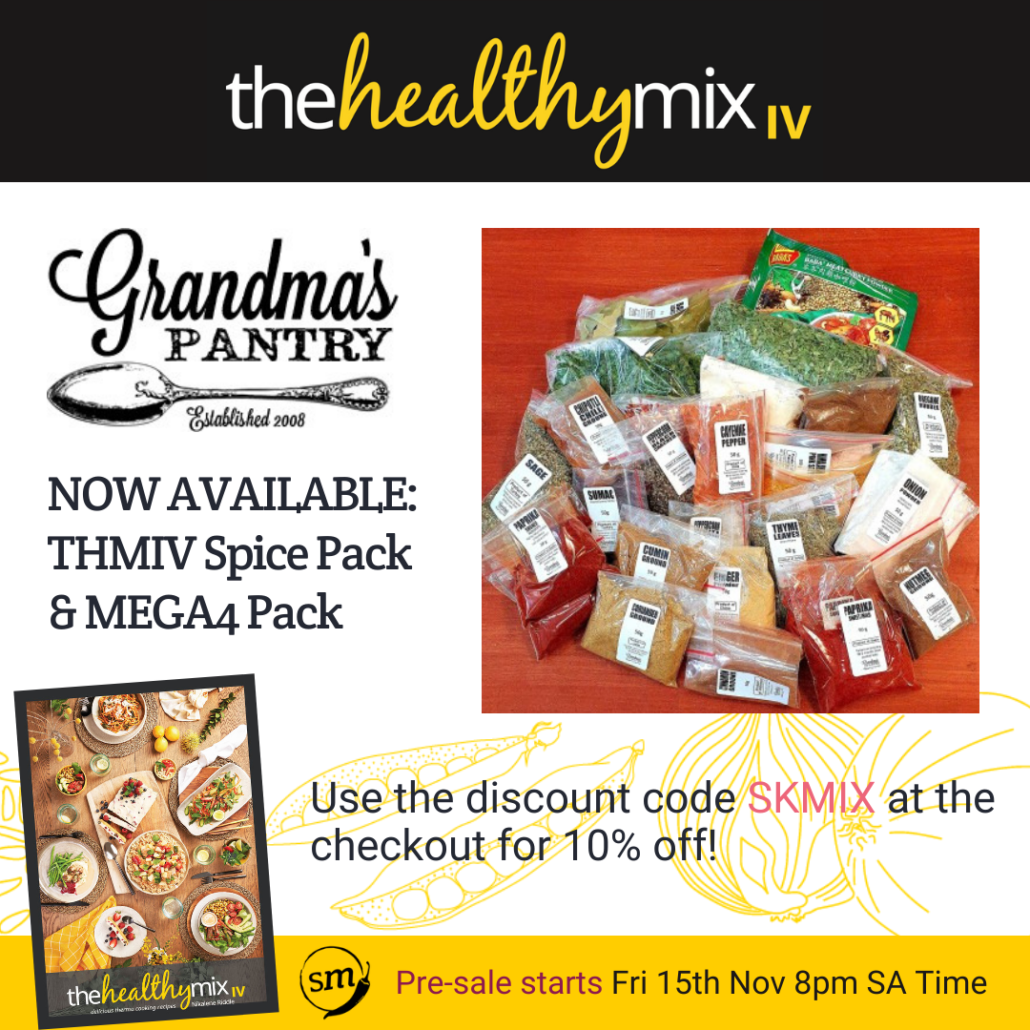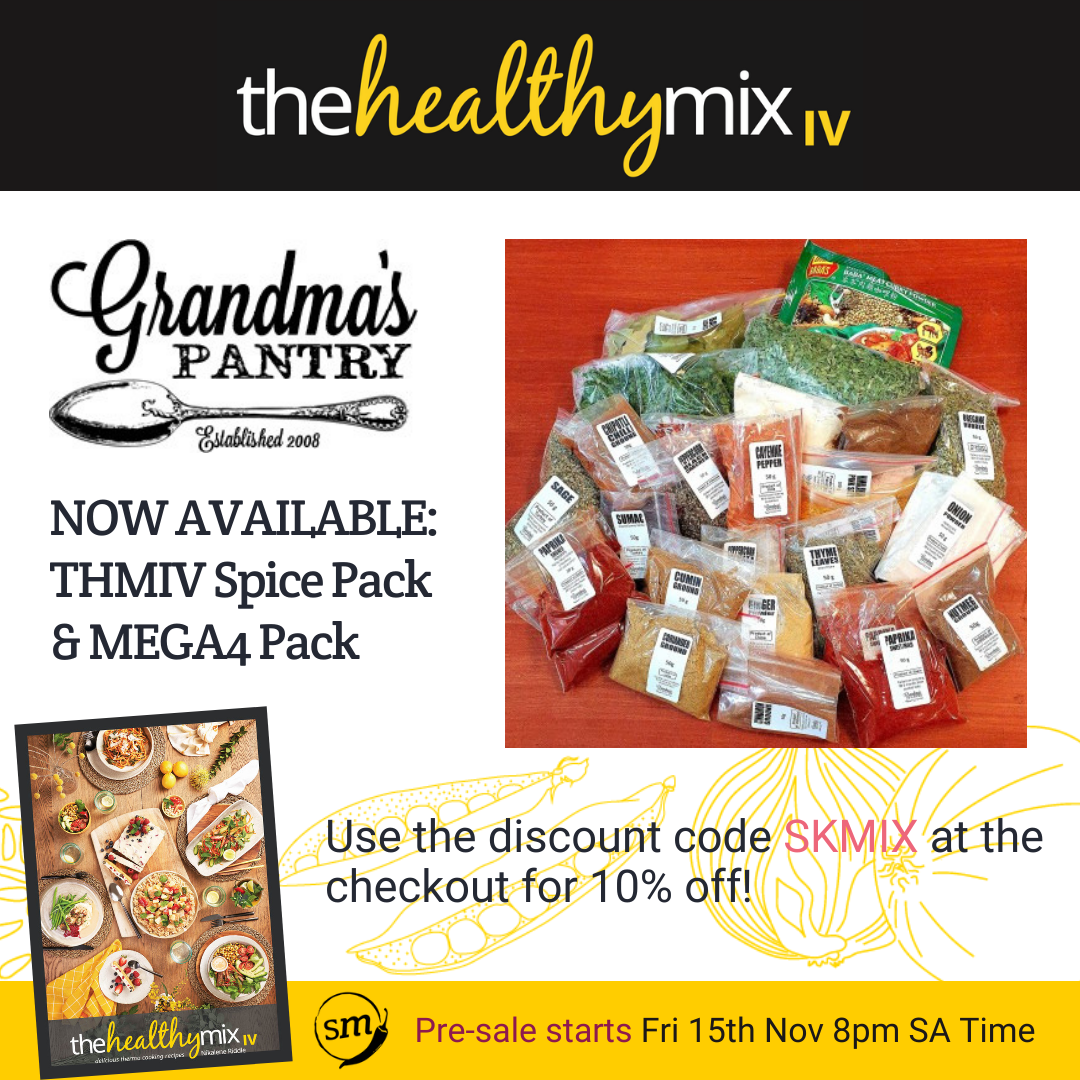 We will start dropping some shopping hints in Skinnymixers with the #skinnytease campaign, but here are some items you might like to start shopping for:
allspice
Babas meat curry powder
bay leaves
cayenne pepper
chipotle powder
cumin powder
dried chives
dried oregano leaves
dried parsley
dried sage leaves
dried thyme
garlic powder
ginger powder
ground cinnamon
ground white pepper
nutmeg powder
onion powder
sweet paprika
smoked paprika
sumac
turmeric powder

apple cider vinegar
baking powder
balsamic vinegar
black rice
cacao powder
cannelini beans (tinned)
chia seeds
coconut cream
coconut milk (tinned)
coconut sugar
desiccated coconut
diced tomatoes (tinned)
Dijon mustard
dried cranberries
fish sauce
honey
instant coffee or espresso
maple syrup
olive oil
pineapple chunks in 100% juice (tinned)
psyllium husk
powdered gelatine
refined coconut oil
rice wine vinegar
sesame oil
sesame seeds
soy sauce
sun-dried tomatoes
sweet corn (tinned)
tomato passata
tomato paste
traditional oats
vanilla extract
whole tomatoes (tinned)
Worcestershire sauce
xanthan gum or cornflour
Keep checking in for more helpful tips leading up to the pre-sale of The Healthy Mix IV on Friday the 15th November, 8pm SA time!