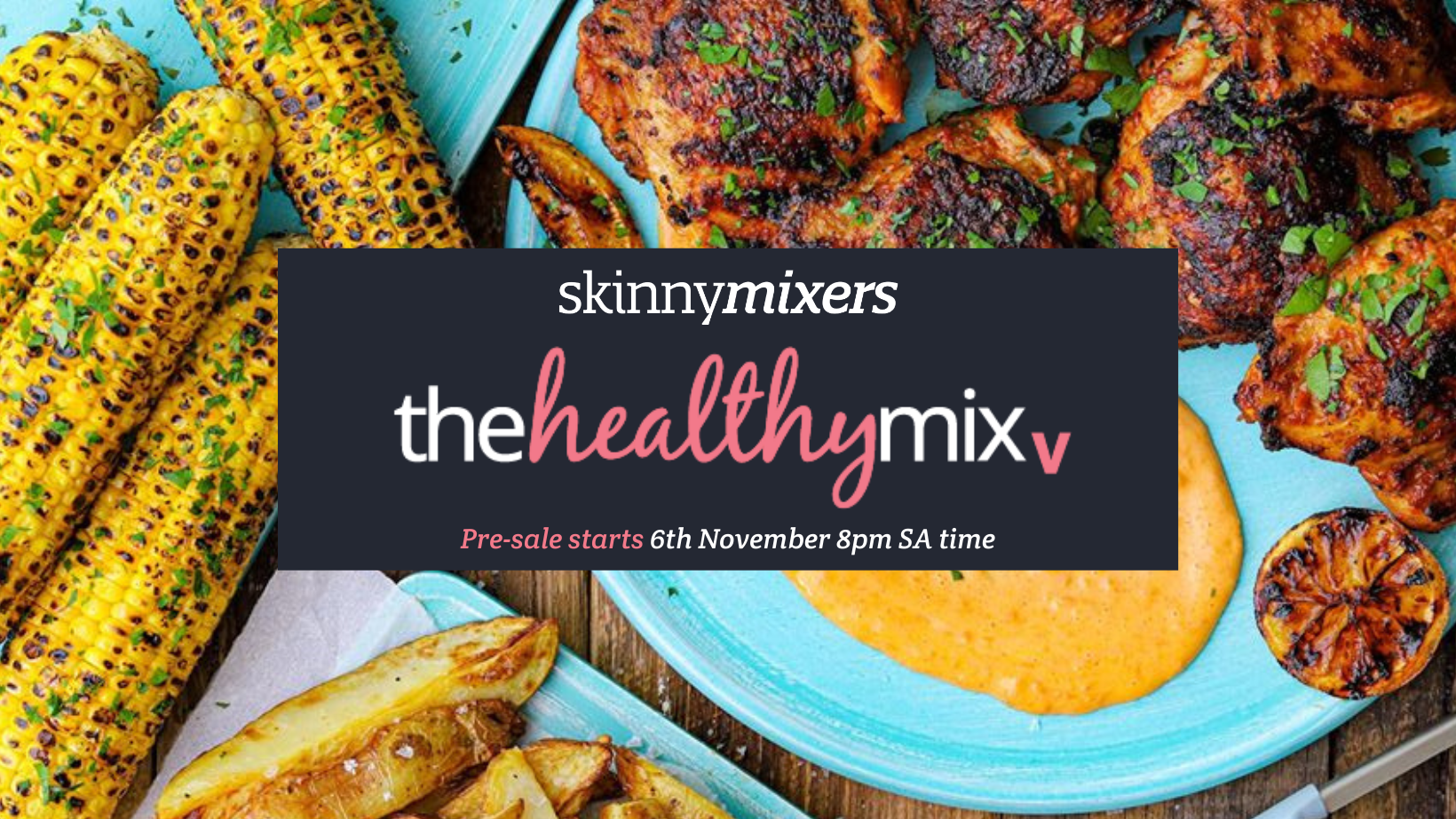 Hi Skinnies,
I am so excited to be sharing the contents of my 12th book – 'The Healthy Mix V' 😍🥗🥘, which is available for pre-sale in the Skinnymixers Shop from Friday the 6th of November at 8pm SA time until Monday 16th November 11:59pm.
This is our BIGGEST book yet with 39 healthy, family friendly recipes and over 200 variations 🥰 With a strong focus on Gluten Free and Dairy Free recipes, we've also included Low Carb, Super Skinny (low calorie), Nut Free, Egg Free, Paleo, Vegetarian (variations) & Low Fodmap recipe variations where possible.
⭐️ We also have a NEW Basics & Fast Food section ⭐️ Plus Halved, Slow Cooker and Air Fryer options for some recipes!
The price of the book is $40.95 + Free Australian Shipping and we also have AfterPay. There is a new 5 book The Healthy Mix Collection bundle and also a 12 book Complete Skinnymixers Collection bundle.
We are currently working with Australia Post & our Printers to give The Healthy Mix V the best chance to be delivered by Christmas, but it is important to remember that a little patience is needed at such a busy time.
I hope you guys love the recipes as much as I do, we've absolutely worked our hearts out on this one.
Love Nik xx
⭐️⭐️ P.S. these dietary codes apply either directly to the recipes, or signify that we have given instructions on how to meet multiple dietary requirements. ie. For Vegetarian – we have tested vegetarian alternatives. ⭐️⭐️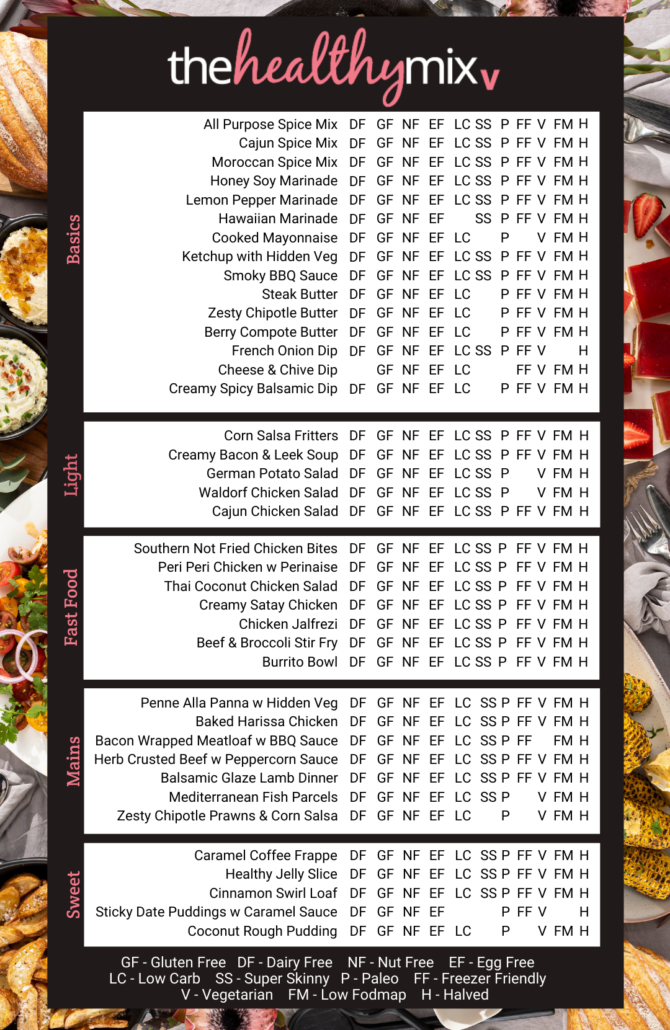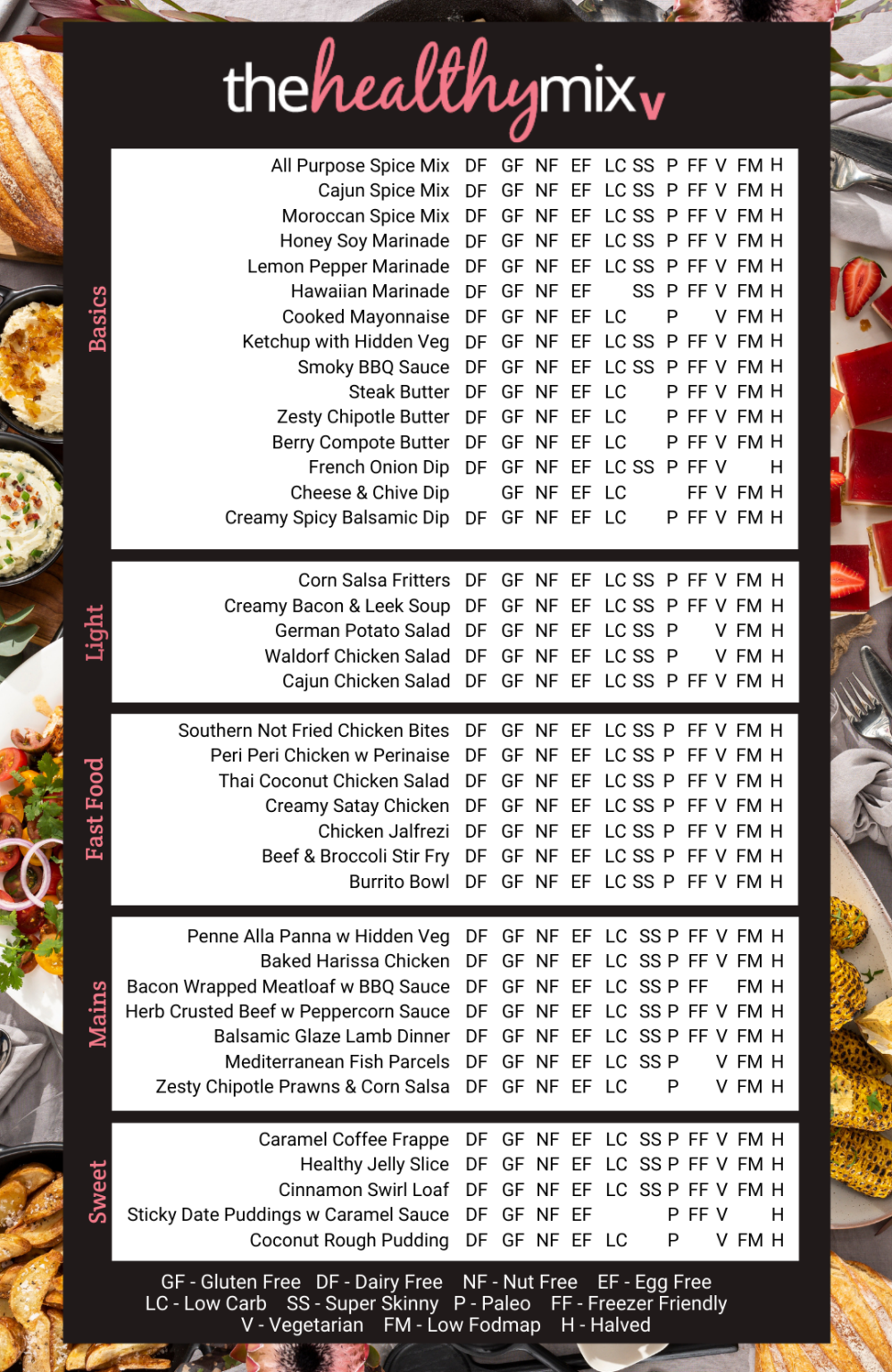 We will start dropping some shopping hints in Skinnymixers with the #skinnytease campaign, but here are some items you might like to start shopping for:
allspice
Babas meat curry powder
bay leaves
black peppercorns
cayenne pepper
celery salt
celery seed
chilli flakes
chilli powder
chipotle powder
cracked black pepper
coarse salt flakes
coriander powder
cumin powder
dried basil
dried chives
dried oregano leaves
dried parsley
dried thyme
garlic powder
ginger powder
ground nutmeg
ground cinnamon
ground white pepper
mustard powder
onion powder
salt
sweet paprika
smoked paprika
turmeric powder
apple cider vinegar
baking powder
balsamic vinegar
brown rice
cacao powder
black beans (tinned)
light coconut cream (tinned)
coconut milk (tinned)
coconut sugar
desiccated coconut
diced tomatoes (tinned)
Dijon mustard
fish sauce
harissa paste
honey
instant coffee or espresso
maple syrup
olive oil
crushed pineapple 100% juice (tinned)
peanuts
psyllium husk
powdered gelatine
refined coconut oil
rice wine vinegar
sesame oil
soy sauce
tapioca flour
tomato paste
vanilla extract
wholegrain mustard
Worcestershire sauce
xanthan gum or cornflour