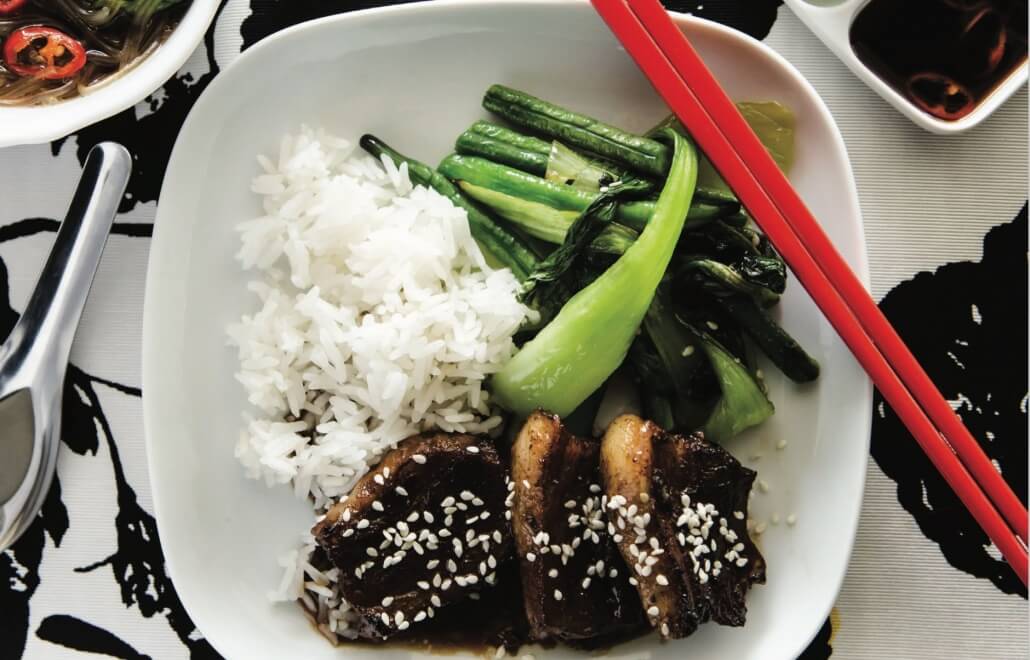 The inspiration for this Szechuan style dish came from a dinner mum and I had in Melbourne. It's a flavour packed meal that will impress guests, while filling their bellies with two course cooked in one!
This healthy Thermomix recipe can also be made using beef, chicken and duck.

ALTOA: Sticky Szechuan Pork Belly and Asian Broth
Ingredients
coconut aminos / tamari or soy sauce (depending on salt preference)
coconut sugar
apple cider vinegar
fresh ginger
fresh garlic
brown shallot
star anise
cinnamon stick
Szechuan peppercorns (find at your local Asian supermarket or specialty grocer)
clove
cumin seeds
fennel seeds
fresh coriander roots & stalk/leaves
rindless pork belly
whole dried chillis
Chinese five spice
dried vermicelli
bok choy
fresh red chilli
Instructions
This recipe is available in 'A Little Taste of Asia'. Buy Now.
Notes
Variations:
Experiment with all different cuts of meat. Some people like to use Pork Belly with the rind still on. If you can't find rindless Pork Belly, ask your butcher to remove the rind or use a very sharp knife. You can also sprinkle some of the spices over the rind and make some crackling in a very hot oven!
Cook Ahead Tips:
If you are short on time you can steam the Pork Belly and keep in the fridge until ready to do the last steps when ready.
Slow Cooker Tips:
Sticky Szechuan Chicken with Asian Broth Soup -
View in Skinnymixers Facebook Group
Nutrition Information
Calories:
655
Fat:
46.8g
Saturated fat:
17.8g
Carbohydrates:
41g
Sugar:
10.3g
Sodium:
2160mg
Protein:
17.5g