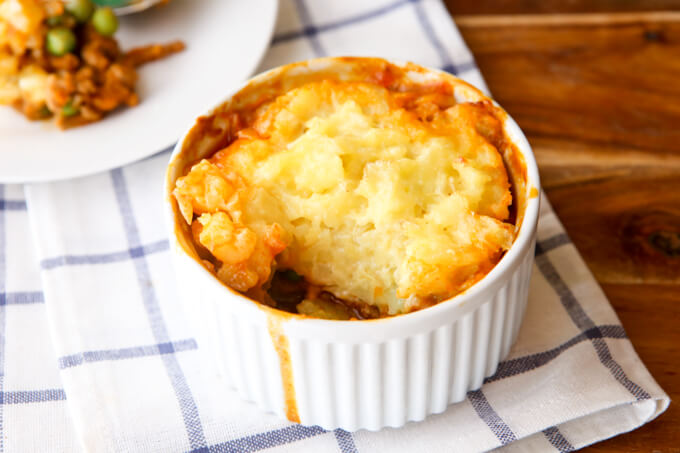 Shepherd's Pie is a true winter classic… A great way to create a budget friendly, veggie filled meal that is both delicious and comforting. I opted to use low carb potatoes in mine, but you could easily substitute them with sweet potato or alternatively this popular mashed cauliflower recipe. To make this a complete meal, you can steam vegetables from step 5 if you wish, and you can also opt to make it dairy free or top with grated cheese too! Enjoy, Love Nik xx
P.S. Michael wants me to let you all know that he thinks it would take it to 'a whole other level' if you stirred fried onion and bacon through the rustic mash.

skinnymixer's Rustic Shepherd's Pie
Ingredients
Mince Ingredients
1 medium brown onion, peeled, halved
1 medium carrot, roughly chopped
2 cloves of garlic, peeled
30 g olive oil
300 g liquid beef stock or 300g water + 1 tbsp beef stock concentrate
70 g tomato paste
5 g worcestershire sauce or soy sauce
1 tsp paprika
¼ tsp cracked black pepper
500 g lamb or beef mince
100 g frozen peas
Rustic Mash
500 g potatoes, unpeeled, cut into small cubes
30 g butter
30 g cream
½ - 1 tsp salt
Instructions
Add onion, carrot and garlic to mixer bowl. Chop for 3 sec/speed 6/MC on. Scrape bowl down.
Add oil and cook for 5 min/100 degrees/speed 1/MC off.
Add stock, tomato paste, worcestershire sauce, paprika and pepper to mixer bowl.
Insert simmering basket and put the mince inside the simmering basket.
Put your deep steaming tray in place with the potatoes inside. Cook for 20 min/steaming temperature/speed 3. Break mince up with a spoon carefully half way through cooking.
Set your mince aside in your baking dish, preheat your oven to 200 °C and continue to cook potatoes for a further 5 min/steaming temperature/speed 3, or until cooked.
Stir through peas and desired amount of gravy (liquid in the mixer bowl) through the mince.
At this point you can choose to rinse the mixer bowl if you want to, put your potatoes into the mixer bowl with butter, cream and salt - mash briefly for 3-4 sec/speed 4/MC on.
Top mince mixture with rustic mash and bake in the oven for 20 min, or until golden brown.
Notes
Bellini Users

Use your sharp blade for this recipe.

At step 5 use ST temp if using an Intelli and 120-130 degrees if using a Supercook.
At step 6 use ST temp if using an Intelli and 120-130 degrees if using a Supercook. Add on a extra cooking time if required.
At step 8 process until desired mash consistency.
Nutrition Information
Serving size:
220g
Calories:
406
Fat:
28.2g
Saturated fat:
11.7g
Carbohydrates:
13.3g
Sugar:
4.1g
Sodium:
432mg
Protein:
23.3g