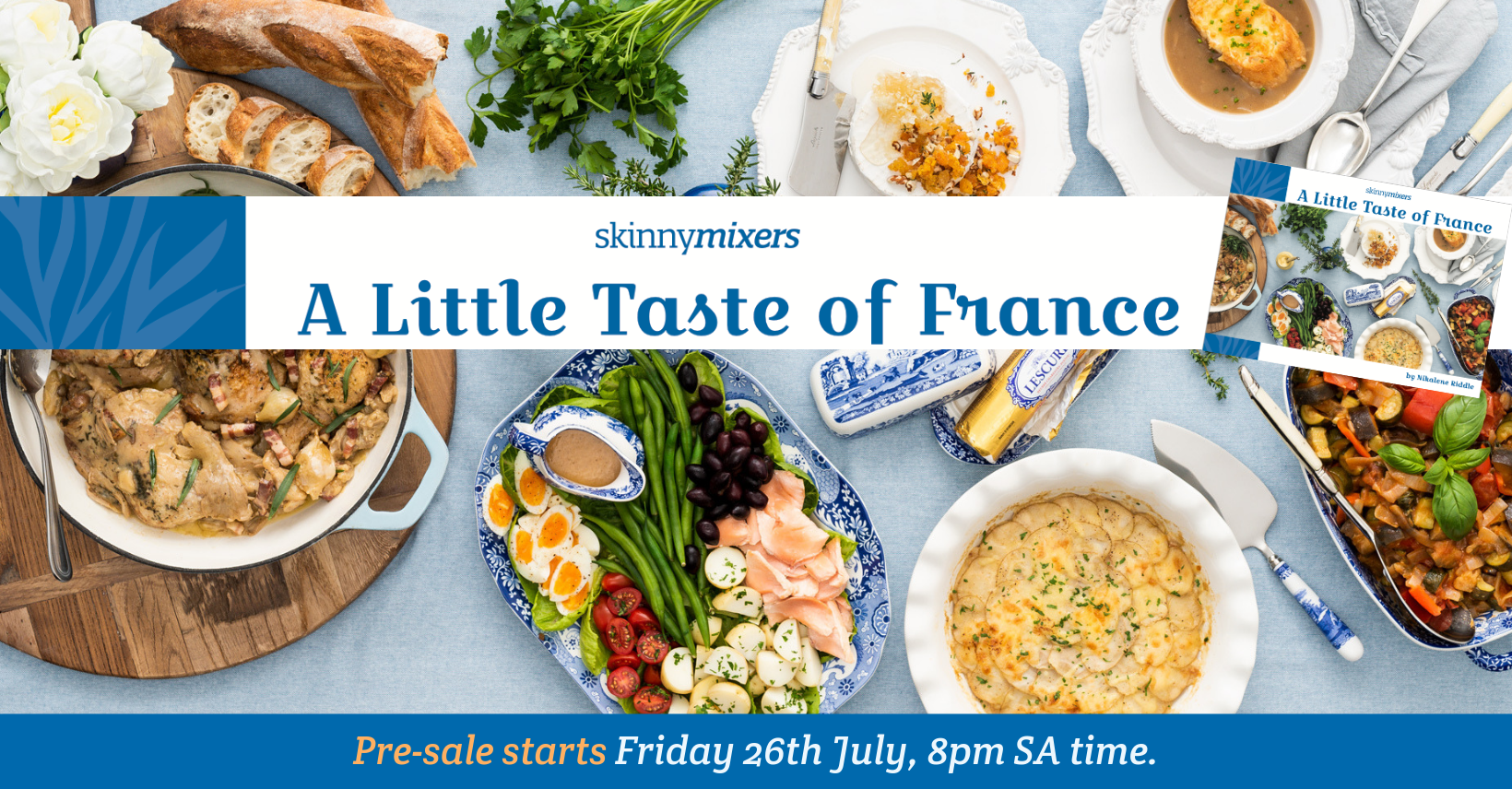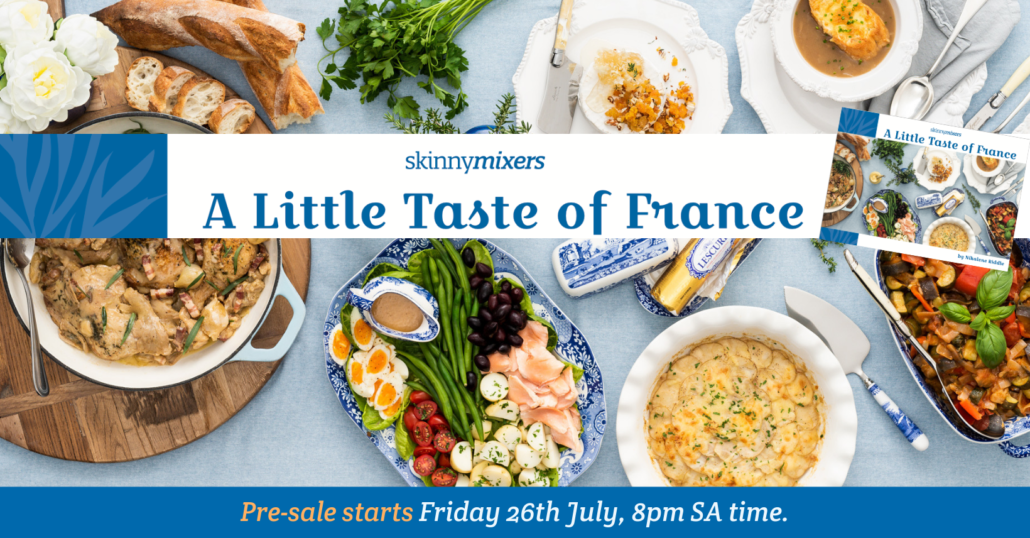 I am so excited to be sharing the contents of my 9th book – A Little Taste of France
🇫🇷
😍
with you !
⏰ Pre-sale begins on Friday the 26th of July at 8pm SA time, this book is full of healthier, hearty and delicious French recipes, inspired by my research trip to France. I really hope that you fall in love with these family & budget friendly recipes like I did!
Just $AUD 20.95 inc. GST with Free Shipping on Australian Orders (+ discounted International Shipping), you will receive the electronic copy immediately & your book will be shipped after pre-sale closes – with the chance of finding 1 of 6 Golden Tickets 🎫.
Like all my books, every recipe is Gluten Free ❤️
Variations include
☑️ dairy free
☑️ gluten free
☑️ nut free
☑️ egg free
☑️ low carb
☑️ super skinny /low calorie
☑️ paleo
☑️ vegetarian
☑️ low fodmap
☑️ refined sugar free
☑️ slow cooker
Let me know what you think of the contents, I hope you're as happy with the final line up as I am!
P.s these dietary codes apply either directly to the recipes, or signify that we have given instructions on how to meet multiple dietary requirements.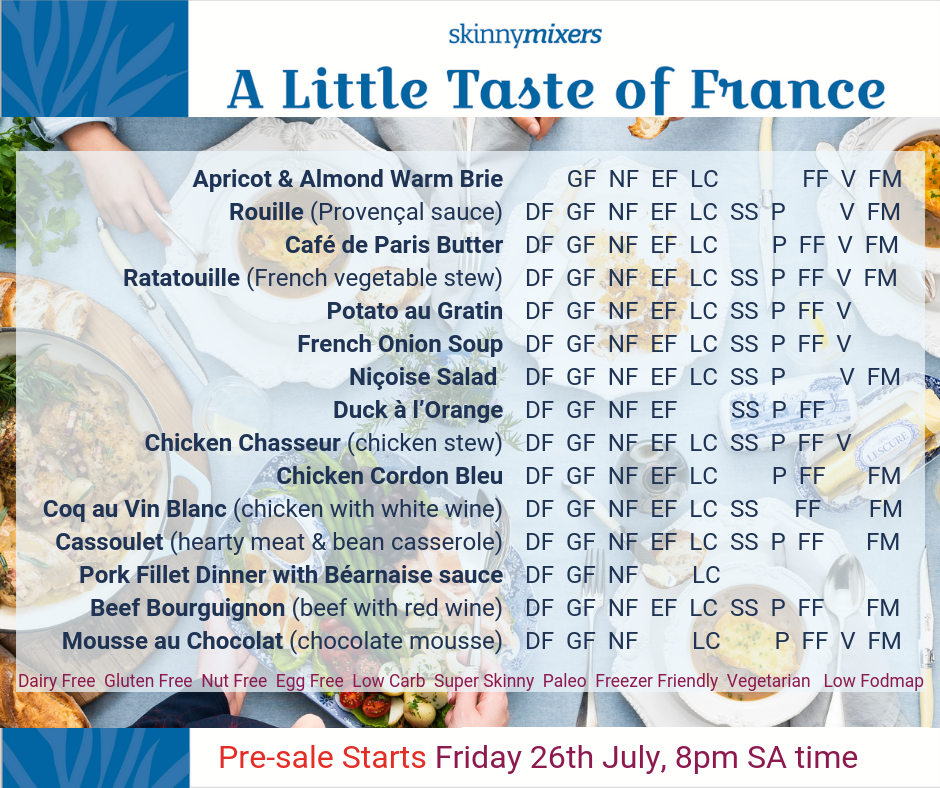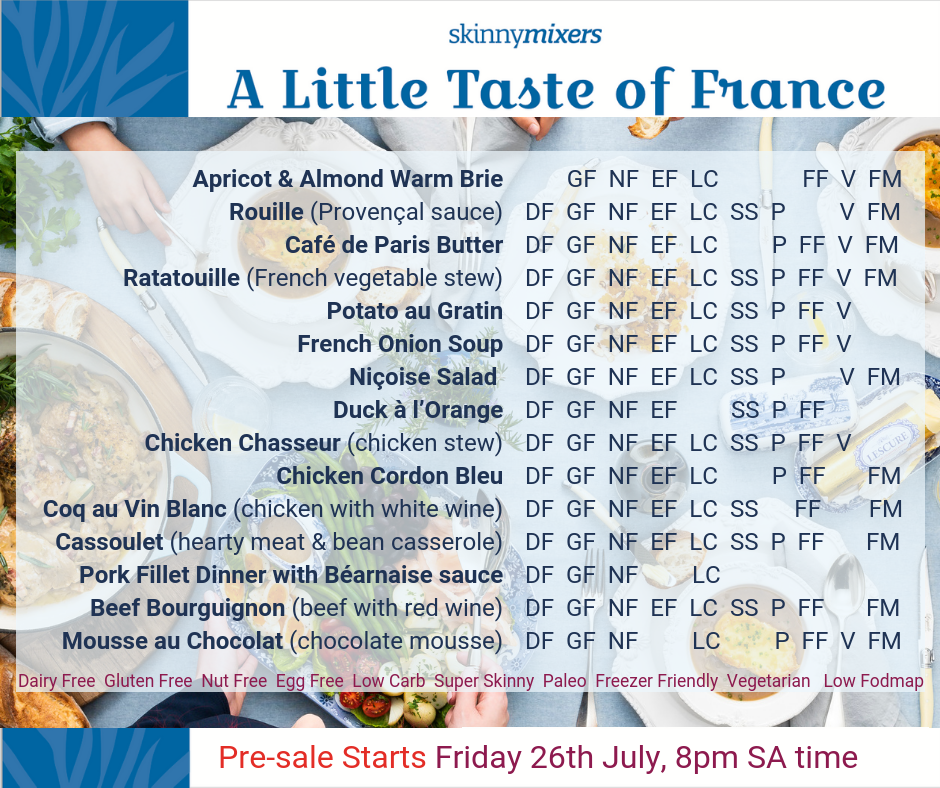 We've got a very busy week ahead…
🌶️ Today – The ALToF Spice Pack is now LIVE on the Grandma's Pantry website. Don't forget to use the discount code SKMIX in the checkout to receive 10% off your order. There are limited packs available, I highly recommend grabbing one asap.
🤩 Friday 19th July 8pm SA time – I have a NEW free recipe to release on the blog to celebrate the release of A Little Taste of France!
🎉 Sunday 21st July 8pm SA time – We will have a special #ALToF FB Live on the Nikalene Riddle FB Page to talk about all the exciting things happening next week & the start of the #Skinnytease in the Skinnymixers Facebook Group. This is your chance to ask me about the new book or anything at all!
❓ Tuesday 23rd July – We will be asking the Skinnymixers group to vote which of the new #ALToF recipes that they would like the shopping list revealed early for. This gives you a chance to have your say and be ready to cook on launch night!
🇫🇷 Friday 26th July 8pm SA time – Pre-sale for 'A Little Taste of France' starts at 8pm SA time. This is when the new book goes on sale in the Skinnymixers Shop. Check your local time here.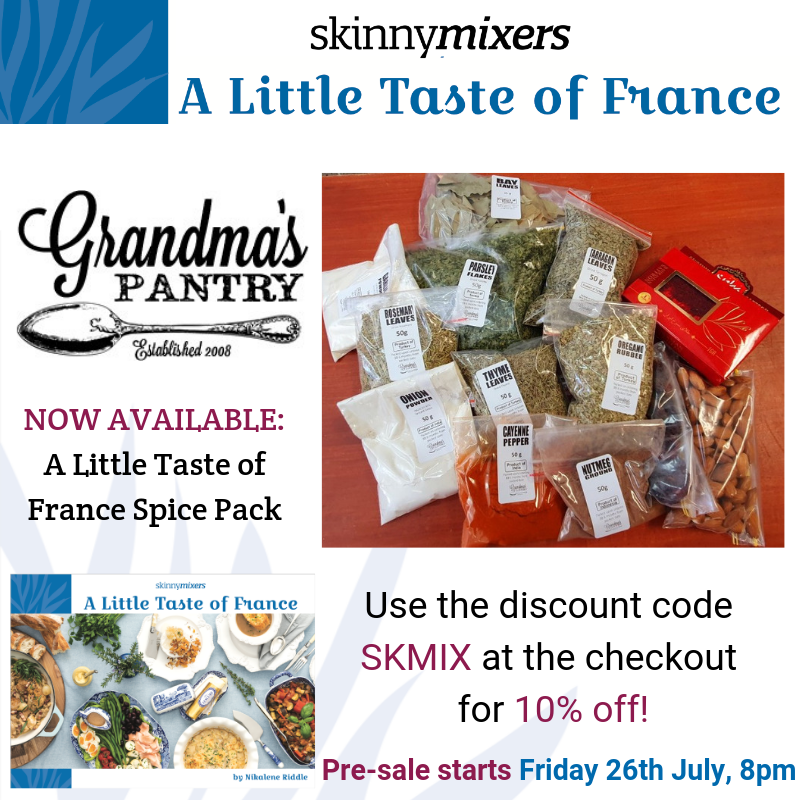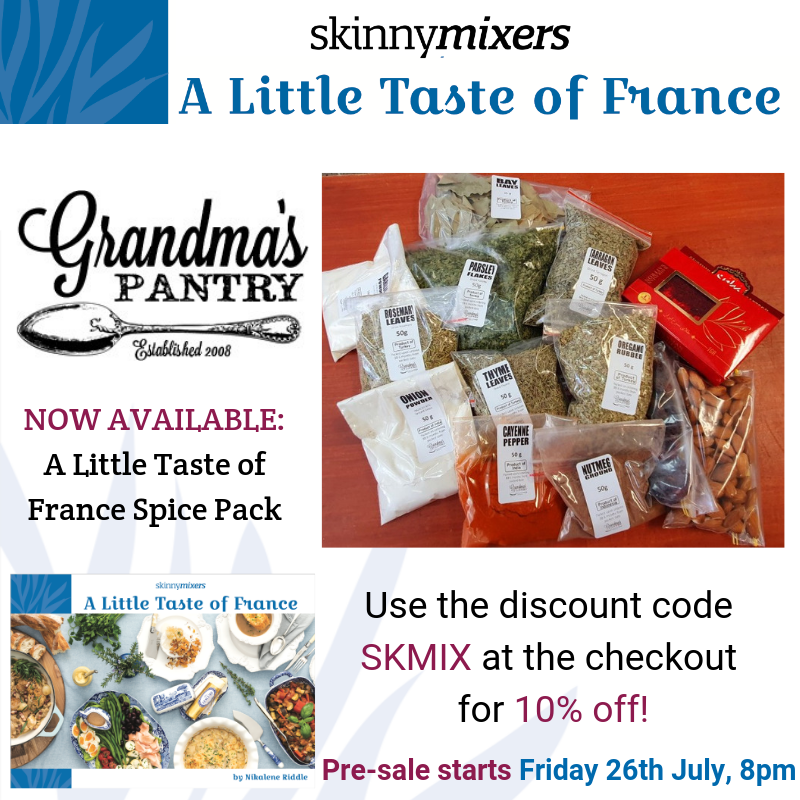 Our friends at Grandma's Pantry are busy packing special'ALToF Spice Packs'and'Mega Spice Packs'. Enjoy the convenience of having all the required spices and additional specialty ingredients to fully stock your pantry ready for the new book. Grandma's Pantry offer incredible value for a quality product delivered to your door. Grandma's Pantry has always been popular for Skinnymixers in regional areas, but also for those who like the convenience of the Spice Packs. Don't forget to use the discount code SKMIX in the checkout for 10% off.
We will start dropping some shopping hints in Skinnymixers with the #skinnytease campaign, but here are some items you might like to start shopping for:
cayenne pepper
dried bay leaves
garlic powder
nutmeg
onion powder
oregano
parsley flakes
dried rosemary
saffron threads
dried tarragon
dried thyme

70% dark chocolate
raw almonds
dried apricots
anchovies
apple cider vinegar
capers
tinned cannellini beans
Dijon mustard
honey
tomato paste
vanilla extract
Worcestershire sauce
red wine vinegar
white wine vinegar
white vinegar
wine – dry white & red
xanthan gum or cornflour
Keep checking in throughout the week for even more helpful tips leading up to the pre-sale of A Little Taste of France on Friday the 26th July, 8pm SA time!