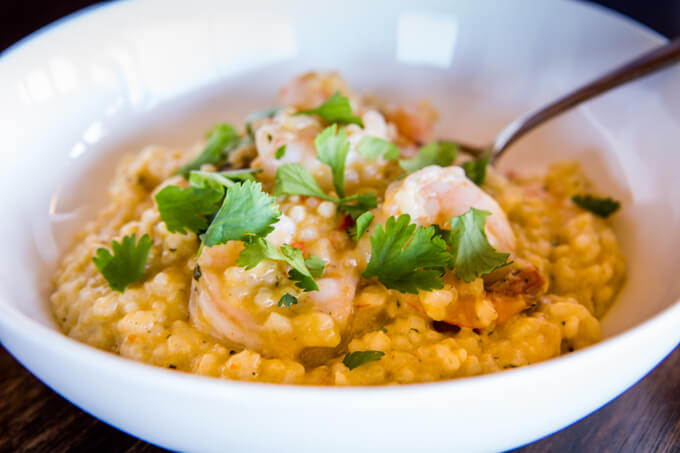 This weeks Simple Meal Sunday is a Thai Red Curry Prawn Risotto from Leonie over at ThermoFun. Leonie has been a big part of the Thermomix community for many years, and her blog is home to some amazing recipes and guides for those who are new to thermal cooking – I always recommend her 'pantry staples' list to any new friends and family. This recipe was inspired and tweaked from Maddy's recipe on the Thermomix Forum. I am not a seafood eater, so this weeks recipe was a treat for Michael and the kids. Michael absolutely raved about it, and the kids loved it too. I made a few minor adaptations based on what I had in the house:
I omitted the spring onions, carrot and capsicum because I didnt have any in the house
I used my Laksa paste from my recently released cookbook, because its what I had in the freezer
I needed to add a touch extra water at step 8 because my coconut milk was too thick
Chicken adaptation: Substitute the prawns for cubed chicken thigh in step 7.
Vegetarian adaptation: Omit the prawns and add cubed zucchini or even lightly fried tofu/paneer cubes in the thermo server before serving.
Bellini adaptation:

Use blunt blade for this recipe.  This is the Bellini version of reverse.
At step 3 use ST temp if using an Intelli and 120 degrees if using a Supercook.
At step 7 check whether rice is sufficiently cooked and add cooking time if necessary, ensuring that you don't overcook the rice (should still have some 'bite' to it.  Rice will continue cooking during resting time.
You can find the recipe here: http://bit.ly/1QWMVTk