Introducing a very special recipe featured in SkinnyAsia – Betty's Yum Cha Black Bean Pork. You might've seen Betty Wong's AMAZING food photos in Skinnymixers, we have the honour of publishing one of her family recipes in SkinnyAsia.
Betty's father was born in Hong Kong and was a baker and chef by trade. He opened and ran one of the largest Chinese restaurants in Adelaide, Unley Palace. This recipe is one of his traditional yum cha recipes that Betty has converted to Thermomix and has been a hit in the testing team.
What you will need: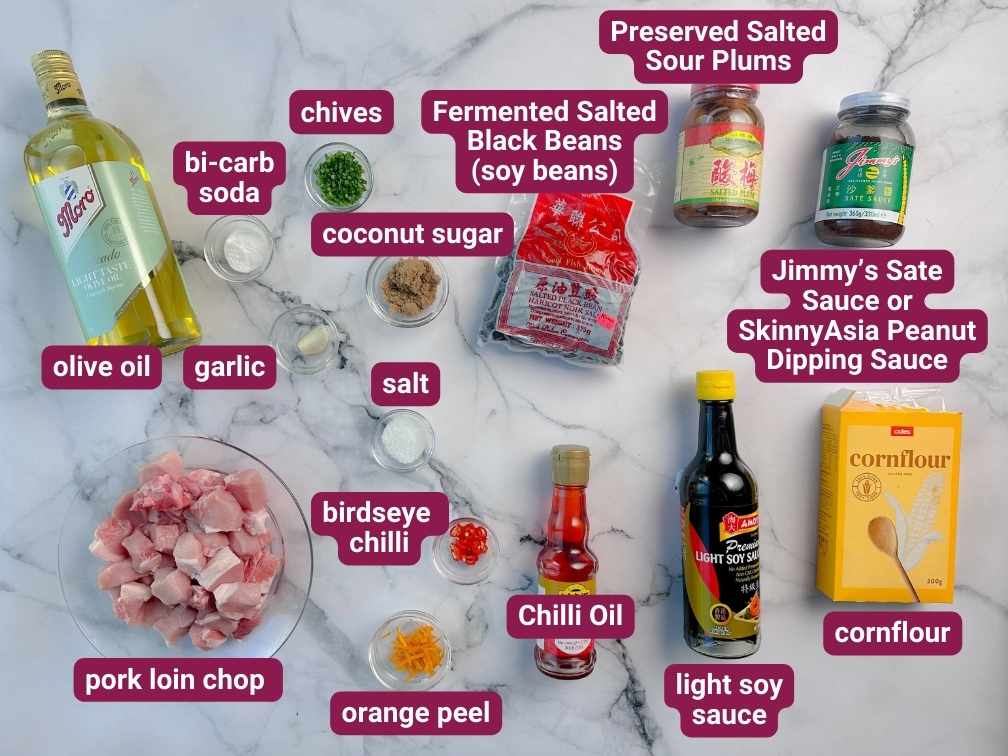 Specialty ingredients
This recipe uses a couple of specialty ingredients. We do offer substitutes for each, however if you are wanting to cook the traditional recipe you will need the following (pictured below).
Jimmy's Sate Sauce – You can find this sauce at your local Asian supermarket and is the Sate Sauce that Betty's dad uses. However, we have a delicious Peanut Dipping Sauce recipe in the cookbook that you can use as a substitute that is gluten-free and dietary friendly.
Jimmy's Sate Sauce Ingredients: Rapeseed Oil, Peanut (19%), Soy Sauce (Water, Soybean, Salt, Wheat Flour, Sugar, Caramel), Sugar, Spring Onion, Garlic, Shrimp (Crustacean), Curry Powder, Chilli Powder.
Preserved Chinese Salted Sour Plum in a jar – Not to be confused with the dried salty plums, the jar of Chinese Salted Plums can be found at most Asian Supermarkets. We have found these to be the hardest to source, if you can't find them we offer lemon juice as a substitute.
Fermented Salted Black Beans – These dried black soyabeans beans should be rinsed before use. You can find these in some Coles and also your local Asian Supermarket. If you find them in a can you may like to use double the amount. If you are unable to find the Salted Black Beans, you can substitute with 1 Tbsp of AYAM Black Bean Sauce or we have also tested with 1/4 tsp Miso Paste (although not quite the same, still delicious!)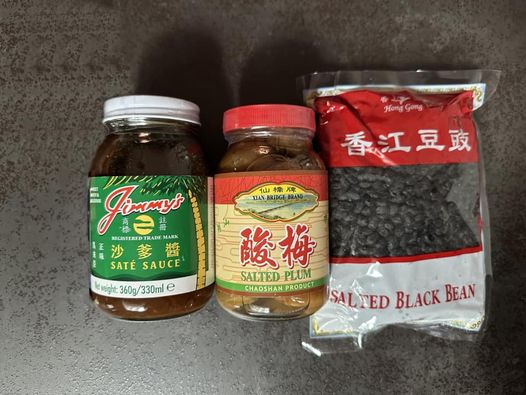 An Introduction from Betty
My Dad
My dad was born in Hong Kong and was a baker and chef by trade. Growing up I was always surrounded by good food, but I wouldn't get to see dad much as he would be working super long hours. Dad made his mark in the restaurant scene when he opened up and ran one of the largest Chinese restaurants in Adelaide, Unley Palace, seating approx 300 people.
After years of working in the restaurant industry, dad set up a home based bakery where he would bake thousands of traditional Chinese buns and pastries every Sunday morning (think Hong Kong egg tarts, cha siu baos, pineapple buns, coconut cocktail buns etc). I remember the many years of being woken up on a Sunday morning by the smell of freshly baked goodies coming out of the baking workshop out back which was the sign that I had to roll out of bed and get packaging so we could start delivering to all the local grocery stores ready for Sunday morning trade.
The Dish – Betty's Yum Cha Black Bean Pork
I'm sure there are many who have been to a traditional yum cha where they roll the dim sum carts out. One of the popular dishes is the Cantonese steamed black bean pork ribs. It's a dish you can order in individual serves, served in a small bamboo steamer along with all the other delicious dim sum, or alternatively, they often have this dish available in individual serves, served up on steamed rice for a more complete meal. It's always been one of my favourites to order!
By sharing this Yum Cha Black Bean Pork recipe, I hope you all get to experience some of the joy I've had in eating my dad's delicious food.
Dad used to make these steamed spare ribs (paaih gwat in Cantonese) probably once a month at home. It's quite an economical dish to make and because it's so tasty, paired with just steamed rice, it can go a long way. As I got older, when my parents were out working long restaurant hours and I was home with my grandma, this was an easy dish that dad could pre prepare for me and just have sitting in the fridge ready for me to steam myself. He used to always put a sticky note on it so I knew how long to steam for. It's also the perfect dish to batch prepare and portion up in the freezer ready for a quick meal on busy days. I just pop it in the fridge to defrost the night before.
Honestly, the best way to eat this is just served with plain rice. If there are leftovers, it heats perfectly in the microwave the next day. I've also added to a thermos with some steamed rice for the kids to take to school on cold days and they've loved it!
Other cuts of meat
Traditionally for this dish, racks of pork spare ribs are used however, we find that using pork loin as described in the recipe is easier for the every day cook at home to chop as there's less bones. If you want to try it traditionally, ask your butcher to cut a rack of pork ribs in half lengthways so that you get a strip of short 3-4cm rib bones. Alternatively, Asian grocery stores that have a butcher often have these ribs cut into riblets already. Then at home, cut into the flesh in between the bones so you get small individual pieces with meat on either side.
Traditionally, Chinese restaurants will run the ribs under running water for an extended amount of time to get the most perfect bouncy texture and colour.
The testing team have also tested this recipe using chicken thigh – for a non-pork option.
Tips for Best Results
Try to ensure all your pieces of meat are cut fairly evenly to ensure they take the same amount of time to cook through.
If you find you're not great with the cleaver/knife to cut through the bone– just skip the bones. Whilst eating the meat off the bones is characteristic of this dish, safety comes first! Some supermarkets sell pork loin without the bone.
Don't be lazy when velveting your meat. It makes all the difference to this dish and is so simple!
Ensure your meat is spread out in one even layer, preferably with no meat overlapping.
Asians love eating pork with a bit of fat still attached but if that's not your thing, cut off all or some of the hard fat prior to marinating.
How to use baking paper to steam in the Thermomix
Betty's Yum Cha Black Bean Pork is a cookbook exclusive recipe
We've included the basic shopping list below to help you know when out and about a general shopping list of what you might need to cook dinner. The recipe can be found in the cookbook SkinnyAsia – which has both Thermomix & Conventional cooking method instructions.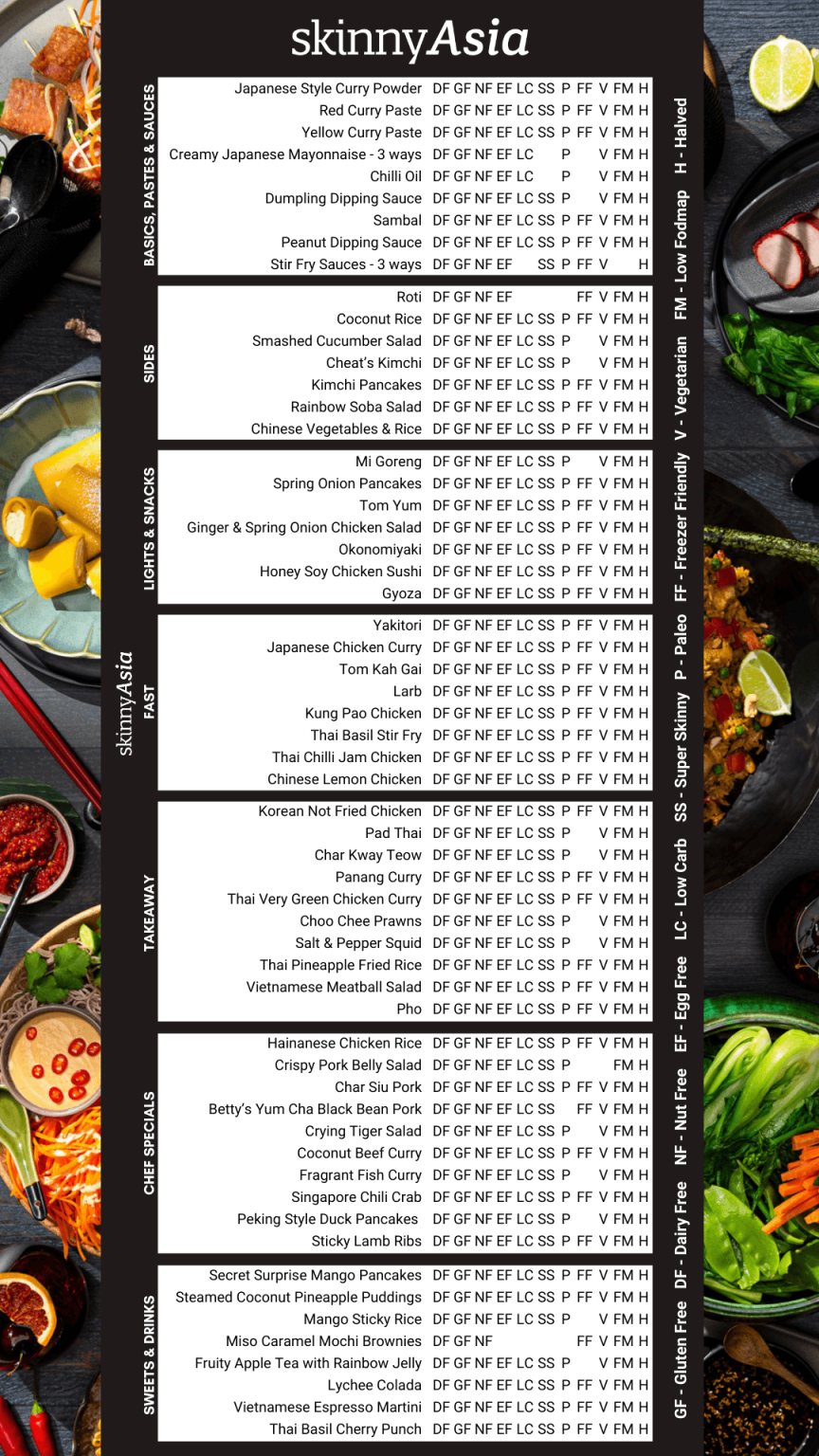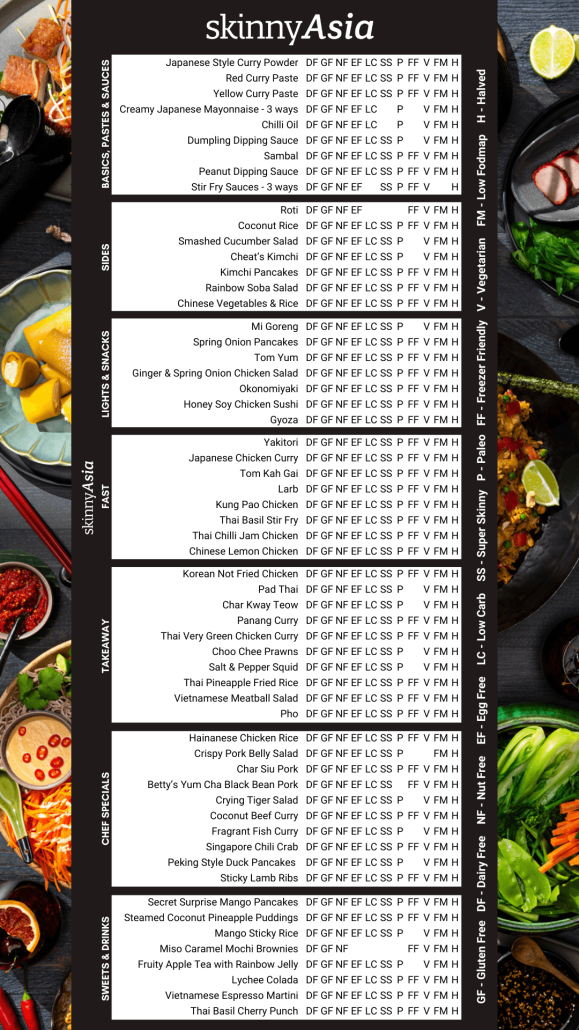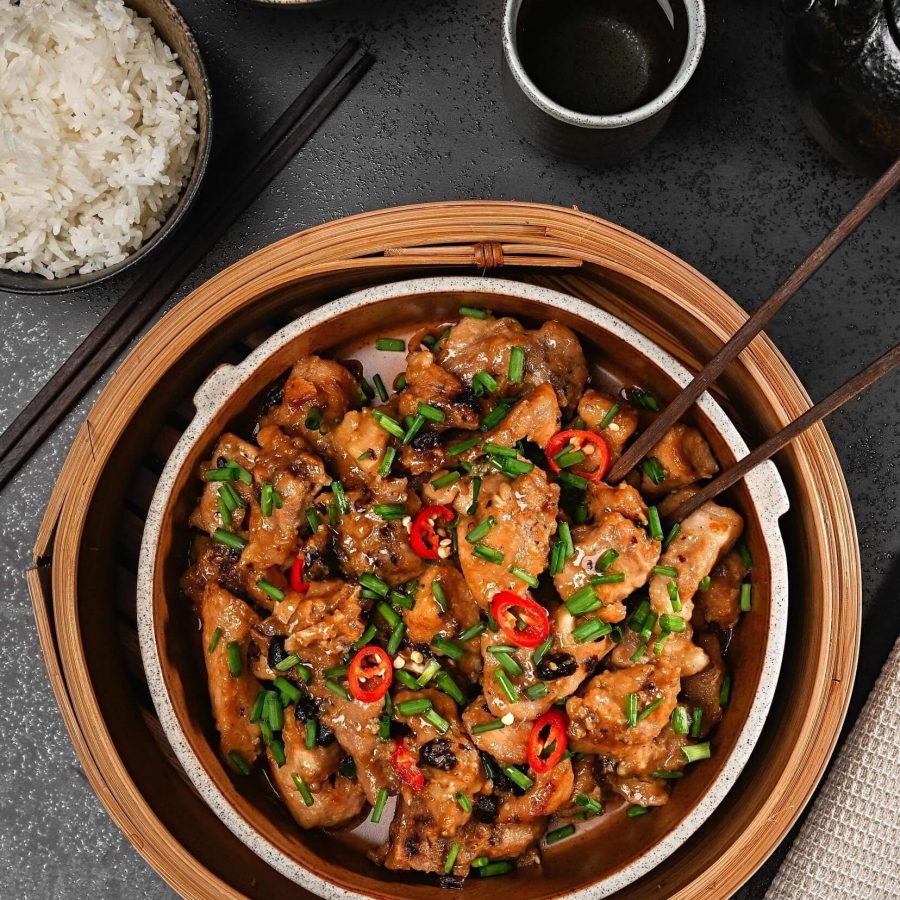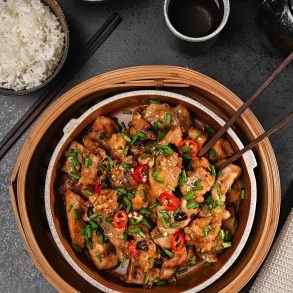 Ingredients
600

g

pork loin chops

bi-carb soda

birdseye chilli

-

optional

coconut sugar

-

or brown sugar

cornflour

fermented salted black beans

fresh chives

garlic

lemon

light soy sauce

-

tamari or coconut aminos

sate sauce

-

or Peanut Dipping Sauce
Instructions
This recipe is exclusive to the SkinnyAsia cookbook.
Pin Betty's Yum Chao Black Bean Pork recipe for later: