Skinnymixer's Thai Very Green Chicken Curry features in the cookbook SkinnyAsia. This easy weeknight, quick cook curry is lower in calories due to the hidden zucchini & spinach in the sauce.
SkinnyAsia is available from Friday 22nd of September at 8pm SA time.
Introducing the new Thai Very Green Chicken Curry in SkinnyAsia. No curry paste prep required as we have included a single portion in the recipe.
Ok so it is no secret that I really, really love Thai Green Curry. The Original Thai Green Curry recipe is still one of my all time favourites.
This Thai Very Green Chicken Curry is SOOOOOO Green!
The incredible colour comes from the not-so-hidden spinach and zucchini that we blend into the sauce.
It does 2 things:
Makes the curry an incredible green and hides them from the kids (well kind of!)
Reduces the calories as we replace some of the coconut cream with vegetables.
What you will need: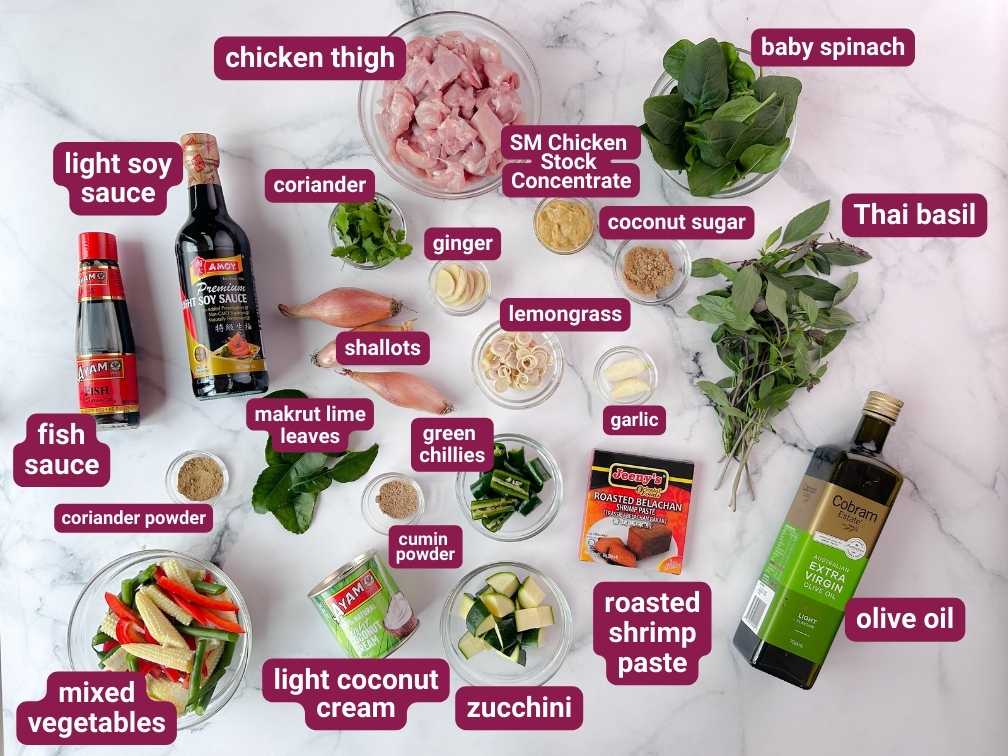 Where to buy?
whole green chillies – You can find these at the major supermarkets, fruit shops and Asian grocers.
roasted shrimp past (Belachan) – The Jeeny's Roasted Shrimp Paste is found in Woolworths and Asian supermarkets. Don't stress if you can't find 'roasted' shrimp paste, you can use normal shrimp paste if needed. I just feel roasted has a better depth of flavour.
double makrut lime leaves (kaffir) – you can find these makrut lime leaves in the fresh herb section in the supermarket. They can be called a couple of different names like 'Thai Lime Leaves', 'Kaffir Lime Leaves' & 'Australian Lime Leaves'. I definitely recommend planting a tree from Bunnings to grow your own. You can also find these in a jar, if you are struggling to find fresh.
onion shallot – these are the sweeter little brown/purple shallots and not the long green spring onions.
lemongrass – you can buy this from the supermarket in the fresh herb section. You may find it cheaper from the local fruit shop or Asian grocer. Check out the how to prepare video below on how to prepare it.
Chicken Stock Concentrate – don't forget this is the secret to flavour!
Light Coconut Cream – I use the AYAM Light Coconut Cream for flavour and reduced calories.
How to prepare lemongrass to use in SkinnyAsia
This Thai Very Green Chicken Curry is a cookbook exclusive recipe
We've included the basic shopping list below to help you know when out and about a general shopping list of what you might need to cook dinner. The recipe can be found in the cookbook SkinnyAsia – which has both Thermomix & Conventional cooking method instructions.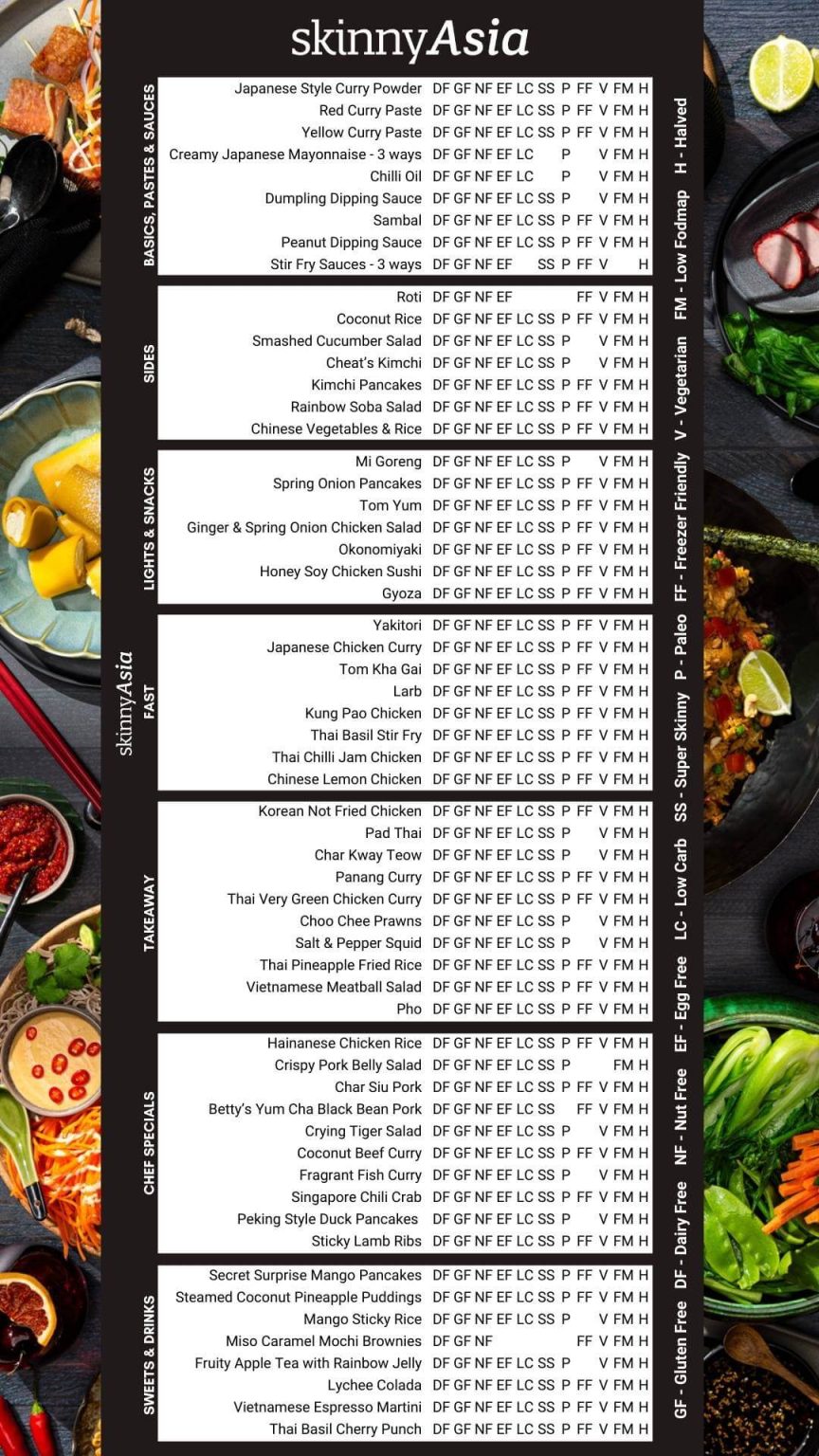 What size to cut chicken for cooking in the Thermomix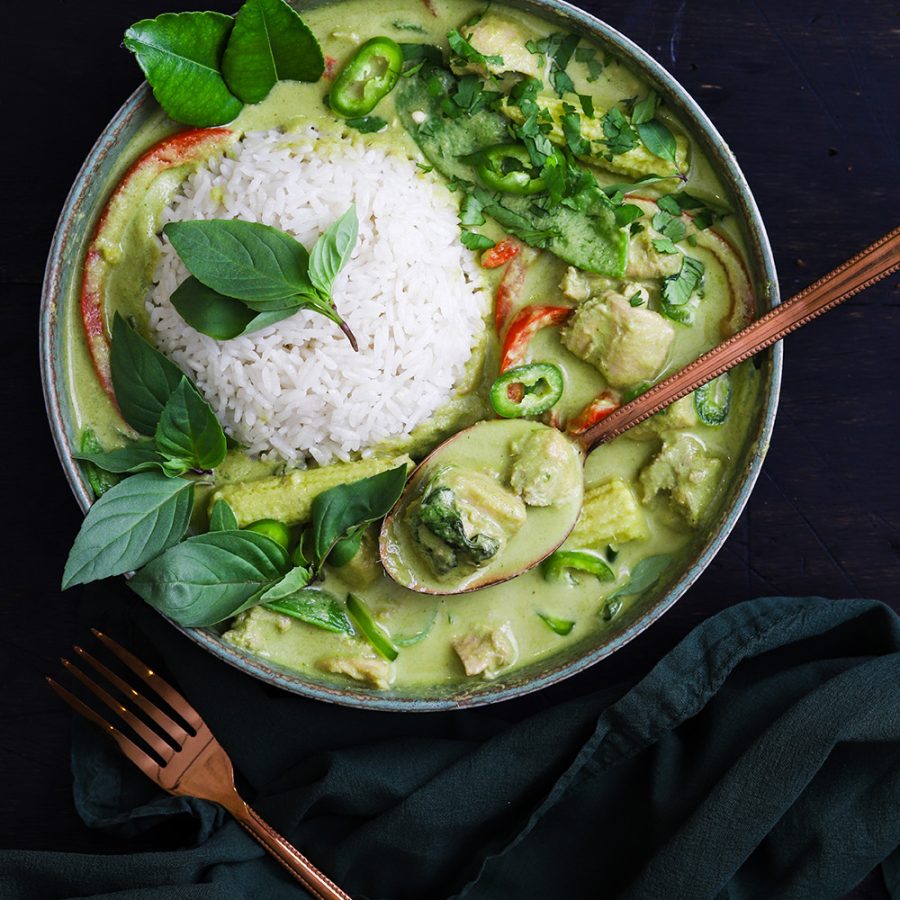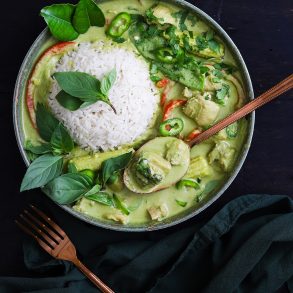 Ingredients
500

g

chicken thigh

baby spinach

coconut cream

coconut sugar or brown sugar

coriander powder

cumin powder

fish sauce

fresh coriander leaves

fresh ginge

fresh lemongrass

garlic

large green chillies

light soy sauce

-

tamari or coconut aminos

makrut lime leaves

mixed vegetables

roasted shrimp paste

shallot onion

zucchini
Instructions
This recipe is exclusive to the SkinnyAsia cookbook.
Nutrition
Serving:
395
G
|
Calories:
413
kcal
|
Carbohydrates:
10
g
|
Protein:
28.2
g
|
Fat:
27.5
g
|
Saturated Fat:
14.5
g
|
Sodium:
1160
mg
|
Sugar:
8.2
g
Pin this Thai Very Green Chicken Curry recipe for later: