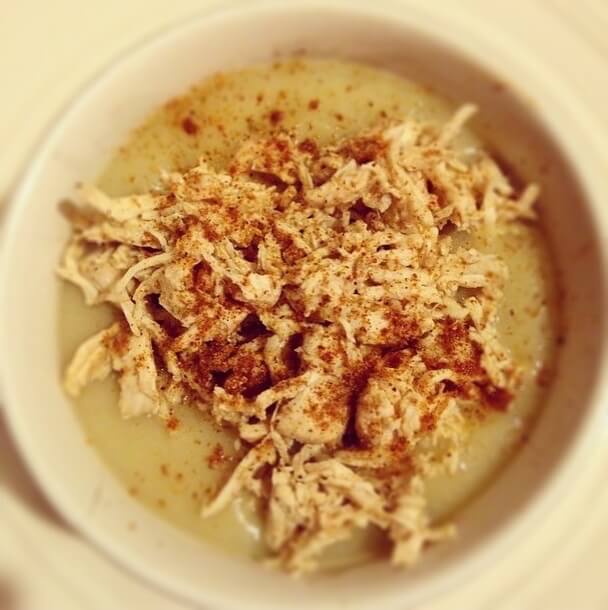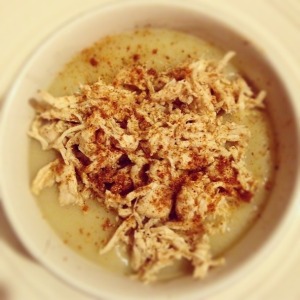 This Creamy Chicken and Cauliflower Soup made in the Thermomix is so creamy but completely guilt free. You won't believe the silky texture that this keto soup recipe has. The chicken is steamed in the varoma with your choice of herbs/spices, making this an adaptable meal for any occasion.

skinnymixer's Creamy Chicken and Cauliflower Soup
Ingredients
800 g | 28.2 oz cauliflower, roughly chopped
600 g | 21.2 oz water
1.5-2 tbsp chicken or veg stock concentrate
½ tsp cracked pepper
30 g | 1 oz grassfed butter (omit this if on P2)
800 g | 28.2 oz chicken breast, diced into chunks
1 Tbsp Seasoning of choice for chicken (I like to use skinnymixer's Mexican Spice Mix)
Instructions
Add cauliflower to mixer bowl.
Blitz for 6 sec/speed 4/reverse.
Add water, stock, pepper to mixer bowl.
Add chicken and seasoning of choice to steamer tray and put in place.
Cook for 15 min//steaming temperature/speed 2.
Break chicken up with spatula and if using butter, add to mixer bowl.
Cook for 5 min//steaming temperature/speed 2 with steamer tray in place.
Check chicken is cooked and extend time by a couple of minutes if needed.
Remove steamer tray, put your measuring cup on and blend 1 min/speed 9, increasing speed gradually.
Put soup aside in bowl and add cooked chicken to mixer bowl. No need to clean it!
Shred chicken 4 sec/speed 4/reverse.
Serve soup with shredded chicken sprinkled on top.
Notes
Serves 8 on HCG P2 🙂

Bellini Users

Use the blunt blade for this recipe.

At step 2 use speed 5 for 6 seconds.
At step 5 and step 7 use ST temp if using an Intelli and 120°C or 250°F if using a Supercook.
At step 9 SLOWLY increase the machine speed up to speed 9.
At step 11 you may need to add a couple of seconds if chicken isn't shredded enough.
Nutrition Information
Serving size:
310g
Calories:
263
Fat:
9.4g
Saturated fat:
4.3g
Carbohydrates:
3.2g
Sugar:
2.9g
Sodium:
674mg
Protein:
39.5g