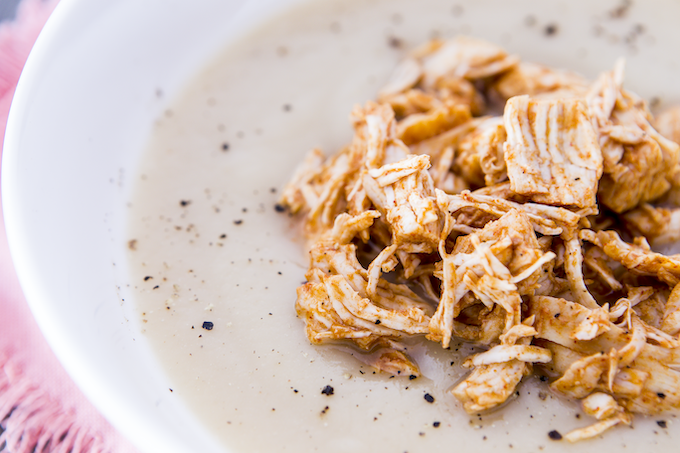 This Creamy Chicken and Cauliflower Soup made in the Thermomix is so creamy but completely guilt free & dairy free.
You won't believe the silky texture that this keto Thermomix cauliflower soup recipe has. The chicken is steamed in the varoma with your choice of herbs/spices, making this an adaptable meal for any occasion. Cooking the cauliflower in the Thermomix mixer bowl like this makes some kind of magic happen. It becomes the creamiest, silkiest, lightest soup – all with minimal effort.
Featured in the original The Healthy Mix Cookbook, this popular soup can be easily made super low calorie and is fantastic for intermittent fasting. The Healthy Mix is a collection of 25 recipes, which have helped me with my healthy eating journey. This book is filled with healthy, yet delicious recipes.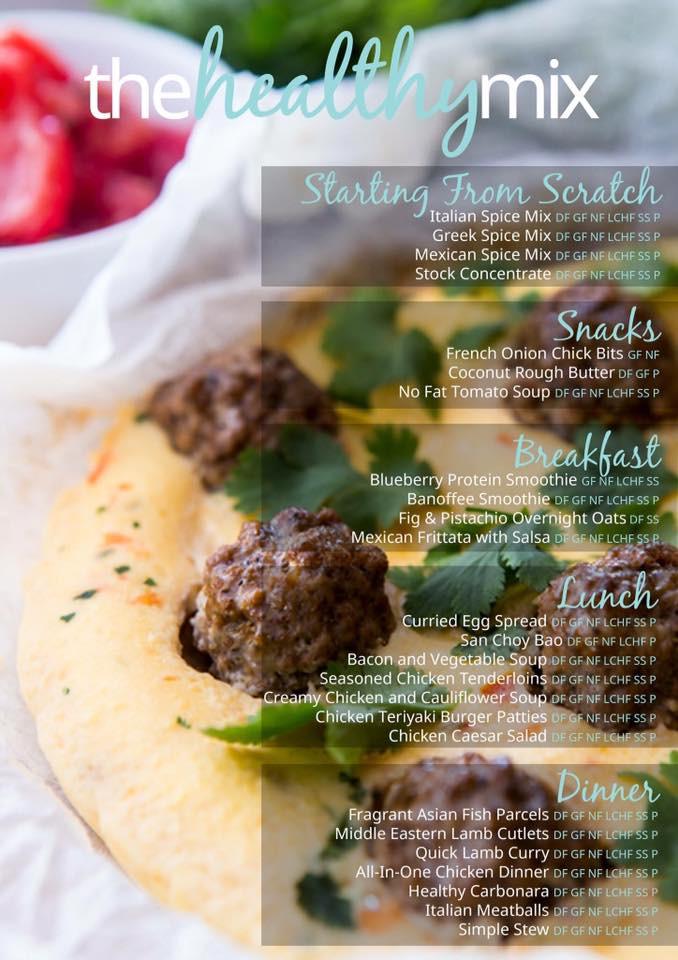 If you love this soup, another recipe you will love from The Healthy Mix is the Healthy Carbonara Sauce recipe.
7 Day The Healthy Mix Challenge
The 7 day The Healthy Mix Challenge is perfect for anyone who is wanting to get their healthy eating back on track and want to try and meal plan for weight loss. To do this Thermomix meal plan, you will need The Healthy Mix Cookbook. You receive the e-Book immediately when you purchase.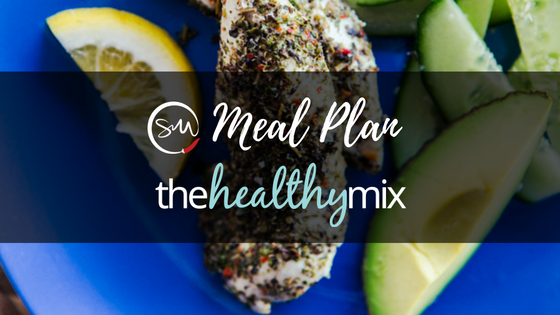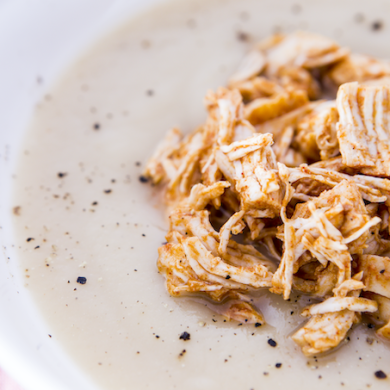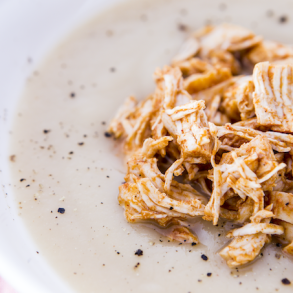 Instructions
Add cauliflower to mixer bowl.

Blitz for 6 sec/speed 4/reverse/MC on.

Add water, stock, pepper to mixer bowl.

Add chicken and seasoning of choice to steaming tray and put in place.

Cook for 15 min/steaming temp/speed 2.

Break chicken up with spatula and if using butter, add to mixer bowl.

Cook for 5 min/steaming temp/speed 2 with steamer tray in place.

Check chicken is cooked and extend time by a couple of minutes if needed.

Remove steamer tray, put your measuring cup on and blend 1 min/speed 9/MC on, increasing speed gradually.

Put soup aside in bowl and add cooked chicken to mixer bowl. No need to clean it!

Shred chicken 4 sec/speed 4/reverse/MC on.

Serve soup with shredded chicken sprinkled on top.
Notes
Serves 8 on HCG P2 🙂
Bellini Users
Use the blunt blade for this recipe.
At step 2 use speed 5 for 6 seconds.
At step 5 and step 7 use ST temp if using an Intelli and 120°C or 250°F if using a Supercook.
At step 9 SLOWLY increase the machine speed up to speed 9.
At step 11 you may need to add a couple of seconds if chicken isn't shredded enough.
Nutrition
Serving:
310
g
|
Calories:
263
kcal
|
Carbohydrates:
3.2
g
|
Protein:
39.5
g
|
Fat:
9.4
g
|
Saturated Fat:
4.3
g
|
Sodium:
674
mg
|
Sugar:
2.9
g