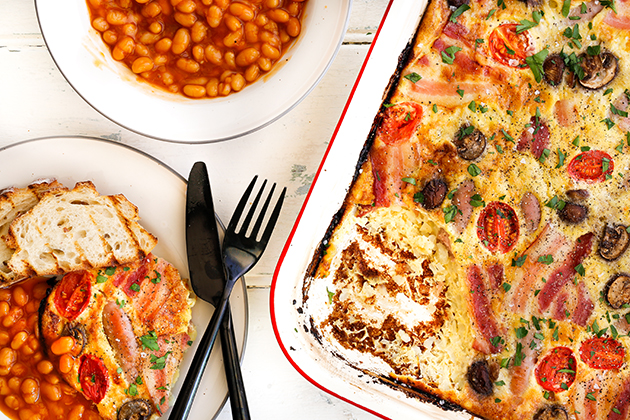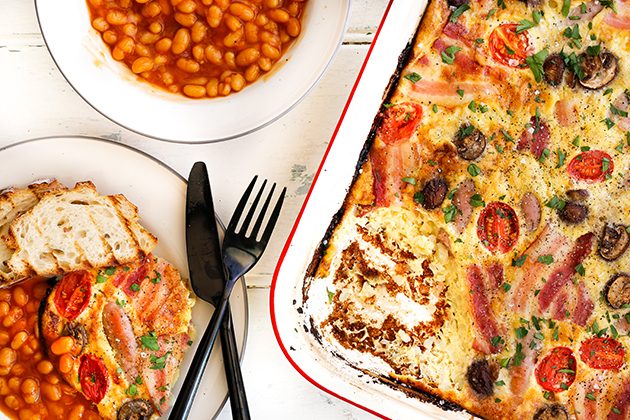 One of the main reasons I love visiting London is for a proper English Breakfast. Only on holidays would I allow myself to eat bacon, sausages, eggs, chips, toast and baked beans all in one meal! On my recent trip to London, while enjoying breakfast, the idea struck me to do a healthier version of the English Breakfast – baked all in one. This is going to be my go to breakfast for family gatherings, because the entire thing can be prepared the night before and put in the oven first thing in the morning, meaning way less mess and effort. Love Nik xx

skinnymixer's English Breakfast Bake
Ingredients
butter or olive oil for greasing
350 g | 12.3 oz white or sweet potato, peeled, roughly chopped
8 whole eggs
50 g | 1.8 oz cream (optional for dairy free)
1 tsp salt
pinch of freshly cracked black pepper
¼ tsp onion powder
6 pork chipolatas
100 g | 3.5 oz streaky bacon, cut in to big chunks
50 - 100 g | 1.8 – 3.5 oz mushrooms of choice, halved
6 baby Roma tomatoes, halved
Instructions
Preheat oven to 200°C or 400°F and grease a large baking dish.
Add potato to mixer bowl. Chop for 5 sec/speed 4/MC on.
Add eggs, cream, salt, pepper and onion powder to mixer bowl. Combine for 10 sec/speed 3/MC on.
Pour potato and egg mixture into baking dish and arrange rest of ingredients.
Cover dish with Alfoil and bake for 25 mins.
Increase temperature to 220°C or 430°F. Remove Alfoil and continue to bake for a further 15 mins or until egg has set through. Serve with my smokey baked beans.
Nutrition Information
Serving size:
230 g
Calories:
339
Fat:
18.8 g
Saturated fat:
8.4 g
Carbohydrates:
12.2 g
Sugar:
3.5 g
Sodium:
928 mg
Protein:
21.7 g