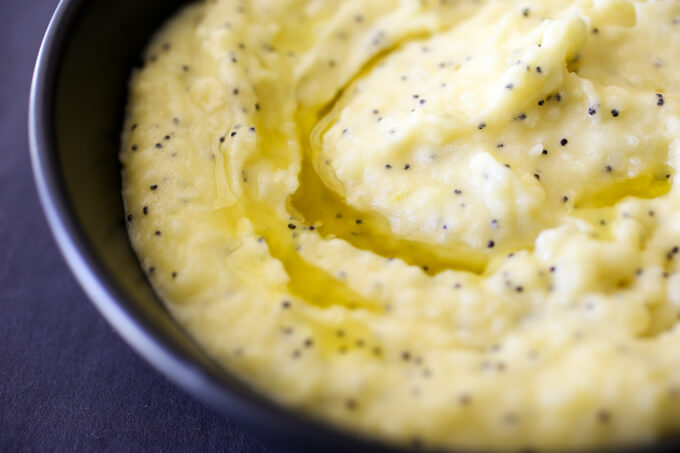 Skordalia is something I grew up seeing at Greek weddings and parties but I haven't eaten it for many years… until our good friend, Tatum, brought some over the other night to snack on while watching the UFC. It had poppyseeds in it, which I haven't seen before and instantly felt inspired to create my own 'healthier' version using way less oil and low carb potatoes. Tatum promised to love me forever if I could pull it off, and I think I have managed to! If you do like a smoother/runnier Skordalia, feel free to add extra olive oil in. Looking forward to seeing this served and enjoyed for Christmas in only 1 month :O Love Nik xx

Poppyseed Skordalia (potato dip)
Ingredients
300 g | 10.6 oz potato, peeled and cubed medium (low carb or Coliban)
2-4 cloves of garlic, peeled
10 g | 0.3 olive oil
10 g | 0.3 oz lemon juice
1 egg yolk
1 tbsp poppyseeds
½ tsp salt
Instructions
Weigh in 400 g or 14.1 oz water into mixer bowl, insert simmering basket with potato inside and cook for 15 min/steaming temperature/speed 3 or until potato is cooked. Discard steaming water.
Allow potato to cool, I like to soak them in cold water to speed up the process.
Add garlic to mixer bowl, chop for 3 sec/speed 9/MC on. Scrape bowl down and repeat once.
Add cooled potatoes to mixer bowl, mash for 15 sec/speed 4/MC on.
Add remaining ingredients and blend for 20 sec/speed 4/MC on.
Serve or store in an airtight container for up to 3 days in the fridge.
Notes
Bellini Users

Use your sharp blade for this recipe.

At step 1 use ST temp if using an Intelli and 120-130 degrees if using a Supercook.
At step 3 increase chopping time if required.
At step 5 add on blending time if required.