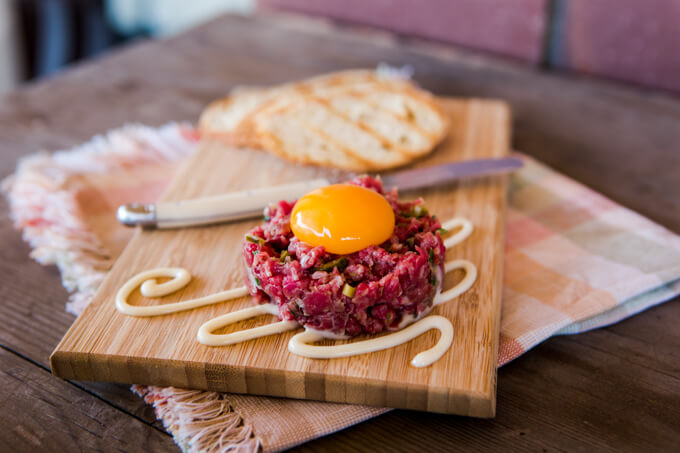 Steak Tartare is one of those dishes that you either love, because you've had the guts to try it… or you refuse to try it because you're a vegetarian or a chicken 😉 I adore this Steak Tartare Thermomix recipe…
Jokes aside, this is a beautiful French dish which is also super healthy. I am lucky where I live that I have access to very high quality, fresh meat and we have our own chickens, but if you aren't able to source premium ingredients I suggest you give this recipe a skip.
The primary reason for needing high quality meat is that there is obviously a safety risk with consuming raw meat, and even then you have to ensure you employ proper food storage and handling techniques to avoid food poisoning. Secondly, because the meat is so tender, when you spread it on your bread/cracker/whatever, it melts.
Love Nik xx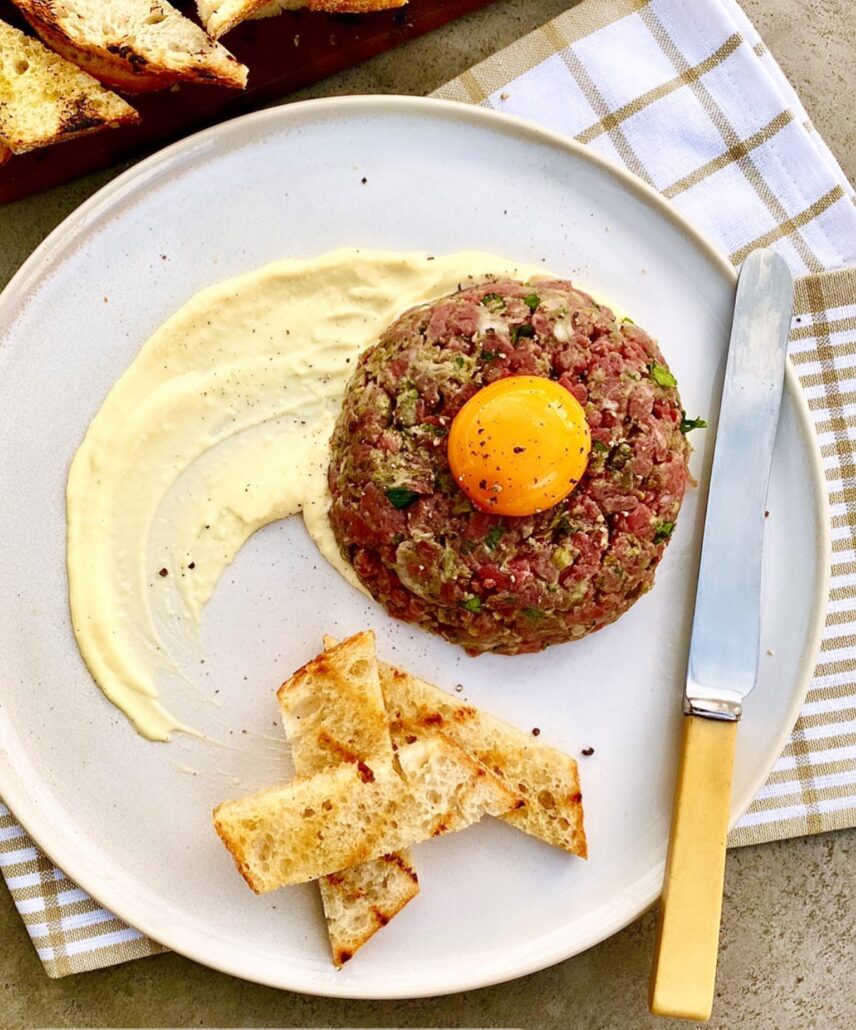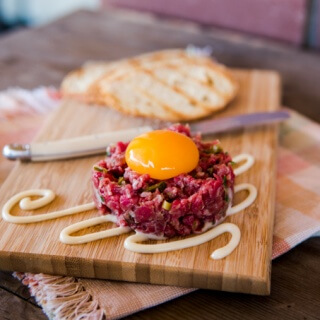 Print
skinnymixer's Steak Tartare
Ingredients
200

g

high quality

fat trimmed, beef tenderloin or eye fillet, sliced 1 cm thick, par frozen for a few hours

1

small French shallot

peeled and halved (small brownish reddish one, about 10 g or 0.3 oz)

1

small handful of flat parsley leaves

1

tsp

capers

drained

1-2

cornichon

1

tsp

dijon mustard

1

tsp

olive oil

1/4

tsp

salt

or to taste... you may prefer more

2

pinches

of cracked black pepper
Instructions
Prepare your steak, ensuring you use proper food handling hygine, and put it in the freezer to par freeze for a few hours.

Put your shallot into your mixer bowl, chop for 1 sec/speed 9/MC on. Scrape bowl down.

Add parsley, capers and cornichon and chop for 1 sec/speed 9/MC on. Scrape bowl down.

Add mustard, olive oil, salt and pepper and combine for 3 sec/speed 3/MC on. Set aside in a bowl.

Without washing the bowl, add your par frozen steak and chop for about 2-3 seconds/speed 7/MC on. The idea is to have a fine dice, but not mush.

Put your steak in with your reserved seasoning, stir through well. Plate up with aioli and top with the raw egg yolk.
Notes
It is really important to observe proper food handling techniques. This recipe should be kept in the fridge until it is ready to serve, but I personally would not keep it for more than 1-2 hours myself before serving and consuming.
Pastueurising egg yolk: If you are having to use supermarket eggs, or are concerned about using raw egg yolk, have a look on google how to pasturise your eggs to minimise the risk... but you are eating raw steak afterall.
You can halve this recipe for a smaller serve, or increase it to serve double.