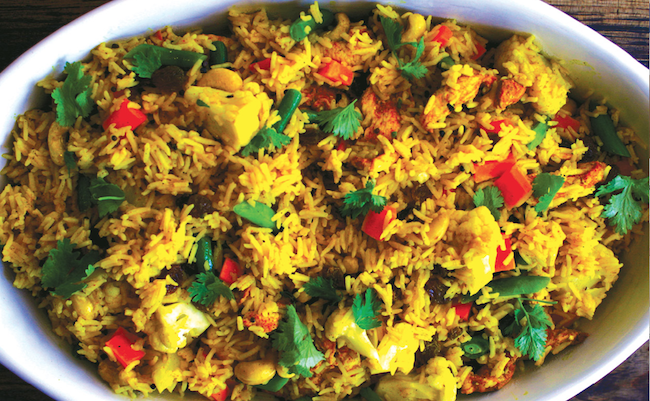 ALToI: Chicken Biryani
A new Thermomix spin on the traditional Chicken Biryani, this dish will delight the senses with its medley of colour, taste and aroma. Chicken Biryani, served hot or cold, is a hearty meal on its own. Serve as a complementing dish for an Indian banquet.
Ingredients
chicken breast
coriander powder
paprika, mild
turmeric powder
green beans
cauliflower
carrots
cashews
sultanas
butter
cinnamon stick
whole cloves
black mustard seeds (optional)
basmati rice
chicken stock liquid or chicken stock paste + water
Babas Malaysian Meat Burry Powder
pepper-free garam masala
greek yoghurt
fresh coriander
lemon
Notes
This recipe has a vegetarian variation.
Nutrition Information
Calories:
390
Fat:
18g
Saturated fat:
7.2g
Carbohydrates:
34.8g
Sugar:
13.9g
Sodium:
448mg
Protein:
19.2g