skinnymixer's Bulletproof Crio Brü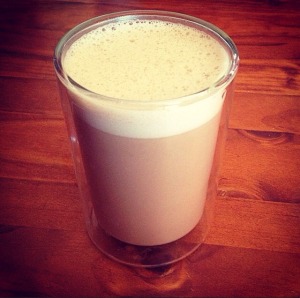 skinnymixer's Bulletproof Crio Brü
Ingredients
25 g | 0.9 oz Crio Brü
350 g | 12.3 oz water
1 tbsp unsalted grassfed butter
2 tsp coconut oil
Instructions
Add Crio Brü and water to mixer bowl and brew on 10 min/90°C or 195°F/speed 2.
Blend 10 sec/speed 5.
Plunge in a french press and add back to rinsed mixer bowl.
Add butter and coconut oil and blend 20 sec/speed 9.
Notes
Amazing but healthy pick-me-up. My favourite flavour is the French Roast Cavalla!
This serves 1 but you can just double the ingredients for 2 serves 🙂
You can buy your yummy Crio Brü from:-
http://www.criobru.com.au/crio-beans/
Enjoy xx

Bellini Users

Use blunt blade for this recipe.
Nutrition Information
Serving size:
389g
Calories:
130
Fat:
13.3g
Saturated fat:
10.8g
Carbohydrates:
1.9g
Sugar:
0g
Sodium:
1mg
Protein:
0.1g