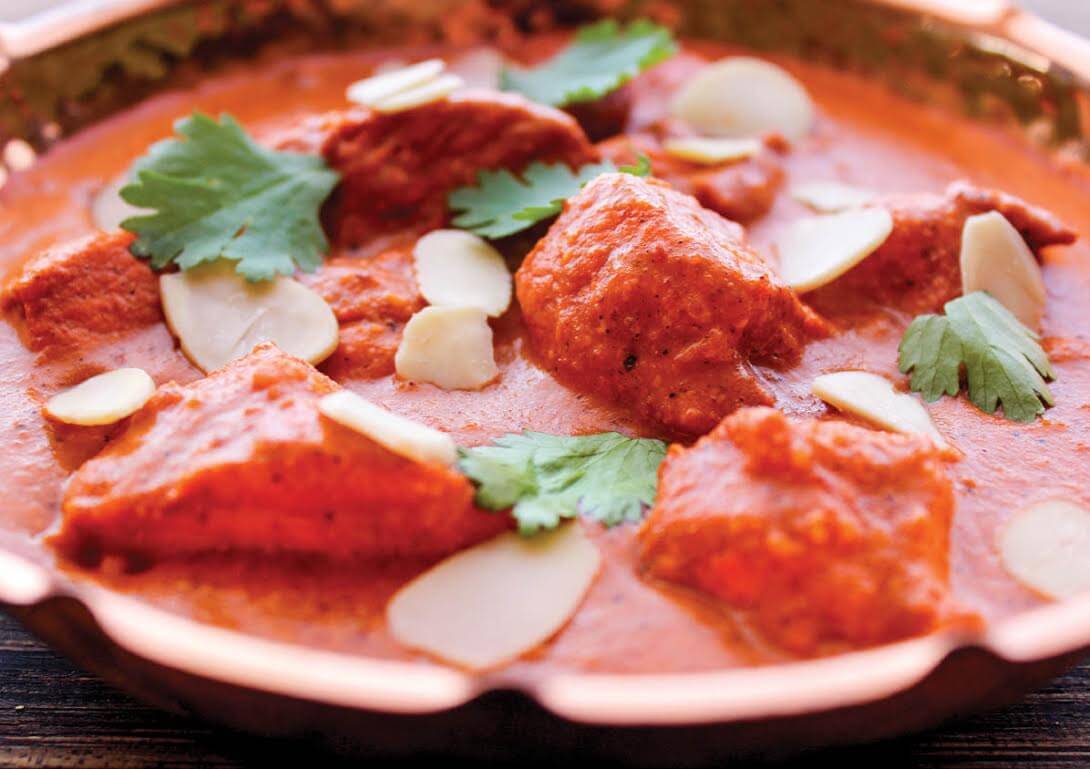 Also known as Murgh Makhani, this popular dish needs no introduction. While this Butter Chicken may be a decadent treat, it is a healthier Thermomix alternative to take-away versions and well worth the effort.
The best Thermomix Butter Chicken recipe?
This recipe is mild for those who are sensitive to spice. One of the 'must make' Thermomix chicken recipes, it is easy to follow and will definitely impress.

skinnymixer's Butter Chicken
Ingredients
700 g chicken breast, diced
150 g cashews or almonds, raw (optional - omit for nut free)
300 g cream or coconut cream
50 g honey
Bunch of chopped coriander
Marinade:-
½ tbsp salt
¼-½ tsp chilli powder
1 tsp garam masala
Optional: 1 tsp liquid tandoori colouring OR ¼ tsp red food colouring and 2 drops of yellow food colouring
10 g ginger
1 garlic clove
15 g apple cider vinegar
Tomato paste:-
2 garlic cloves
10 g ginger
30 g apple cider vinegar
1 x 400 g tin of Ardmona chopped tomatoes
100 g tomato paste
Gravy:-
200 g brown onions, peeled, halved
125 g butter
1 cinnamon stick
3 cloves
5 cardamom pods, bruised
1 star anise
1 tsp cumin powder
1 tsp smoked paprika
1 tsp garam masala (pepper free)
Instructions
Add nuts to mixer bowl, mill 10 sec/speed 9/MC on. Set aside.
Without washing the bowl, (change to blunt blades for bellini and use speed 1 instead of reverse) add marinade ingredients to mixer bowl. Blend for 2 sec/speed 9/MC on. Scrape bowl down and repeat 3 times.
Add the chicken and stir through marinade for 10 sec/speed 2/reverse/MC on. Scrape mixer bowl out completely, set aside in a separate bowl to allow chicken to marinate.
Without washing the bowl, add tomato paste ingredients to mixer bowl. Blend 1 min/speed 8/MC on. Set tomato paste aside in a separate bowl again.
Without washing the bowl, add onions to mixer bowl and chop 5 sec/speed 5/MC on. Scrape bowl down.
Add 60 g butter to mixer bowl, cook 10 min/100°C/speed 2/butterfly/MC on.
Add remaining butter (65 g), cinnamon, whole cloves, cardamom, star anise, cumin and paprika to mixer bowl.
Cook 5 min/100°C/slowest speed/reverse/butterfly/MC on.
Add reserved tomato paste mixture, garam masala and 2 tsp salt to mixer bowl. Cook for 4 min/steaming temperature/slowest speed/reverse/butterfly/MC on.
Add reserved marinated chicken mixture to mixer bowl. Cook for 12 min/100°C/slowest speed/reverse/butterfly/MC on.
Add reserved nut meal, cream and honey to mixer bowl. Cook for 4 min/100°C/slowest speed/reverse/butterfly/MC on. While cooking, use your spatula to stir the curry occasionally.
Pour curry into an insulated server, remove whole spices, stir through chopped coriander and let it sit covered for 10 min.
Notes
Access the
Butter Chicken FAQ's here
.
The nut meal is optional, if you arent used to a thick/creamy butter chicken then leave these out to suit your preference.
You can make this dairy free by using coconut cream and 100 g oil to replace the butter.
Not all Apple Cider Vinegars are equal. Please check if your ACV is double-strength prior to cooking. My preferred ACV is Braggs.
If you want to add fenugreek, its 1 tsp at step 7.
You can find all of these spices in all major supermarkets but you can source cheaper spices from Asian/Indian Supermarkets. You can also purchase a Skinnymixers Spice Pack from Grandma's Pantry online here:
http://bit.ly/grandmaspantry
. Skinnymixers recieve 10% off using the discount code SKMIX in the shopping cart.
The food colouring can be left out for those who don't like to use it, BUT a little secret...this is how the Indian take-away shops get their butter chicken to look that vibrant (unnatural) red colour! (You can find proper tandoori colouring at Indian grocers/supermarkets)
I highly recommend you only use Ardmona brand tinned tomatoes – they are the only tinned tomato I find which produces a nice thick sauce.
If you make your own garam masala, take care not to choose one with a lot of peppercorns.
Important note: DO NOT increase the quantities of any ingredients - this will avoid overloading your mixer. Unless you are cooking chicken on the stovetop or slow cooker.
Thank you to Sue Kling for the Bellini Instructions 🙂 Butterfly = Mixing Tool. This is one of our most popular
healthy thermomix recipes
. We have known for some time now that the butterfly/mixing tool is NOT to be used with the Bellinis when cooking meat because it can cause the machine to overheat. Instead we now recommend ... to use the blunt blade, speed 1, chop the meat in 3-4cm cubes or wide strips ... and after the first 5 mins or so of cooking stop the machine and release the meat that has got tangled around the blade … make sure not to overcook.
The HCG Butter Chicken can be found here.
Nutrition Information
Calories:
672
Fat:
49.4g
Saturated fat:
25.4g
Carbohydrates:
19.8g
Sugar:
15.1g
Sodium:
1370mg
Protein:
34.6g