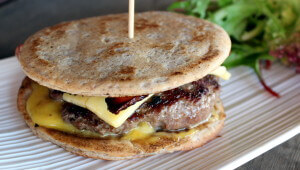 This weeks Simple Meal Sunday is my American Burger Patties… becuase theyre really simple and I havent had any complaints about them (yet!). These are a very quick mid-week recipe which are also great for people on a tight budget because they work better with the standard mince.
You can chooes to serve them as traditional burgers with a soft or brioche bun, bacon, sauce, caramelised onions, beetroot, cheese… drooling.
Alternatively, you can serve them with my very low carb buns, or even just with a coleslaw or salad – which is what I usually do.
The other wonderful thing about this recipe is that it can be prepared ahead of time and frozen, like those old hamburgers you used to get from woolies, frozen between bits of paper? I hope someone else remembers these from their childhood too.
Click here to get the recipe: mmm burgers.