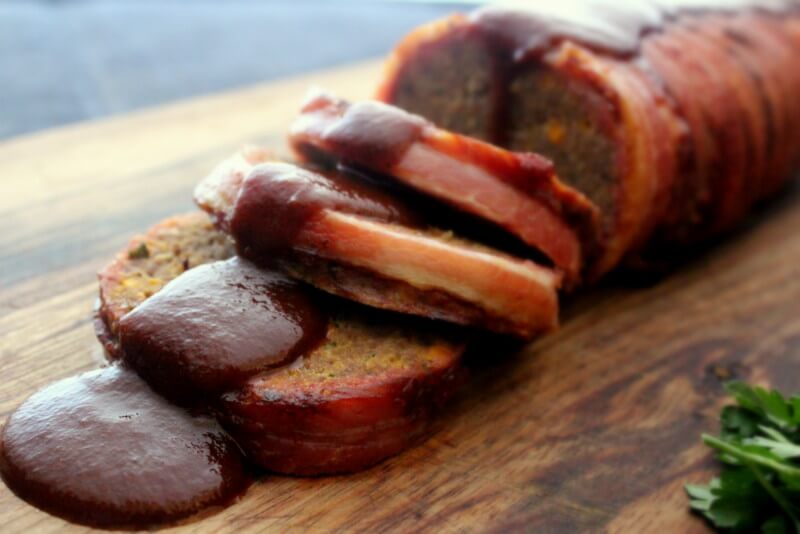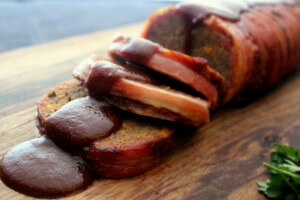 skinnymixer's Bacon Wrapped Meatloaf with Smokey BBQ Sauce
Ingredients
Meatloaf:
small handful of parsley
2 garlic cloves, peeled
100 g | 3.5 oz carrot or zucchini, roughly chopped
1 small onion, halved and peeled
500 g | 17.6 oz beef mince (or preferred minced meat)
2 eggs
10 g | 0.3 oz psyllium husk (or 1 cup bread crumbs)
1 tbsp salt
¼ tsp cracked pepper
1 tsp smoked paprika
10 bacon rashers
2 tbsp preferred frying oil

Smokey BBQ Sauce:
30 g | 1 oz coconut sugar
30 g | 1 oz butter
120 g | 4.2 oz tomato sauce
10 g | 0.3 oz tamari or coconut aminos or worcestershire sauce
10 g | 0.3 oz apple cider vinegar
1 tsp cacao or cocoa or instant coffee
10 g | 0.3 oz lemon juice
90 g | 3.2 oz water
1 tsp smoked paprika
Instructions
Add parsley and garlic to mixer bowl, blitz for 3 sec/speed 9.
Add carrot and onion, chop for 3 sec/speed 6.
Add remaining meatloaf ingredients, except for bacon and oil, and pulse turbo 1 sec/5 times to roughly combine.
Remove meatloaf mixture to a silicone mat or large piece of aluminium foil and shape into a rounded meatloaf shape.
Wrap bacon rashers around meatloaf and secure in place with toothpicks.
Transfer meatloaf to large bottom steaming tray. It's okay if it bends up the sides.
Add 600 g or 21.2 oz water to mixer bowl and steam meatloaf for 45 min/steaming temperature/speed 2. In the last 20 minutes of steaming time, feel free to add vegetables around meatloaf to cook and serve.
With 5 minutes remaining, heat preferred oil in a large frying pan to medium heat.
Transfer meatloaf to frying pan and brown on all sides.
While the meatloaf is browning, prepare smokey BBQ sauce with a clean bowl:
Add all sauce ingredients to mixer bowl, cook 5 min/steaming temperature/speed 2/MC OFF
Remove toothpicks and serve meatloaf with steamed vegetables or salad and smokey BBQ sauce drizzled over the top.
Notes
I used smoked streaky bacon.
You can prepare the sauce standalone to use with other dishes.
I used Thermobextas *amazing* tomato sauce recipe for my sauce, in which I substitute the raw honey with coconut sugar 🙂
This is loosely inspired by the Womans Weekly BBQ Meatloaf.

Sauce Only
Serving Size: 30g / Serves 10
Kj: 172
Cal: 41
Protein: 0.6g
Fat: 2.6g
Sat Fat: 1.6g
Carb: 3.8g
Sugar: 3.5g
Sodium: 181mg
Nutrition Information
Serving size:
140g
Calories:
366 cal
Fat:
26.1g
Saturated fat:
9.6g
Carbohydrates:
3.6g
Sugar:
1.8g
Sodium:
1440mg
Protein:
28.6g