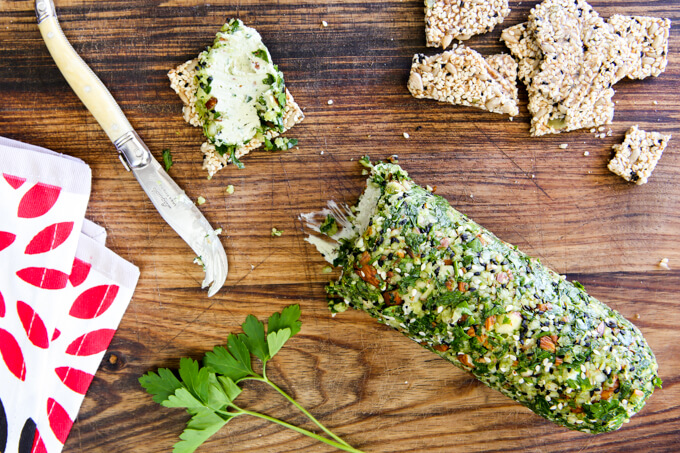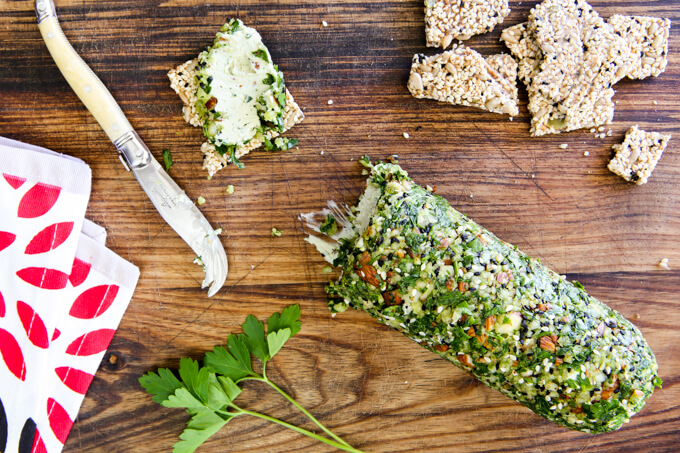 I came across the idea to do a cheese log from a post in my news feed a few weeks ago and I got so excited about the recipe that I came up with a handful of different flavour combinations right away (see the notes). I think this will make a yummy and colourful addition to Christmas tables for those who want to continue to watch their carbs over the festive season or to impress guests with something a little different. The testing team have been enjoying this one way too much! Love Nik xx

skinnymixer's Cheese Log
Ingredients
50 g | 1.8 oz raw almonds
50 g | 1.8 oz raw macadamia nuts
20 g | 0.7 oz fresh continental parsley
10 g | 0.1 oz fresh chives
1 tsp nigella seeds (optional if you can't source them)
1 tsp sesame seeds
pinch of cracked black pepper
250 g | 8.8 oz cream cheese, cubed, room temperature
100 g | 3.5 oz mild creamy blue cheese, cubed, room temperature (I used castello brand, if you don't like blue cheese you could use any other combination of cheeses like a mild feta, mozzarella or cheddar)
2 large pieces of gladwrap
Instructions
Add nuts and herbs to mixer bowl, chop for 3 sec/speed 6/MC on or until finely chopped.
Add nigella seeds, sesame seeds and pepper to the bowl. Mix for 5 sec/speed 2/MC on.
Remove nut mixture to a piece of the gladwrap retaining 1 tbsp in the mixer bowl. Flaten the mixture out with your hands into a large rectangle.
Add remaining ingredients and blend for 10 sec/speed 6/MC on. Scrape bowl down and repeat once.
Spoon even amounts of cheese mixture in a line down the centre of the nut mixture. Using the gladwrap, form into a log and twist the ends of each side tightly to remove air and compress mixture. Tie off ends, apply second piece of gladwrap and refrigerate for 1 hour or until ready to serve.
Notes
Different combinations you could try:
Apricot & Almond
Smoked Salmon & Dill + Capers
Sweet Chilli & Coriander
Olives, Garlic & Herbs

Bellini Users

Use your sharp blade for this recipe.

At step 1 chop for longer if necessary to get a fine texture.
Nutrition Information
Serving size:
40g
Calories:
160 cal
Fat:
15.6g
Saturated fat:
7g
Carbohydrates:
1.1g
Sugar:
1g
Sodium:
167mg
Protein:
4.1g