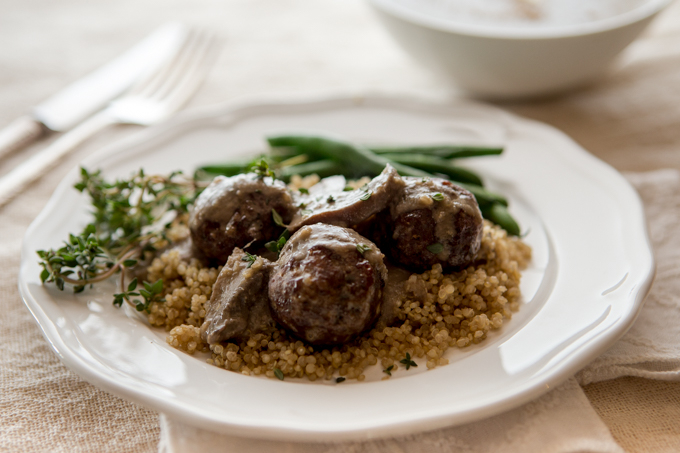 The success of my All-in-one Chicken Dinner meant that I wasn't surprised when this weeks peoples choice was an 'all in one' beef meal. Being conscious that beef is quite expensive coming out of the cooler months, I thought I would try my hand at a mince dish.
I absolutely LOVE French cuisine, and mushrooms… so of course this is what I went with. The beauty of this recipe is that it makes two full courses: a mushroom soup, followed by beef meatballs with a creamy mushroom gravy. It can also be made completely dairy and grain free if needed, yet you wont feel like you are missing out.
Love Nik xx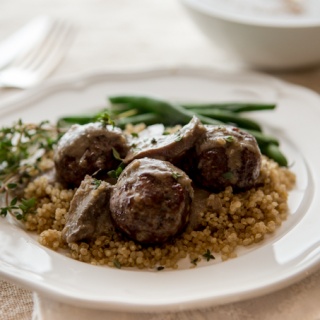 Print
skinnymixer's All-in-one Beef Dinner
Ingredients
Meatballs
500

g

beef mince

1

whole egg

2

tsp

porcini powder

prepared during the recipe

1

tsp

salt

1/2

tsp

dried tarragon leaves

1/2

tsp

bicarbonate soda

1/4

tsp

cracked black pepper
Soup
20

g

dried porcini mushrooms

300

g

portobello mushrooms

rough small chop

200

g

cauliflower florets

rough small chop

70

g

leek

white part only, rough small chop

30

g

olive oil or butter

1000

g

liquid chicken stock

or 1000 g water + 2 tbsp stock concentrate
To serve
300

g

soaked/well rinsed quinoa or rice

read notes

300

g

green beans
Gravy
1/2

tsp

salt

50

g

| 1.8 oz crème fraîche or sour cream

optional

1

portobello mushroom

halved and sliced thickly
Instructions
Add dried porcini to mixer bowl, mill for 20 sec/speed 9/MC on. Set aside.

In a medium bowl, hand combine all of the meatball ingredients. Form into large golf balls (about 14 in total). Arrange in the bottom of the deep steaming tray. Arrange your green beans on the flat steaming tray above.

Without washing the bowl, add mushrooms, cauliflower and leek. Chop for 15 sec/speed 6 using your spatula to move the ingredients while chopping. Scrape bowl down.

Add olive oil and reserved porcini powder and cook for 7 min/100°C or 212°F/speed 1/MC off.

Put your well rinsed quinoa/rice into your simmering basket and put inside your bowl.

Pour your chicken stock into the bowl, taking care not to go over the maximum line. Put your steaming trays in place and cook for 20 min/steaming temperature/speed 3.

Set your meatballs, quinoa or rice and beans aside in a thermal server. Please note: If any of your mushroom soup is sitting above the quinoa/rice just put it back in the bowl with a spoon.

Top soup up with 1-2 cups of water and blend soup for 1 min/speed 9/MC on. Retain 300 g or 10.6 oz for the gravy. Season soup with salt and pepper to taste.

To prepare gravy: Add the gravy ingredients to your retained 300 g or 10.6 oz of soup. Cook for 5 min/steaming temp/speed 1/MC off.
Notes
Please note: If you are cooking the quinoa or rice option, your soup will sit on top of the cooked quinoa/rice... just spoon it off into the bowl once its finished cooking.
Please don't use button mushrooms in this recipe, if you cant find portobello mushrooms just use any open mushroom.
You can find dried porcini at foodland, IGA, coles, green grocers and speciality stores.
I browned my meatballs in a medium to high heat pan while serving the soup and preparing the gravy.
Bellini Users
Use the sharp blade for this recipe.
At step 4 increase cooking time by approximately 3 minutes.
At step 6 place a tea towel over the steamer lid if using an Intelli and increase cooking time if required.
At step 8 after adding water to your jug, SLOWLY increase the speed of your machine up to speed 9 to blend your soup safely.