Skinnymixer's Yellow Curry Paste features in the cookbook SkinnyAsia and is used to make the delicious Fragrant Fish Curry.
SkinnyAsia is available from Friday 22nd of September at 8pm SA time.
We are often asked in Skinnymixers for a Yellow Curry – well now we have a Skinnymixers version!
What you will need: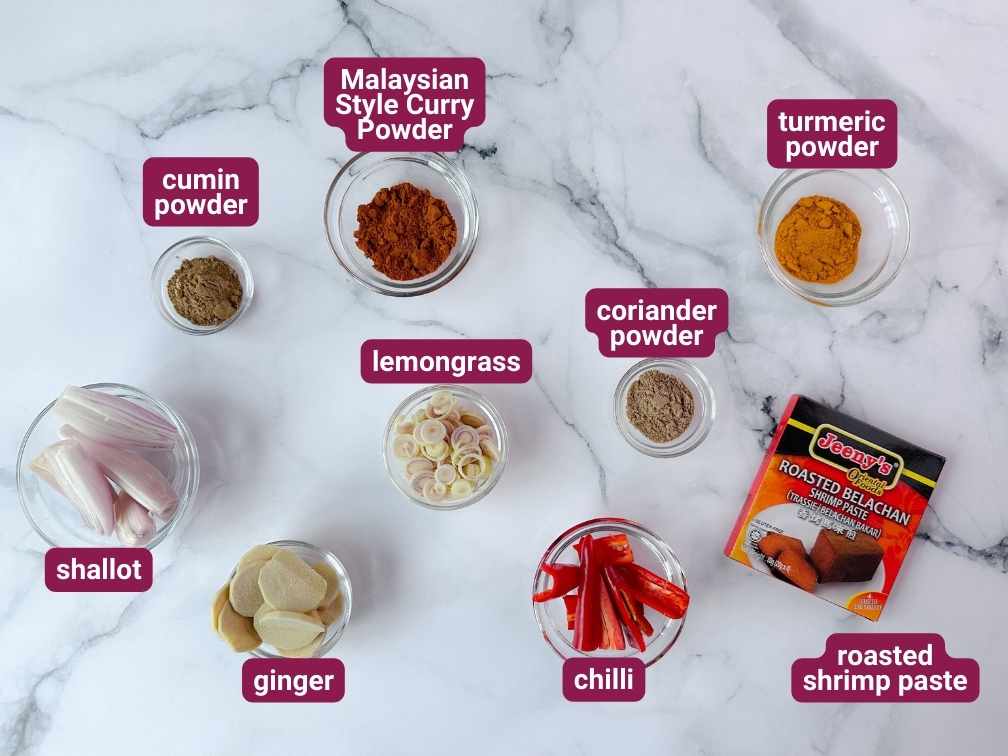 Where to buy?
red cayenne chillies – I find it best to buy at the Asian supermarket. You can sometimes buy them in Coles, however they can sometimes be super hot! If you can't find dried red chillies, you can roast fresh chillies for flavour and add those instead.
roasted shrimp past (Belachan) – The Jeeny's Roasted Shrimp Paste is found in Woolworths and Asian supermarkets. Don't stress if you can't find 'roasted' shrimp paste, you can use normal shrimp paste if needed. I just feel roasted has a better depth of flavour.
Malaysian Style Curry Powder – this is now a free recipe found here or printed in all our latest books. It is a Babas Malaysian Meat Curry Powder substitute
onion shallot – these are the sweeter little brown/purple shallots and not the long green spring onions.
lemongrass – you can buy this from the supermarket in the fresh herb section. You may find it cheaper from the local fruit shop or Asian grocer. Check out the how to prepare video below on how to prepare it.
How to prepare lemongrass to use in SkinnyAsia
https://youtube.com/shorts/DEbAE29nOU4?feature=share
How to portion
I find it easiest to freeze in snap lock bags or silicone pouches. You can also freeze in silicone cupcake moulds, pop them out and store in the freezer in a container.
Divide evenly into 4 portions. It is ok that each portion isn't perfect. I guarantee that it will be one tasty recipe!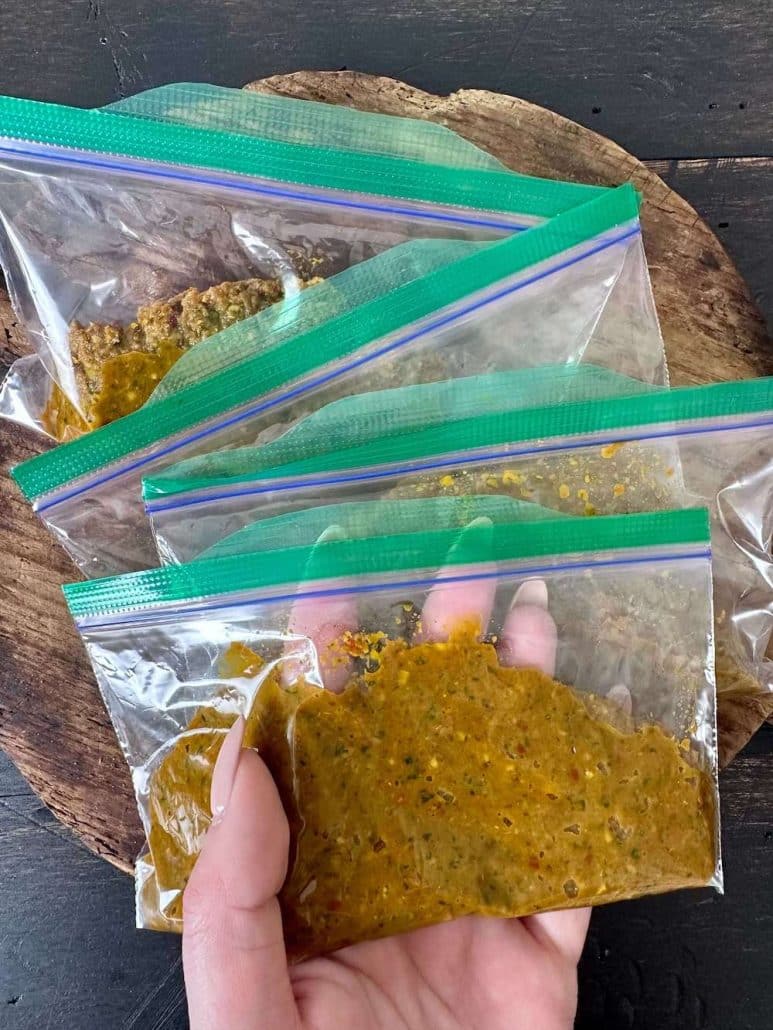 This Yellow Curry Paste is a cookbook exclusive recipe
We've included the basic shopping list below to help you know when out and about a general shopping list of what you might need to cook dinner. The recipe can be found in the cookbook SkinnyAsia – which has both Thermomix & Conventional cooking method instructions.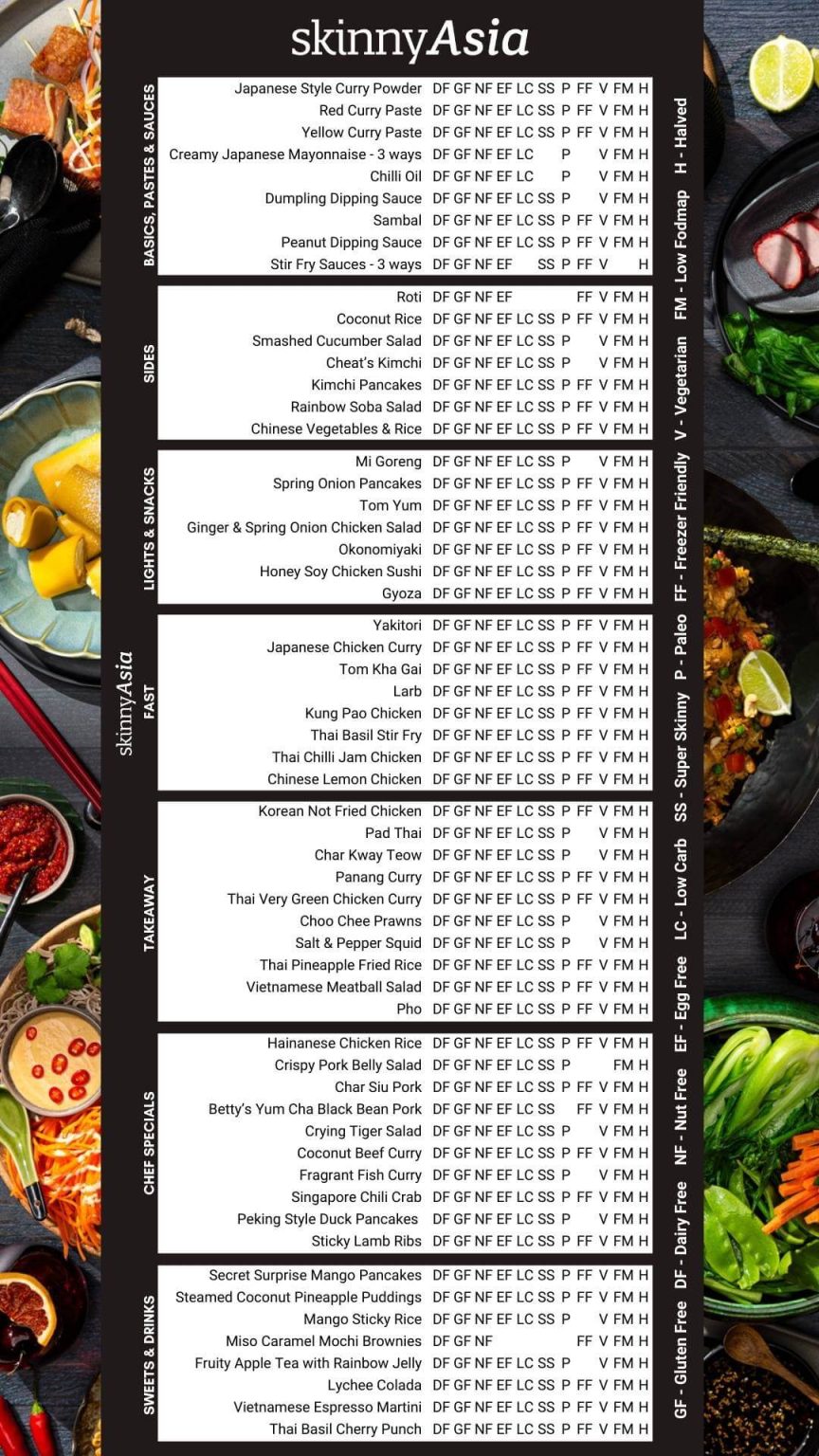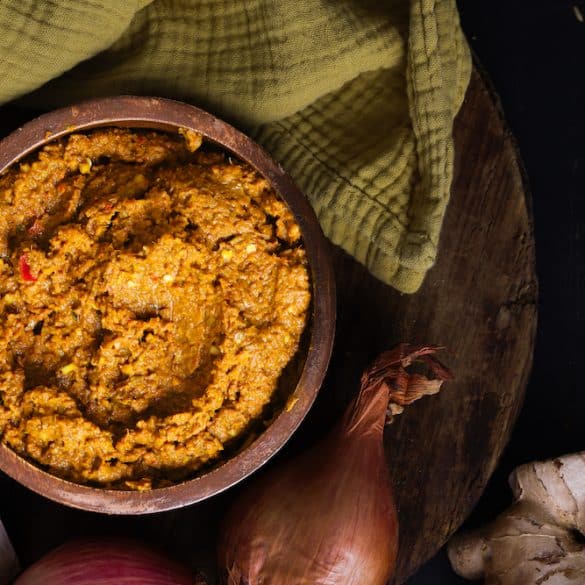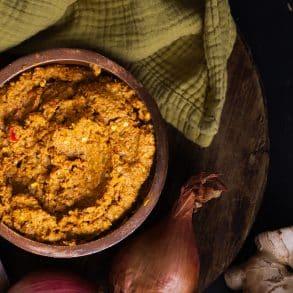 Ingredients
coriander powder

cumin powder

fresh ginger

lemongrass

red chillies

roasted shrimp paste

shallot onion

turmeric powder
Instructions
This recipe is exclusive to the SkinnyAsia cookbook.
Nutrition
Serving:
60
g
|
Calories:
49
kcal
|
Carbohydrates:
4.4
g
|
Protein:
3.1
g
|
Fat:
1.4
g
|
Saturated Fat:
0.3
g
|
Sodium:
571
mg
|
Sugar:
2.4
g
Pin this Yellow Curry Paste recipe for later: