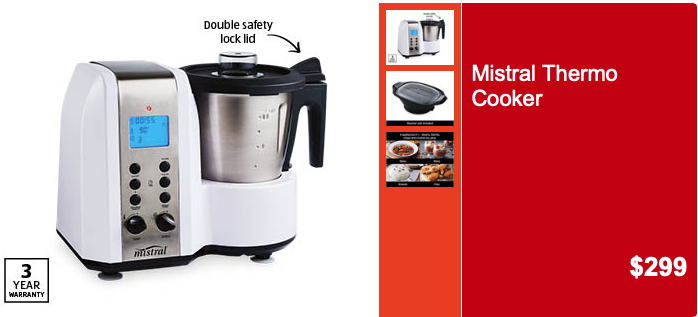 If you would love a Thermomix but the price tag is a little out of reach, there are a few alternative thermo cooking machines on the market including the Mistral Thermo Cooker, Smith & Nobel Intelli, Magimix Cook Expert, Kogan Thermo Blend, Tefal Cuisine Companion, KitchenAid Cook Processor. The Skinnymixers Facebook Community is especially excited about the Mistral Thermo Cooker going on sale for $299 at Aldi September 7th, 2019 in their Special Buys. Update: The Mistral sold this year (2020) with product code • 700958 has been changed to now allow a speed of 0-3 when steaming.
How does the Mistral Thermo Cooker compare to the Thermomix?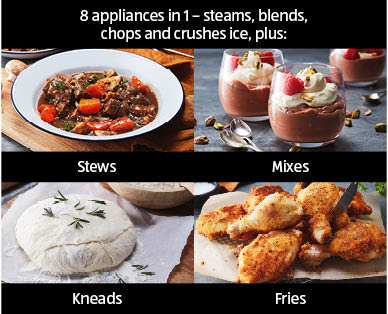 Mistral Thermo Cooker on sale at Aldi for $299
The Mistral Thermo Cooker has a 2L stainless steel bowl
The Mistral has 10 different speeds – you can chop, blend, cook, knead, stew
Integrated scale function
Reverse function
1000W heating power
800W motor
Comes with a variety of accessories including steaming tray set, mixing tool and recipe book.
3 Year Warranty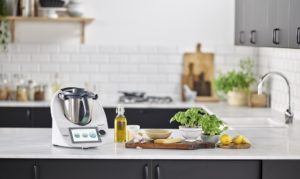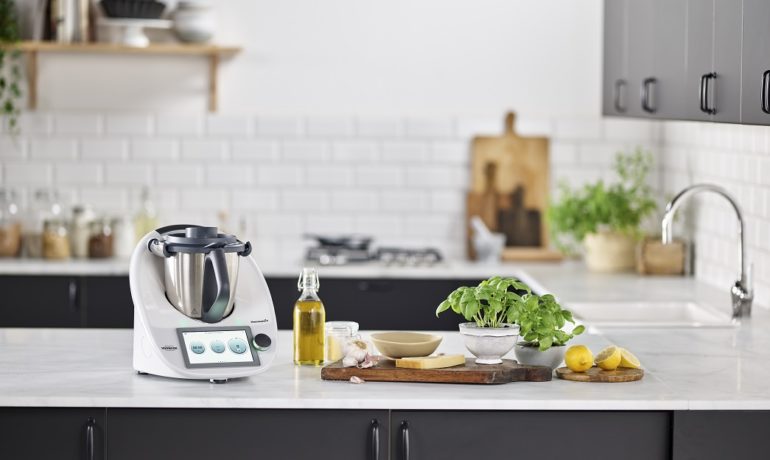 2.2L stainless steel bowl
20 different functions inc. slow cooking, sous vide, high heat, caramelise, fermenting for making yoghurt.
Integrated scales accurate to 1g
Smart, connected appliance with WIFI connectivity built-in
Step-by-step guided cooking on a 15.2cm x 20.3cm touch screen.
Browse over 50,000 plus recipes on Cookidoo on the touch screen – yes it is true Skinnymixers has a mini collection coming out on Cookidoo late 2019.
Comes with Varoma, measuring cup, splash guard, steaming basket, spatula, Basic Cookbook inc 120 recipes pre-programmed into the TM6
2 Year Warranty
Apart from the price what are the differences between the Mistral Thermo Cooker model and the Thermomix?
No Speed for ST (Steaming Temp) – The new Aldi Mistral Thermo Cooker won't allow you to set the speed for Steaming Temp. As a workaround you will need to set the temp to 100C & cook for longer.
Takes longer to heat up/cook – You will find with the Mistral (or Bellini/Smith & Nobel) that you will need to cook recipes a little longer. They don't get up to temperature as quickly and may require just that little bit longer to cook at each step to get the desired result. When steaming in the steaming trays, sometimes it is necessary to place a tea towel over the top to help it heat up faster.
Not as powerful – When milling/chopping ingredients you may find you need to process ingredients a little longer in the Mistral (or Bellini/Smith & Nobel) to achieve the desired result, or at a higher speed. The Mistral Thermo Cookers and Smith & Nobels are much cheaper and not as robust as the Thermomix. A little more care needs to be taken them, especially when chopping where the ingredients should ideally be dropped through the lid onto already spinning blades rather than from a cold start.
Recipe Support – You will find Thermomix has the most recipes available & although most will work in the other Thermo Cooker models, they may require some thinking/tweaking. There will be some that just aren't adaptable – like sous vide, slow cooking, fermenting, high heat recipes.
You shouldn't have any issues cooking Skinnymixers recipes and if you have any questions, then you are welcome to ask in the Skinnymixers Facebook Group.
Fried Chicken – Although the Aldi catalogue says the Mistral "Fries" and has a picture of Fried Chicken… neither the Mistral or Thermomix will actually deep fry chicken pieces. You can however make a delicious marinade/crumb for your chicken pieces similar to that secret Fried Chicken recipe.
Applies to older style machines only or the Kogan Thermo Blend… No inbuilt scales – you will find some of the older Bellini / thermo cooker models don't have inbuilt scales. The thermo cooker should come with separate digital scales for you to put the jug on to weigh as you go – or you may need to purchase separately.
Different blades due to no reverse function – You will find the older Mistral, Bellini & other machines have a sharp chopping and a blunt stirring blade. The newer models of these Thermo Cookers should now have the reverse function.
Feedback from our Thermo Cooking Community…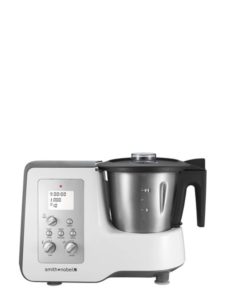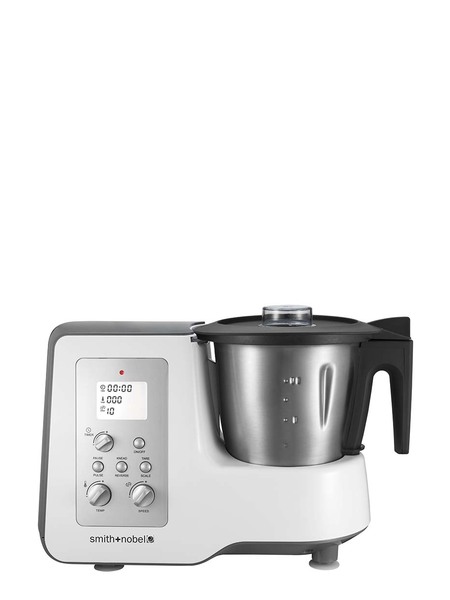 "I have the Bellini from target and off memory this one was sold at Big W a few years back and was just as good. Yes it doesn't have all the bells and whistles but it is alot more affordable.
I couldn't afford a thermomix years ago ( still cant yet) and i also didn't know if i would like this way if cooking so $2000 is a lot of money to spend. I make Skinnymixer meals no problem and very rarely have to adjust anything. Although I do need to put a tea towel over the top when steaming in the Varoma." – Hayley G, 26/08/2019
"I've had the original Mistral Thermo Cooker from Big W for 4 years..hasn't missed a beat and I always cook Skinnymixers and other thermo recipes in it…got it on sale too…$200 well spent." Kylie O, 26/08/2019
"I started off with a Bellini. Had it for like 2 years. Then bought my first thermo. It's a good starting point! Gets you used to using the machine and seeing if you'll love it before spending the Thermo $$." Courtney H, 3/09/19
"This has an 800w motor. Smith & Nobel (rebranded Bellini) has a 1200w motor. I'd wait for that one to go on sale. It comes down to about $349 sometimes. Love it!" Jenny S, 3/9/19 (You can buy the Smith & Nobel Intelli from Harris Scarfe – click here)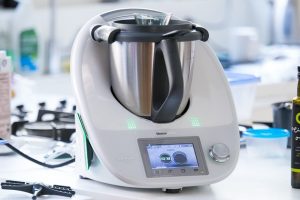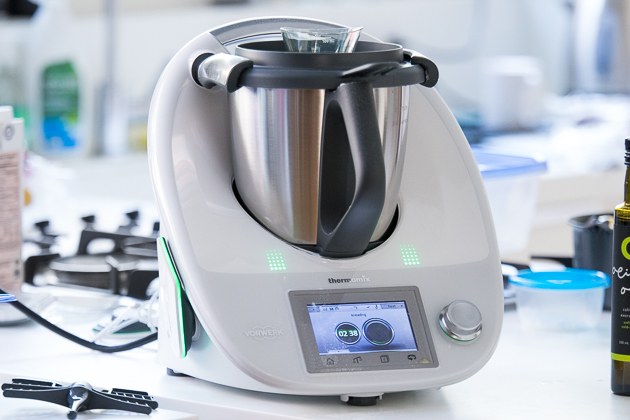 "I started with a bellini supercook which is very similar to the Aldi one. For me, it lacked power for bread kneading amongst other things. Mine broke within a year but I did love it for general all in one cooking. I love my tm6 and they certainly do not compare." Kirsten R, 3/9/19
Some Thermo Cooker History / Background
The Mistral Thermo Cooker was once sold in Big W & the Bellini Intelli was sold in Target and then rebranded as the Smith & Nobel and sold in Harris Scarfe. The Mistral comes out of the same factory as the Bellini/Smith & Noble – but has a smaller motor.
When Vorwek's original patents ran out it made room for other competing Thermo Cooker models on the market. Over time the cheaper models have added some of the features like the inbuilt scales and the reverse function.
Cooking & Converting Thermomix Recipes for other Thermo Cookers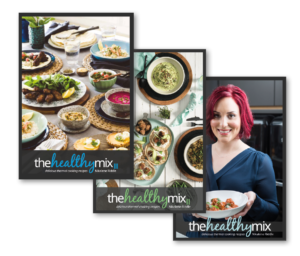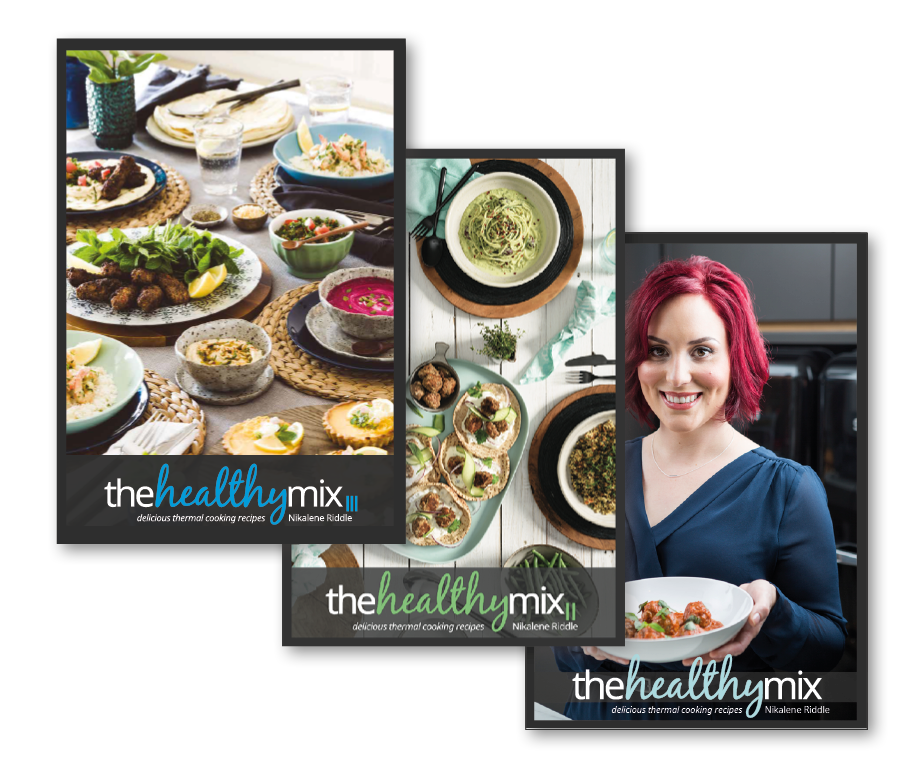 You will notice throughout the Skinnymixers website there are adaptations for Bellini Users. This is to help the older style Bellini users to understand how to use the different blades and also the need to cook / process a little longer than the recipe states. Mistral Thermo Cooker users won't need to change the blades but you can use these recipe notes as an indication of mixing, milling, chopping, cooking just that little bit longer.
The Skinnymixers cookbooks are tested in the top Thermo Cooker models, and although they don't have specific Bellini or Mistral adaptations – you will find the recipes work well.
If you purchase a Mistral Thermo Cooker, Bellini or Smith & Nobel Intelli – we highly recommend that you join the Facebook group Bellini Addicts and Smith & Nobel Addicts. The admin team are extremely knowledgable with the machines and can help you convert a recipe or help you troubleshoot.
Conversion Chart for Thermomix Vs Bellini / Smith & Nobel / Mistral
Here is a conversion chart that the team at Bellini Addicts and Smith & Nobel Addicts have put together.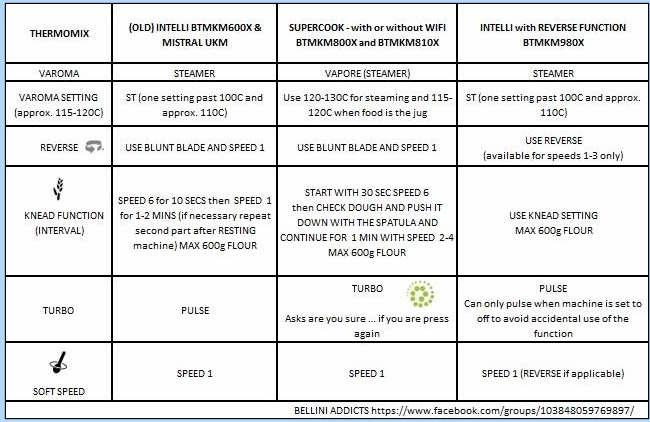 Recipes for New Mistral Thermo Cooker Owners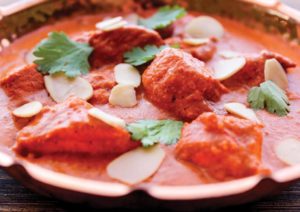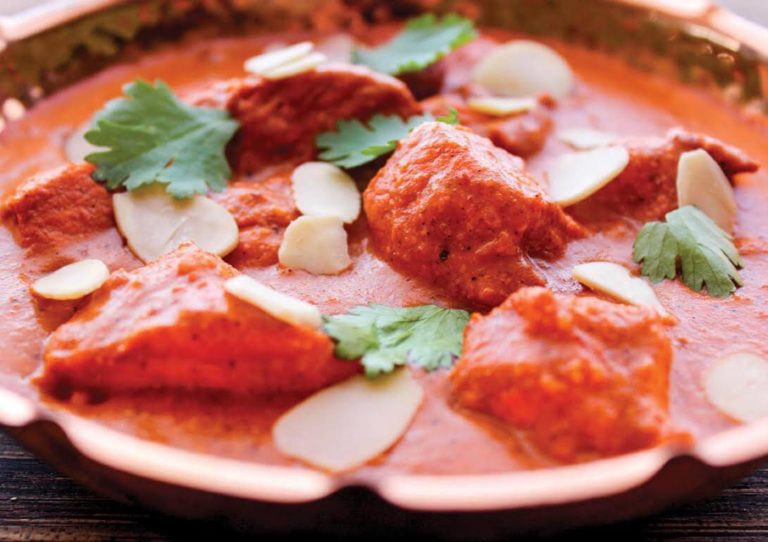 The very first recipe all Thermo Cooker users should make is your Stock Concentrate. This Stock Paste will add an amazing flavour to your dishes and there really isn't any substitutes. We recommend keeping this Stock Concentrate in a container in the freezer – it won't freeze solid with the salt content and will be easy to scoop when needed.
Once you have your Stock Concentrate made, here are some Skinnymixers Recipes perfect for beginners.