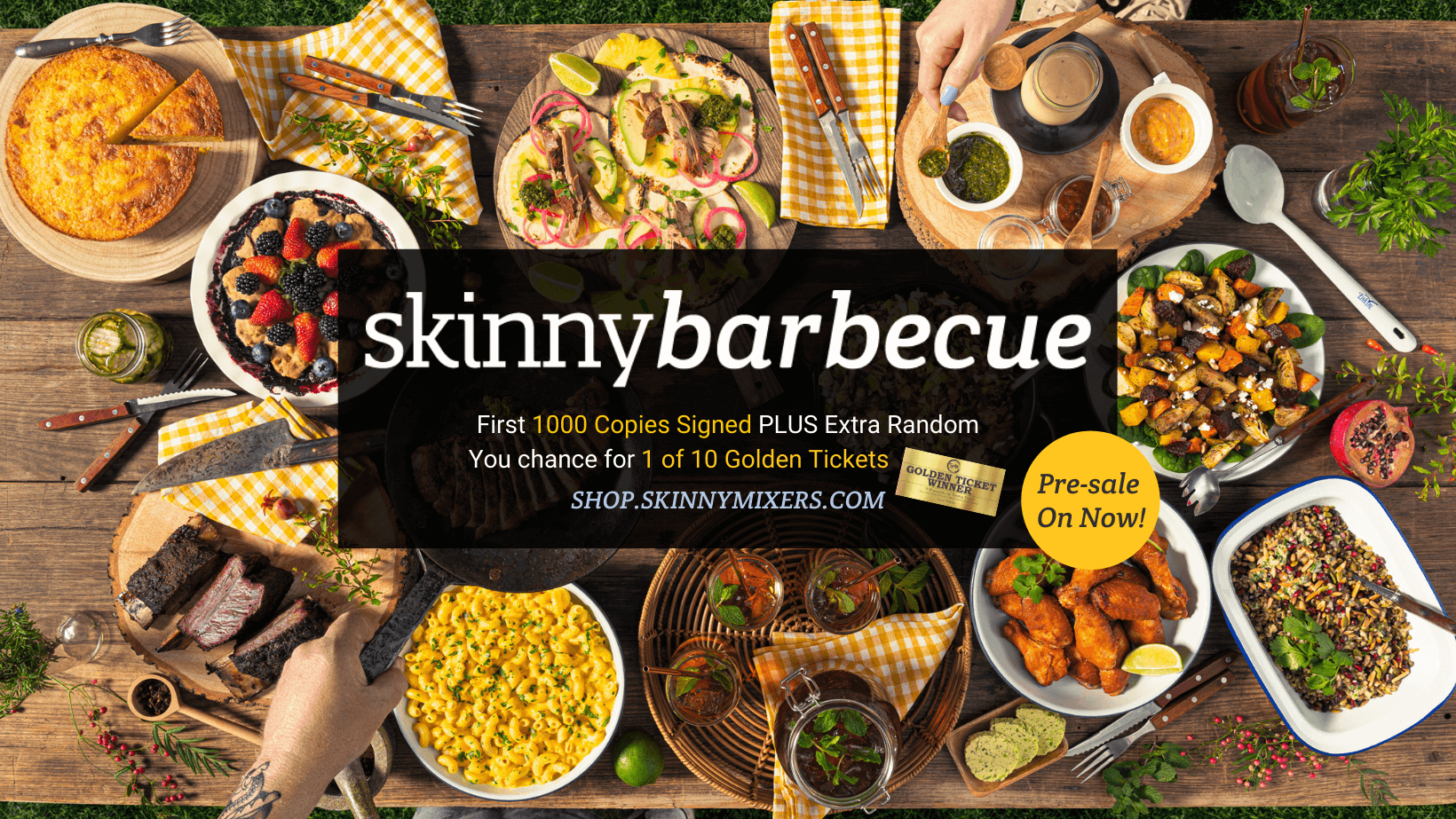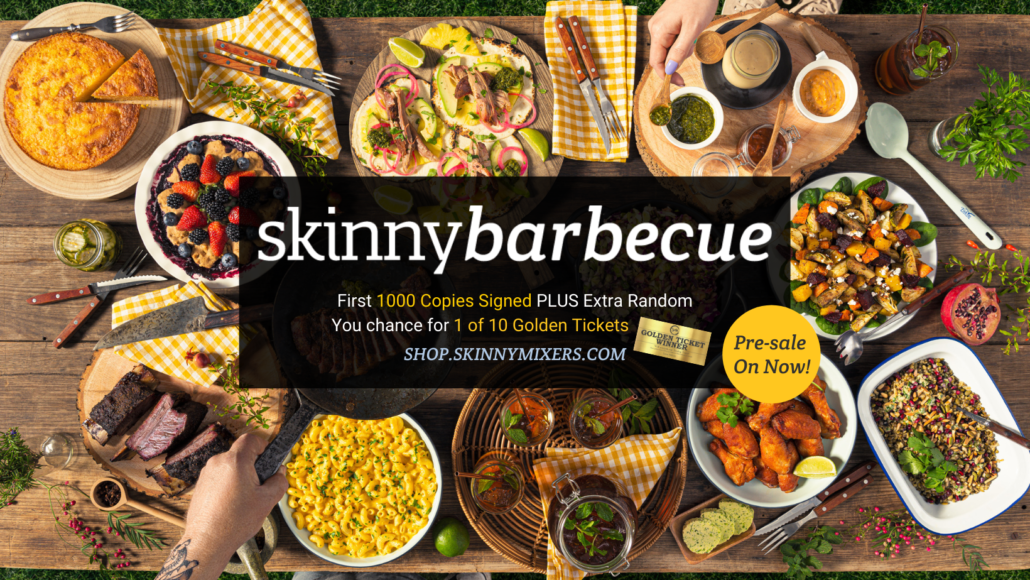 My co-author Grant Neal & I are sooo excited to share with you 'What's in SkinnyBarbecue!'
Our testing team have been have been producing amazing results in their ovens, BBQ's, smoker's & even slow cookers – so you're not going to have to run out and buy a new appliance… but if you do have a BBQ or smoker, you will be cooking on it better than ever before!
Our 13th cookbook has everything you need from the 'Basics' such as rubs & sauces, to epic 'Sides' to complement your kick-ass 'Mains'.
The Mains will help you master the perfect cooking technique for your meat – but don't worry our testing team have also helped us create delicious options for our vegetarian Skinnies. We finish the book with some healthier 'Sweets' including Grant's famous World Championship Cheesecake !
This is our BIGGEST book yet with 50 recipes and over 250 variations, and as you can see it has a strong focus on Gluten Free, Dairy Free, Low Carb recipes plus Super Skinny (low calorie), Nut Free, Egg Free, Paleo, Vegetarian (variations) and Low Fodmap recipes where possible.
We have even included halved, doubled, slow cooker and air fryer options for some recipes!
To celebrate the launch of our new concept cookbook SkinnyBarbecue…
⭐️ We will be offering a special discounted Pre-sale price of $42.95 (almost 10% off! $46.95 rrp). I know many of you will be adding to your full collection, so this is to say thank you for the amazing support.
🎫 We will have 10 Golden Tickets hidden in pre-sale orders for the new book!
✍️ Grant Neal, my co-author & I are signing the first 1000 books sold & extra random ones!
Pre-sale ends Friday 14th June 2021 11:59pm SA time
We hope you guys love the recipes as much as we do, we've absolutely worked our hearts out on this one.
P.s. these dietary codes apply either directly to the recipes, or signify that we have given instructions on how to meet multiple dietary requirements. ie. For Vegetarian – we have tested vegetarian alternatives.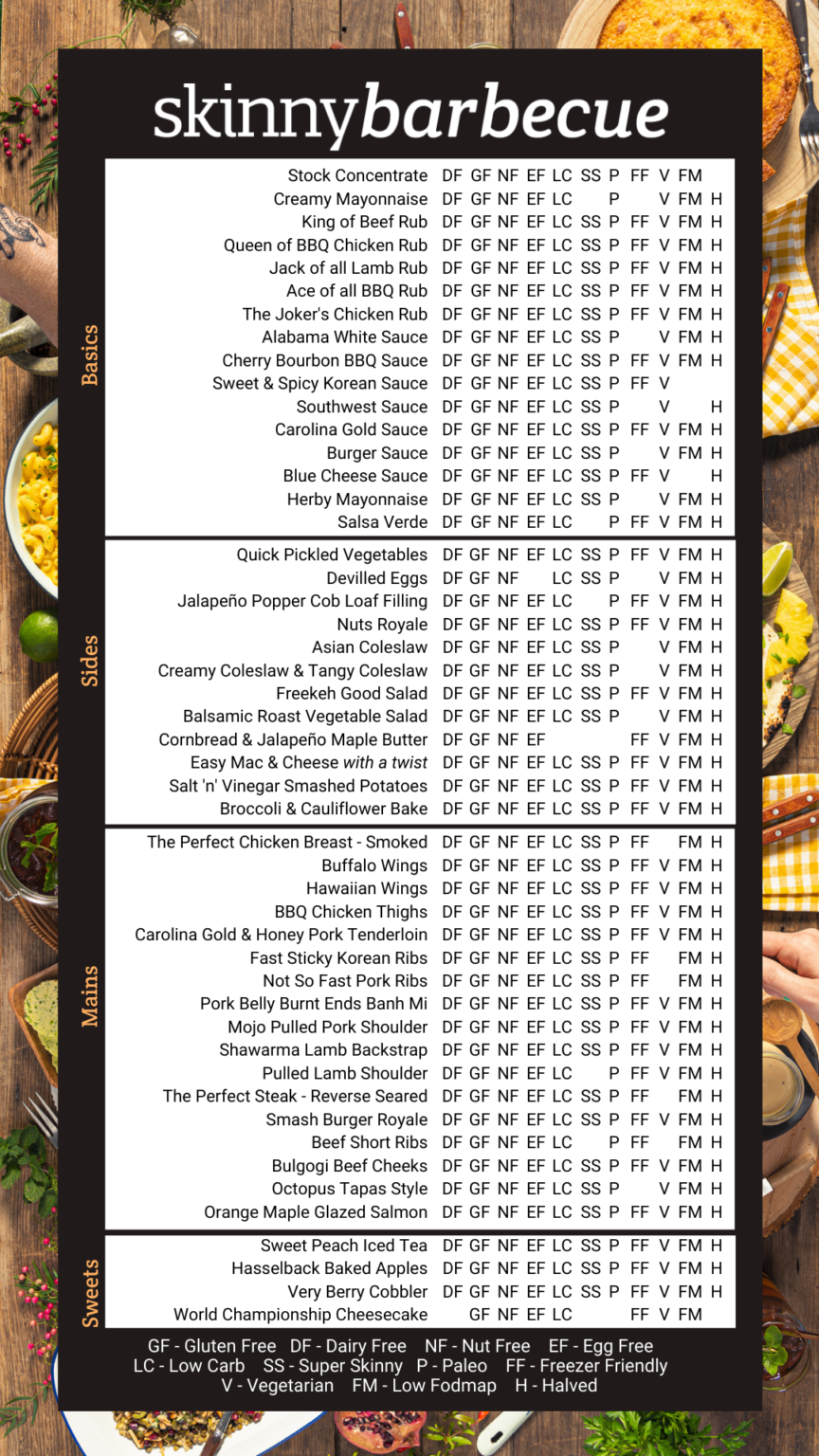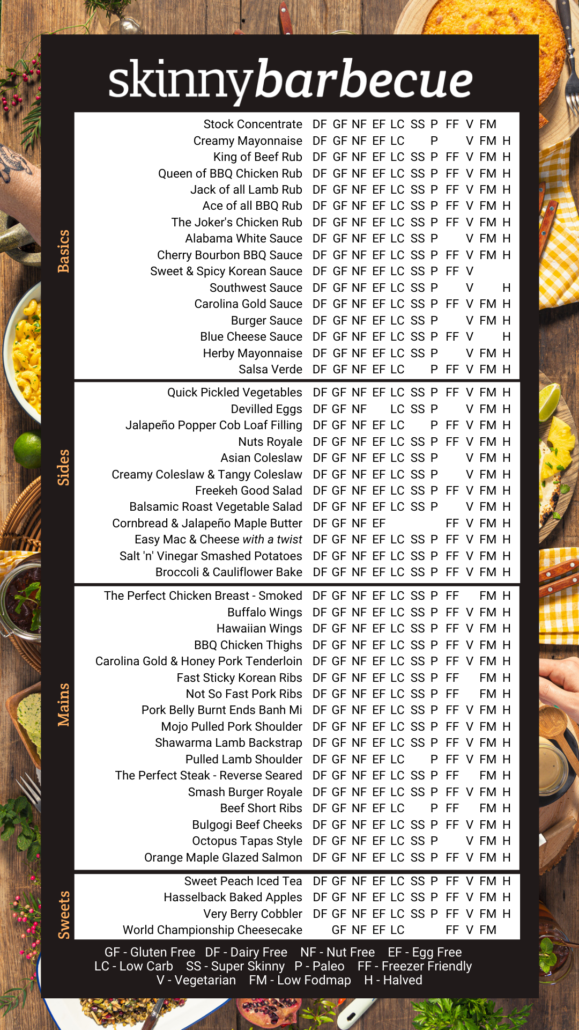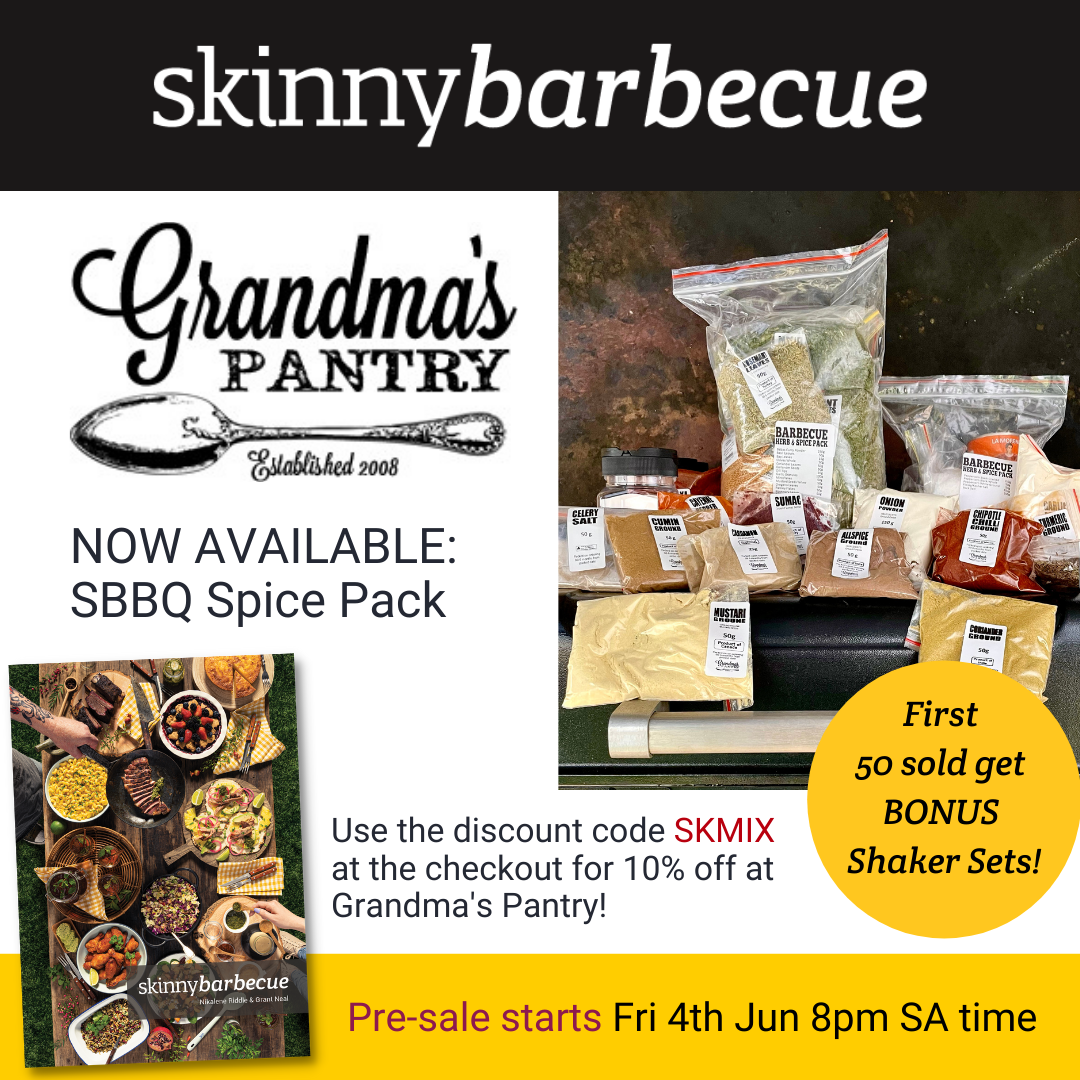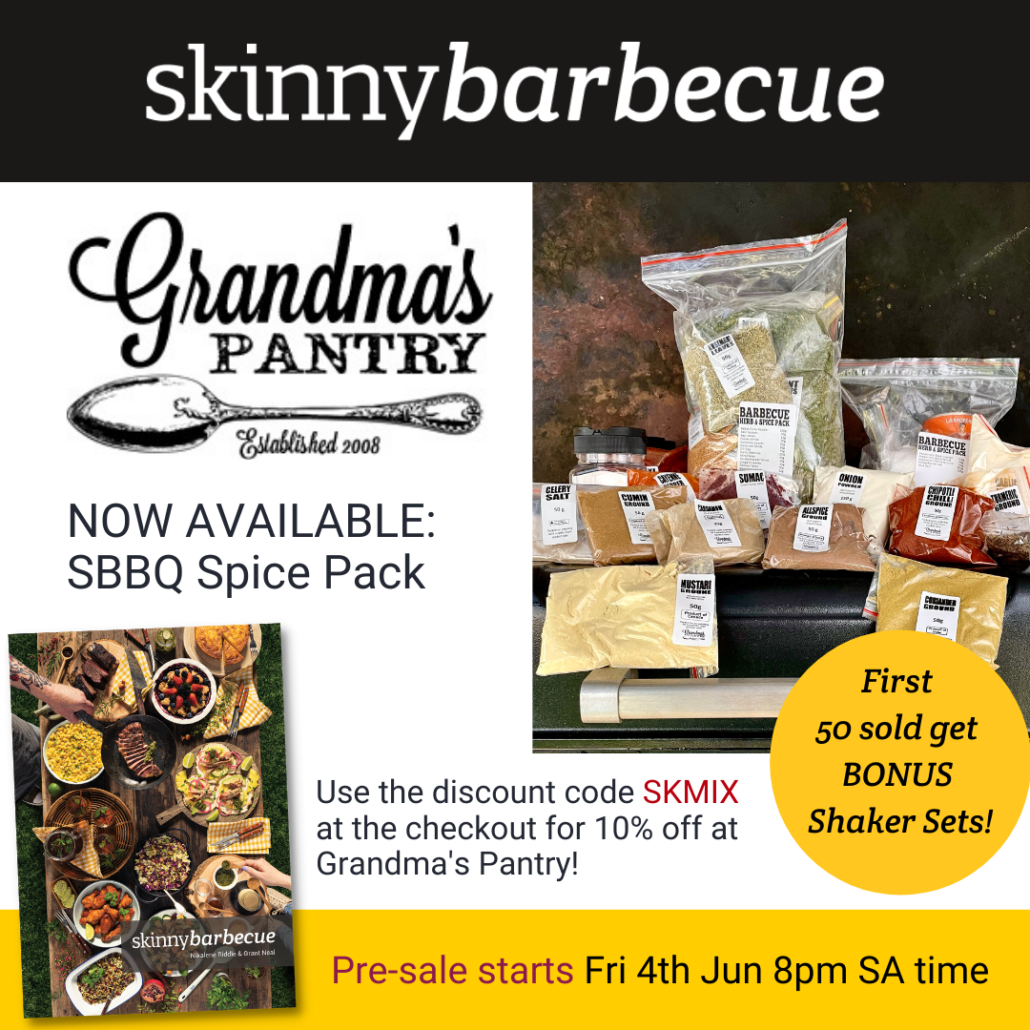 We will start dropping some shopping hints in Skinnymixers with the #skinnytease campaign, but here are some items you might like to start shopping for:
allspice
Babas meat curry powder
bay leaves
black peppercorns
cayenne pepper
celery salt
chipotle powder
cloves
pre-cracked coarse ground black pepper
coarse sea salt flakes or Kosher salt
coriander powder
cumin powder
dried basil
dried bay leaf
dried coriander leaves
dried dill tips
dried mint leaves
dried oregano leaves
dried parsley
dried rosemary
garlic granules
garlic powder
ground cinnamon
ground cardamom
ground white pepper
Mexican Chilli Powder (Masterfoods)
mustard powder
onion powder
nigella seeds
salt
sweet paprika
smoked paprika
star anise
sumac
turmeric powder
yellow mustard seeds

almond flour or granita biscuits
apple cider vinegar
baking powder
balsamic vinegar
cacao powder
chipotle in adobo
coarse polenta or cornmeal
coconut sugar
currants
dill pickles
freekeh or quinoa
Frank's Original Hot Sauce
French's Classic Yellow Mustard
fish sauce
gochujang paste
ground coffee beans
honey
horseradish cream
light soy sauce or coconut aminos
loose leaf black tea
maple syrup
morello cherries (canned)
olive oil
peaches in juice (canned)
pineapple pieces in juice (tinned)
pinenuts
puy or French lentils
raw almonds
raw cashew nuts
raw walnuts
raspberry vinegar (for Octopus)
rice wine vinegar
slivered almonds
sesame oil
sunflower seeds
tomato paste
vanilla extract
white vinegar
wholegrain mustard
Worcestershire sauce
xanthan gum or cornflour