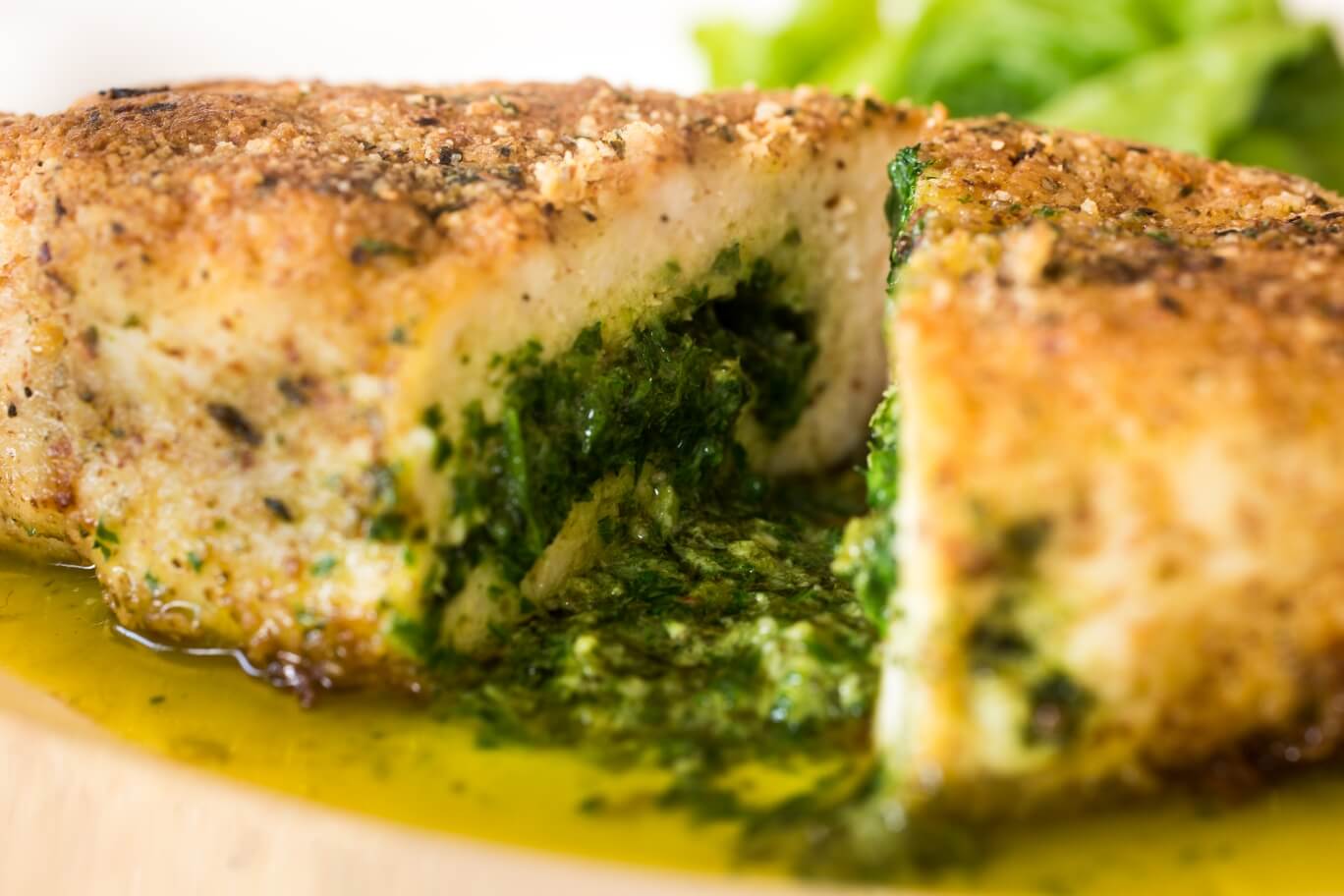 This LCHF Chicken Kiev Thermomix recipe is incredibly easy to make and can be used to make your own healthy dairy free, gluten free variations. Even if you aren't after a Keto Chicken Kiev, this tasty chicken recipe will be popular at dinner time. If you are wanting to meal prep in advance, these freeze really well raw and cook perfectly in the air fryer or oven.

skinnymixer's LCHF Chicken Kiev
Ingredients
Crumb ingredients:
100 g | 3.5 oz raw almonds (or alternative nut or sunflower seeds for nut free)
1 tsp dried oregano
1 tsp onion flakes or powder
½ tsp sweet paprika
pinch of black pepper
¼ tsp salt
Herbed garlic butter ingredients:
100 g | 3.5 oz cold salted butter, cubed
2-3 cloves of garlic
small handful of fresh parsley
small handful of fresh basil
pinch of fresh thyme

Chicken ingredients:
500 g | 17.6 oz chicken breast, cubed
1 whole egg
1 tsp salt
100 g | 3.5 oz Parmesan cheese, cubed
oil of choice for frying
Instructions
Put raw almonds into mixer bowl, mill for 5 sec/speed 9/MC on. Set aside and stir through spices, salt, and pepper.
Without washing mixer bowl, put Parmesan cheese into mixer bowl, mill for 10 sec/speed 9/MC on. Set aside.
Without washing mixer bowl, put herbed butter ingredients into mixer bowl, blend for 40 sec/speed 5/MC on. Set aside.
Without washing mixer bowl, put chicken ingredients, including reserved Parmesan cheese and 20 g or 0.7 oz of the reserved crumb mixture into mixer bowl. Blend for 40 sec/speed 9/MC on.
Assembly:
Preheat a frying pan to medium high heat, and oven to 180°C or 350°F fan forced.
Take chicken mixture and divide it up into 4 or 6 round balls. Wet hands help with this.
Take one of the balls and flatten it out to the size of your palm. Place ¼th or ⅙th of the herbed garlic butter in the centre. Fold chicken mixture around the butter and form an oval shape - like the shape of a chicken breast. Ensure there are no thin spots so your buttery goodness doesnt ooze out while cooking.
Coat the chicken liberally in the reserved crumb mixture and set aside. Repeat the process for the remaining chicken.
When all chicken is coated, recrumb a second time.
Put oil of choice into frying pan and lightly fry the kievs for a few minutes each side, or until golden brown.
Transfer fried kievs to a preheated 180°C or 350°F airfryer for 7 minutes, or oven proof roasting tray and bake in the oven for 10 minutes or until done (smaller ones may need a little less time!)
Let the kievs rest for 5 minutes before serving.
Notes
If you want to ensure your butter doesnt leak out of your kievs, freeze the butter in a cylinder (wrapped in gladwrap) and use it frozen.
If you arent keen on frying, you can bake in the oven for 20 minutes, turning once half way through.
Yes - this can be frozen for a quick dinner - freeze raw! (Bake 180°C or 350°F 25-35 mins from frozen - check after 20 mins)
Experiment with your herbed garlic flavours - for example chilli and ginger for an asian inspired dish or cheese added for a fat boost.
Breadcrumbs can be used as an alternative to the almond meal for those not following LCHF - do an eggwash before crumbing for this.
You can see a list of
alternative stuffing ideas here
.
This recipe was inspired by the process used by Full Little Tummies - a no longer live blog. It's one of our most popular
healthy Thermomix recipes.
Bellini Users
Use
sharp blade
for this recipe
At
step 1
and
step 2
increase milling time if required
Nutrition Information
Serving size:
125g
Calories:
425
Fat:
33.3g
Saturated fat:
14g
Carbohydrates:
1.6g
Sugar:
1.1g
Sodium:
1260mg
Protein:
29.5g